Point/Counterpoint: Is Devin Hester A Hall of Famer?
We take on the debate of whether record-setting return man Devin Hester should be in the Hall of Fame.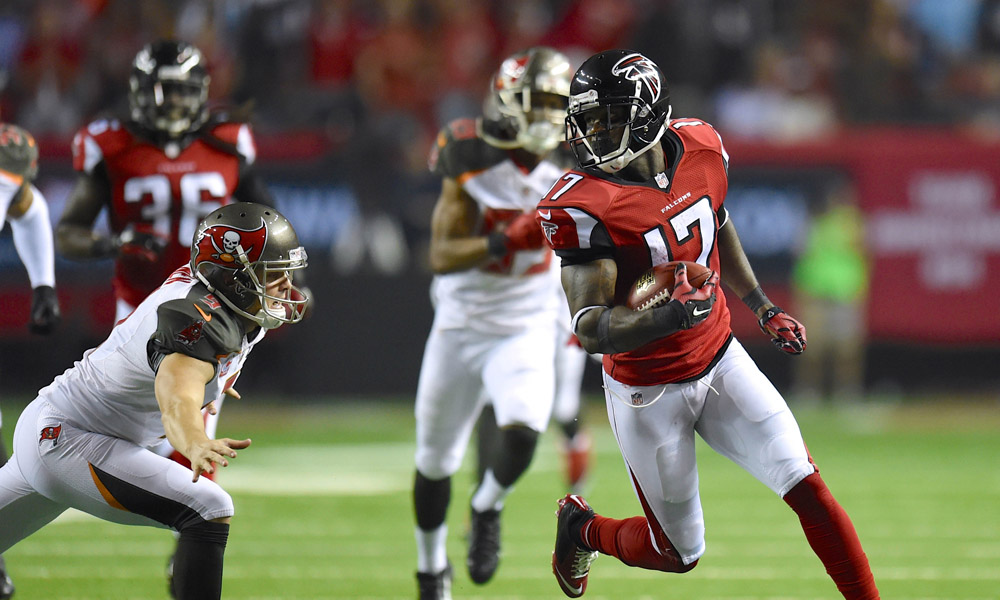 Football Insiders columnists Mark Gunnels and Alex Hickey debate whether Devin Hester, the greatest return man ever, belongs in the NFL Hall of Fame in Canton, OH.
Mark Gunnels states his case why Hester shouldn't have a yellow jacket.
Devin Hester just recently broke Deion Sanders return touchdown record in Atlanta, which is fitting because that's where it all started for Primetime. Hester's record-breaking punt return wasn't the only highlight for the three-time pro-bowler.
Devin Hester has punt return TD, rush TD, forced fumble, recovered fumble. First time a player has done all that in 1 game in NFL history.

— Michael David Smith (@MichaelDavSmith) September 19, 2014
Sanders was inducted into the NFL Hall of Fame in 2011, which has sparked the discussion of whether Hester is a Hall of Famer. You'd think since Hester surpassed Sanders in touchdown returns that he automatically deserves to be in, but there's so many other factors that you must consider.
Not only was Sanders a punt and kick returner, he was also a shutdown corner and played a little wide receiver. Although Hester plays different positions, it's clear that his only significant impact is on special teams. While special teams can sometimes make a difference in a game, it's still considered the least important area of the game. Obviously, the offense and defense are the driving forces to a team. It's a plus to have a good special teams unit, but it's not essential per say.
With all that being said, Sanders believes Hester is the greatest returner ever.
.@D_Hest23 the greatest returner of alltime! Yeah I said that and I should know! #Truth pic.twitter.com/xrIDeSGq3d

— COACH PRIME (@DeionSanders) September 18, 2014
When thinking about the Hall of Fame, you don't think about special teams and there's a good reason why you don't. Kicker Jan Stenerud and punter Ray Guy are the only two full-time special teamers in Canton.
Hester realizes it'll be an uphill battle, but he's optimistic about his chances.
"When you talk about the Hall of Fame, you really don't talk about special teams," Hester told the Chicago Sun-Times. "You talk running back, linebacker, receiver, quarterback kind of guys. The first time a special-teams guy made the Hall of Fame — he just opened up the window for everyone else."
There's no doubt Guy getting into Canton does nothing but help Hester's odds, but it's still unlikely for him to get in. During his six-year stint in Chicago, Hester only tallied 14 receiving touchdowns, while snatching down 217 catches. Not only are they not Hall of Fame numbers, but they are numbers that would get a lot of receivers released.
John Clayton of ESPN also addressed the controversy.
"It's hard for just a special teams player to make it because they have to beat out every-down players who may have six or seven trips to the Pro Bowl," Clayton said in an e-mail. "The current backlog would make it tougher."
Whenever the time comes it will be a tough decision, but at the end of the day it's difficult to envision a part-time player being enshrined.
Alex Hickey makes his case on why Devin Hester should be enshrined among the legends.
Does Devin Hester belong in the Hall of Fame? Yes. And for that he has many punters to thank – the most important one being a "Guy" he never played against.
When punter Ray Guy was inducted into Canton this summer, it opened the door for Hester to some day walk in. No, nothing about Hester's offensive stats scream "Hall of Fame." They don't even scream "Pro Bowl." But that's not what should be looked at when his credentials are combed over. Hester isn't Hall of Fame receiver. He's a Hall of Fame returner.
Just as Guy was the best to ever boot a ball off his foot, Hester is the greatest on the receiving end of that arc. Both players took a rather mundane part of the game and turned it into artwork.
The legend of Hester began in his very first game, when he returned an 84-yard punt for a touchdown in Green Bay. Five weeks later, the world was put on notice when he took one home from 83 yards out to seal an improbable 24-23 comeback win over the Cardinals that sent Dennis Green off the deep end on national TV.
I mean, come on – isn't instigating "They are who we thought they were?" suitable reason for induction by itself?
In all seriousness, the Hester effect is best measured by the lengths at which opponents went to avoid him. Opposing special teams coaches essentially came into Bears games with a simple mandate – "DO NOT KICK THE BALL TO HESTER." Often the mandate came at the cost of giving the Bears excellent field position. Sometimes it paid off, sometimes it didn't. Such things happen in a Rex Grossman-led offense. But it says a lot about a player that giving an offense a 65-yard field was seen as a superior solution to putting it in one guy's hands.
Between scribbling circles the on the telestrator, John Madden always used to ramble about big-time players making big-time plays in big-time games. Hester did so with his one shot in the spotlight, becoming the only player to ever return the opening kickoff of the Super Bowl for a touchdown.
Over the course of his career, Devin Hester has proven himself to be the best to ever play his primary position on the field. If that's not worthy of the Hall of Fame, what is?
Buccaneers admit mistake, boot Aguayo
In the NFL, it's always better to admit a mistake than to compound it. For the Buccaneers, the decision to burn a 2016 second-round pick on kicker Robert Aguayo has proven to be a mistake. The Buccaneers made the definitive admission of their error on Saturday, cutting Aguayo. He exits with $428,000 in fully-guaranteed salary [
more
]
Source: Mike Florio of ProFootballTalk
Powered by WPeMatico
Did Bucs put too much pressure on Aguayo?
After the Buccaneers surprised everyone by taking a kicker with the 59th overall pick in the draft, G.M. Jason Licht explained the move by heaping superlatives on the player. "I was very excited along with my staff and coaches about Roberto for a very long time," Licht told PFT Live in May 2016. "It's not [
more
]
Source: Mike Florio of ProFootballTalk
Powered by WPeMatico
Broncos holding their breath on Derek Wolfe
Only two days after losing Billy Winn for the year with a torn ACL, the Broncos are now sweating out another potentially serious injury along the defensive line. Via multiple reports, Broncos defensive lineman Derek Wolfe was carted off the field during practice on Saturday. It's being described as a right ankle injury by coach [
more
]
Source: Mike Florio of ProFootballTalk
Powered by WPeMatico