New England Patriots' Championship Window Has Closed
Find out why the Patriots have regressed to the level they're currently at.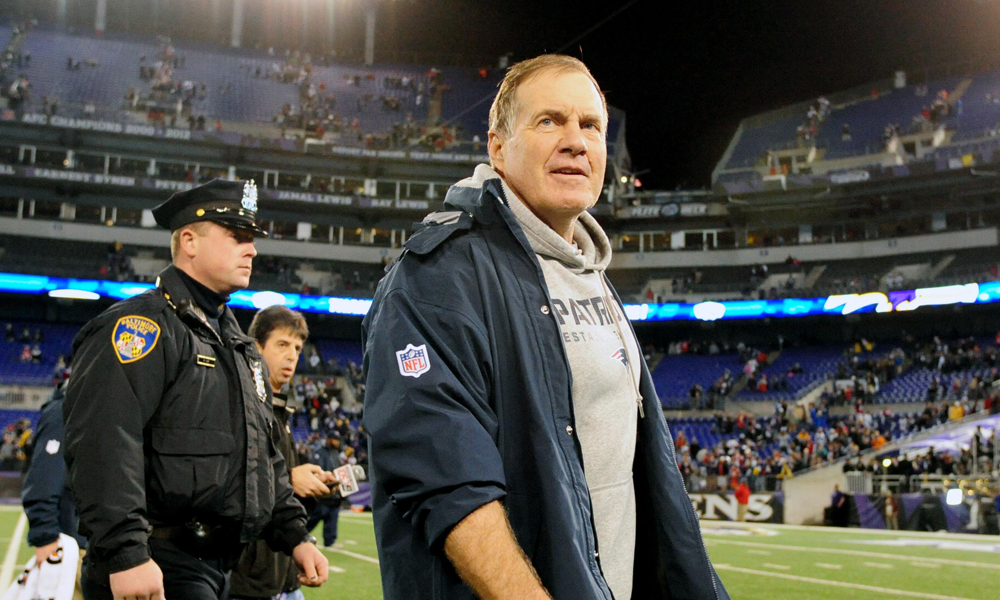 I have not come to praise Bill Belichick, I've come to bury him.
We're not actually going to do any physical damage to the head coach of the New England Patriots, we're just going to reiterate the statement that his team made during Monday night's 41-14, palindromic loss to the Kansas City Chiefs.
"We did a lot of things wrong and we turned the ball over in the second half. So pretty much, we need to do everything better," Patriots head coach Bill Belichick said after Monday's loss.
The statement is that the Patriots, as we know them, are done winning Super Bowls.
It's a pretty easy proclamation to make following a blowout loss, especially considering this team hasn't actually taken home the hardware in a full decade.
Is it Tom Brady's fault that the Patriots are no longer a real Super Bowl championship contender?
To put it simply, no.
Father time catches up with all of us and Brady is not what he once was. He has the second-highest "off-target" percentage (25.5) among NFL quarterbacks (behind Nick Foles). He's second worst in the NFL in passes over five yards completing just 43 percent of his throws (behind E.J. Manuel).
Brady used to lift up offenses to championships in which his best weapon was a man named Deion Branch and the most reliable receiver also played cornerback (Troy Brown). Brady is the greatest quarterback to ever play the game in this writer's book, but even "Tom Terrific" can't do everything by himself.
"You know, I think we're all trying to do a better job. I think it's not necessarily one position, it's all positions," Brady said of his offense's struggles. "A lot of guys have been rotating trying to find combinations that work at every position. But ultimately the guys who make the most plays and are the most consistent are going to be out there."
While Brady watches Peyton Manning throw to Demaryius Thomas, Emmanuel Sanders and his beloved Wes Welker, he's trying to stretch the field with Julian Edelman and Brandon LaFell. How much do you think Brady would give to switch places with Matt Ryan, who has Julio Jones, Roddy White and Harry Douglas at his disposal?
Make no mistake, how the Patriots got to this point is the work of their head coach and de facto general manager.
Belichick may indeed be the smartest guy in the room. Unfortunately for him, not everyone else in the room is dumb. In today's NFL, you simply can't have a head coach being in complete control of personnel. It just doesn't work. There's too many jobs to do, hats to wear and not nearly enough hours in the day.
Perhaps Belichick bought in to his "genius" label a little too much? "The Patriot Way" puts certain values on their prospective free agents and when those offers from elsewhere exceeded the Pats value they let them walk. Sure, guys like Deion Branch, Asante Samuel, Richard Seymour and Wes Welker haven't quite set the world on fire since they left New England. But who have the Patriots replaced those guys with? Josh Boyce? Jermaine Cunningham? Sometimes you simply have to overpay to keep the core of the team together and win more titles.
Instead, Belichick and company kept trading their stars for draft picks, letting them walk for compensatory picks and then using those draft picks to trade back for more draft picks.
The draft is like a lottery and the more lottery tickets you have the better chance you have to win. That makes sense. But continually trading back and passing on potential impact players while your quarterback is aging and your championship window is closing makes little sense.
Over the past five seasons the Patriots have selected more quarterbacks (two) in the first three rounds of the draft than offensive linemen (one). Along with the Cleveland Browns, New England doesn't have a single skill-position player drafted in the first round.
The Patriots did a deal with Minnesota last year to get extra draft picks. The Vikings selected wide receiver/playmaker Cordarrelle Patterson. Is there one player on the Patriots that's as explosive as Patterson?
"If you take care of the future, the future will take care of the present," a prominent NFL executive said to Football Insiders.
Having a good, young core will keep a team viable and competitive for the long term, something the Patriots lost sight of. Unfortunately, the Patriots aren't judged on viability and being competitive. They've done a great job over the past 14 years of being a constant fixture in the postseason and dominating a mediocre division. Still, this is a team that's judged by Lombardi trophies.
"A lot of teams had great seasons," Brady said after last year's AFC Championship loss to Denver. "But there's ultimately only one Super Bowl winner. And in order to get to that game and to win it, you've got to play really well in the playoffs."
New England is likely going to turn their current 2-2 record into another AFC East title. They might even beat the Cincinnati Bengals on Sunday night. Still, this team has no deep threat, a mediocre offensive line and a quarterback who isn't as accurate as he once was. That's not the formula to win another title, even if they have the smartest man in the room wearing a hoodie.
Did Bucs put too much pressure on Aguayo?
After the Buccaneers surprised everyone by taking a kicker with the 59th overall pick in the draft, G.M. Jason Licht explained the move by heaping superlatives on the player. "I was very excited along with my staff and coaches about Roberto for a very long time," Licht told PFT Live in May 2016. "It's not [
more
]
Source: Mike Florio of ProFootballTalk
Powered by WPeMatico
Broncos holding their breath on Derek Wolfe
Only two days after losing Billy Winn for the year with a torn ACL, the Broncos are now sweating out another potentially serious injury along the defensive line. Via multiple reports, Broncos defensive lineman Derek Wolfe was carted off the field during practice on Saturday. It's being described as a right ankle injury by coach [
more
]
Source: Mike Florio of ProFootballTalk
Powered by WPeMatico
Buccaneers admit mistake, boot Aguayo
In the NFL, it's always better to admit a mistake than to compound it. For the Buccaneers, the decision to burn a 2016 second-round pick on kicker Robert Aguayo has proven to be a mistake. The Buccaneers made the definitive admission of their error on Saturday, cutting Aguayo. He exits with $428,000 in fully-guaranteed salary [
more
]
Source: Mike Florio of ProFootballTalk
Powered by WPeMatico