Packers' Offense Is Hot Enough To Withstand The Cold
No one can stop Aaron Rodgers right now. Why should the weather?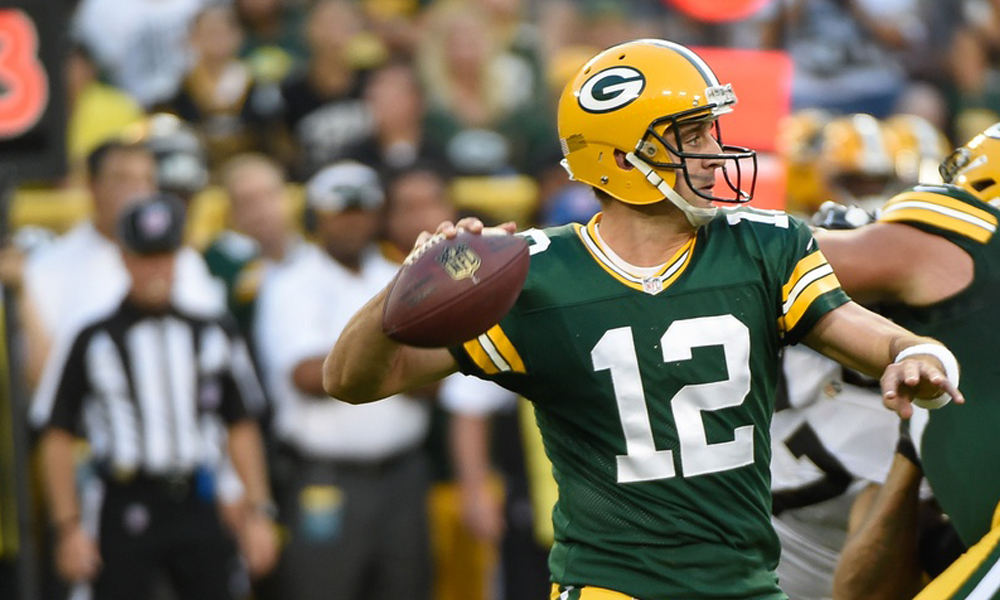 The Green Bay Packers are refitting the "Greatest Show on Turf" for the tundra.
Lambeau Field is one of the NFL's most hostile weather environments, with one merely needing to pull out footage of the Ice Bowl or a ruddy-faced Tom Coughlin in the 2007 NFC Championship Game for proof. But the Packers are throwing caution — not to mention multiple passes — to the wind with an offensive attack more reminiscent of an indoor team.
The Pack look more like the 1999 Rams or the 2009 Saints than a team playing out in the cold.
Green Bay leads the league in explosive passing plays, averaging 8.6 yards per attempt. Aaron Rodgers is by far the highest rated passer in the league, with his 118.6 quarterback rating 10 points higher than the nearest runner-up, Tony Romo. Rodgers has thrown only three interceptions against his 32 touchdowns, which helps explain why the Packers are unafraid to chuck it.
Having Jordy Nelson and Reggie Cobb as receiving options doesn't hurt, either. Both have 10 touchdowns this year.
Nelson is the primary weapon, ranking 10th in the league with 112 pass targets and seventh with 1,119 receiving yards.
Cobb is one of the game's best deep threats, tied for fourth in the NFL with 18 catches of 20 yards or longer.
If an opponent has two cornerbacks strong enough to neutralize those two, rookie Davante Adams has cropped up as a viable third option when needed — though he usually isn't.
Can Green Bay still win with this pedal-to-the-metal approach in December and January? Last Sunday's 26-21 win over New England is a pretty good indicator that the answer to that question is "yes."
History also tells us the Packers can outgun their opponents in terrible conditions. Perhaps the NFL only city subject to worse weather than Green Bay is Buffalo, and the Bills reached four straight Super Bowls in the early '90s by doing things the same way the Packers are in the present.
When you have a Hall of Fame quarterback calling the shots, weather is just a state of mind.
Buccaneers admit mistake, boot Aguayo
In the NFL, it's always better to admit a mistake than to compound it. For the Buccaneers, the decision to burn a 2016 second-round pick on kicker Robert Aguayo has proven to be a mistake. The Buccaneers made the definitive admission of their error on Saturday, cutting Aguayo. He exits with $428,000 in fully-guaranteed salary [
more
]
Source: Mike Florio of ProFootballTalk
Powered by WPeMatico
Did Bucs put too much pressure on Aguayo?
After the Buccaneers surprised everyone by taking a kicker with the 59th overall pick in the draft, G.M. Jason Licht explained the move by heaping superlatives on the player. "I was very excited along with my staff and coaches about Roberto for a very long time," Licht told PFT Live in May 2016. "It's not [
more
]
Source: Mike Florio of ProFootballTalk
Powered by WPeMatico
Broncos holding their breath on Derek Wolfe
Only two days after losing Billy Winn for the year with a torn ACL, the Broncos are now sweating out another potentially serious injury along the defensive line. Via multiple reports, Broncos defensive lineman Derek Wolfe was carted off the field during practice on Saturday. It's being described as a right ankle injury by coach [
more
]
Source: Mike Florio of ProFootballTalk
Powered by WPeMatico