NFL Week 11 Sunday Observations
Everything you need to know about Sunday's games in a two-minute appetizer.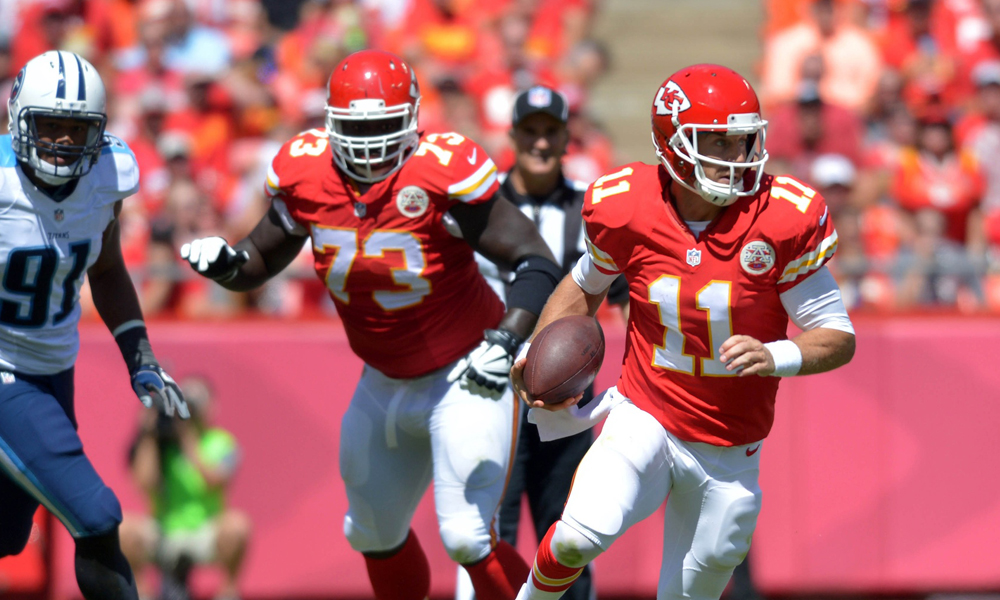 We give you all the news, notes and nuggets from Sunday's action in a very digestible two-minute read.
Bears 21, Vikings 13
This should keep the mob away from Marc Trestman for at least a week as the Bears won an ugly football game. Brandon Marshall showed why he's one of the best and the Chicago defense didn't completely implode, but that may have had more to do with a bad Vikings offense with a rookie quarterback.
Texans 23, Browns 7
Ryan Mallett was legitimately solid for the Texans in his first start. The Browns defense was at a bit of a disadvantage with no real game film on Mallett, and that's why we picked Houston to win the game. J.J. Watt caught a touchdown pass, recorded a sack, had three tackles for loss and recovered a fumble. Just another day at the office for the best defensive player in football.
Chiefs 24, Seahawks 20
Two very similar teams trying to impose their will on the other with the running game. The Chiefs have a better front-seven and the Seahawks have the better secondary. Having a better front seven wins in most cases and it did on Sunday. Don't be surprised if both San Francisco and Arizona beat Seattle in the next few weeks.
Falcons 19, Panthers 17
In one of the world's worst chess matches between Mike Smith and Ron Rivera, Smith wins and goes from one of the hottest seats in the NFL to first place at 4-6 (you can't make it up). The worst news about Sunday is the growing realization that someone in the NFC South is going to get a home playoff game.
Bengals 27, Saints 10
Cincinnati dominated the football game from beginning to end, and looked like the Bengals team that was the best in the AFC in September. Sean Payton hadn't lost a home game since 2010 prior to last week and now he's lost two in a row. New Orleans has a 4-6 record and it still seems like they're in a great spot to win the division.
Buccaneers 27, Redskins 7
For one week the Bucs looked like the team which many pundits thought would make a playoff push. Rookie Mike Evans is turning into a great player with subpar talent around him and although Bucs fans don't want to admit it, Josh McCown gives them the best chance to win games. The Redskins offensive line was atrocious and they reverted back to the horizontal offense from Week 1.
Rams 22, Broncos 7
Shaun Hill made the most of his opportunity as he played fearless football. Peyton Manning has virtually no arm strength left and the Rams athletic secondary pressed up on his receivers. It looked quite similar to last year's Super Bowl. Unless the Broncos can run the ball better this will be a very short and disappointing postseason.
49ers 16, Giants 10
The 'Niners have gone from "left for dead" to now tied with Seattle for second place in the NFC West. They forced five Eli Manning interceptions and still had to make a stop at the end to win. The former LSU wide receiver combo of Rueben Randle and Odell Beckham Jr. were tremendous for the Giants in the loss.
Chargers 13, Raiders 6
Oakland continues to play hard but they just don't have the talent to get over the hump against a solid team like San Diego. The Raiders will win a game this year, but who knows when. San Diego did the bare minimum to get a victory, but that's better than the alternative.
Packers 53, Eagles 20
The Eagles secondary looked very vulnerable against the game's best quarterback. Mark Sanchez can't play in a shootout with Aaron Rodgers, but almost nobody can. If you had to put the mortgage on anyone in the NFC I think Rodgers and the Packers would be your best bet.
Cardinals 14, Lions 6
The Arizona defense continues to be aggressive and great, and the offense did just enough, although three scoreless quarters is a bit of a concern. It's unacceptable for an offense as talented as the Lions to score six points in a football game.
Patriots 42, Colts 20
New England used an extra offensive lineman and dominated the Colts at the line of scrimmage. After 11 weeks it's pretty clear who the best team in the AFC is. Indy is far too one-dimensional to beat an elite team and if these two meet in the playoffs it will be more of the same.
Buccaneers admit mistake, boot Aguayo
In the NFL, it's always better to admit a mistake than to compound it. For the Buccaneers, the decision to burn a 2016 second-round pick on kicker Robert Aguayo has proven to be a mistake. The Buccaneers made the definitive admission of their error on Saturday, cutting Aguayo. He exits with $428,000 in fully-guaranteed salary [
more
]
Source: Mike Florio of ProFootballTalk
Powered by WPeMatico
Did Bucs put too much pressure on Aguayo?
After the Buccaneers surprised everyone by taking a kicker with the 59th overall pick in the draft, G.M. Jason Licht explained the move by heaping superlatives on the player. "I was very excited along with my staff and coaches about Roberto for a very long time," Licht told PFT Live in May 2016. "It's not [
more
]
Source: Mike Florio of ProFootballTalk
Powered by WPeMatico
Broncos holding their breath on Derek Wolfe
Only two days after losing Billy Winn for the year with a torn ACL, the Broncos are now sweating out another potentially serious injury along the defensive line. Via multiple reports, Broncos defensive lineman Derek Wolfe was carted off the field during practice on Saturday. It's being described as a right ankle injury by coach [
more
]
Source: Mike Florio of ProFootballTalk
Powered by WPeMatico