NFL Sunday Observations 9/15
Find out interesting stats, news and nuggets from each game that you can read in a matter of minutes.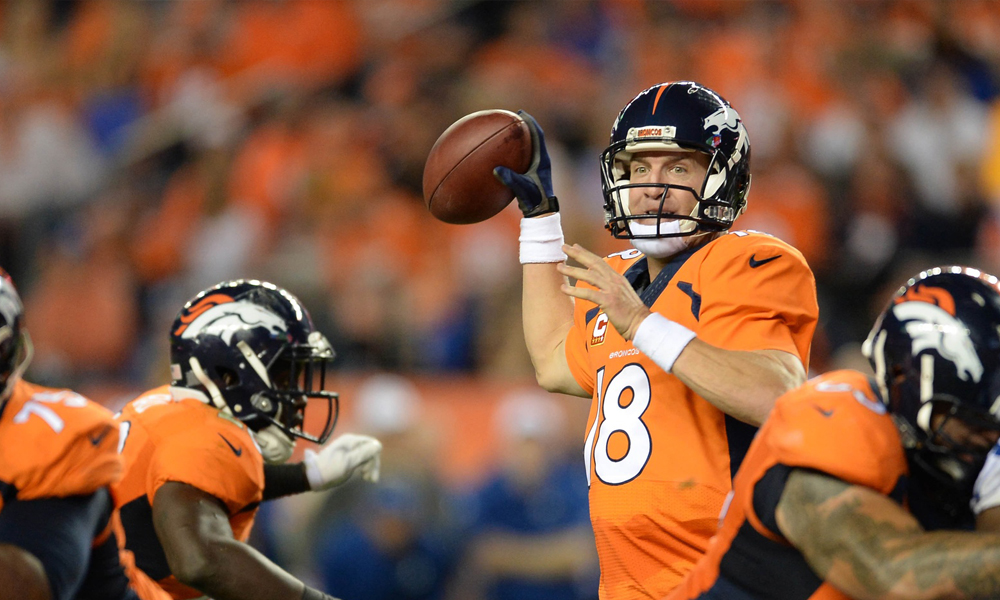 In this weekly feature, NFL expert Charlie Bernstein shares his thoughts on each game.
Bills 29, Dolphins 10
Are the Bills for real?  Probably not, but you can't argue with a 2-0 start.  They seem to play really well against the Dolphins and they were able to sack Ryan Tannehill four times (so much for that improved Miami line).  Buffalo may have a star in the making in cornerback Corey Graham.
Redskins 41, Jaguars 10
The 'Skins lost Robert Griffin III as well as DeSean Jackson so it was a costly blowout victory.  It appears that Griffin will miss significant time, which obviously isn't good when he's trying to learn a new offense.  In the short term, Washington will be fine with Kirk Cousins, who might be a better pocket passer than the Subway spokesman. From the Jaguars' point of view, they are simply wasting time playing Chad Henne.  He's a bad quarterback who is stealing reps from rookie Blake Bortles.  Bortles is tough, he can take the abuse and what's the worst that can happen?  They get blown out?
Cowboys 26, Titans 10
This doesn't mean Jerry Jones should be cackling and yelling, "How 'bout them Cowboys?"  With that said, their defense isn't as awful as many believed and Tony Romo isn't done. Better late than never for head coach Jason Garrett as he finally realized that he has a talented running back in DeMarco Murray who should get the football. For the Titans, Jake Locker looked disturbed and uncomfortable, thus proving his ability to be up one week and down the next.  The up-one-week side is probably more surprising.
Cardinals 25, Giants 14
Arizona went on the road and won with Drew Stanton as their quarterback, thus proving head coach Bruce Arians can win with just about anyone.  Ted Ginn had a kickoff return touchdown, the 20th of his career.  He has an impressive 49.9 yard average on his touchdowns.  The Cardinals' defense forced four New York turnovers and if looks could kill, Giants head coach Tom Coughlin would be investigated for more murders than Aaron Hernandez.  If you can't beat a team traveling nearly 3,000 miles at a 10 a.m. Pacific Time kickoff with a backup quarterback, who can you beat?
Patriots 30, Vikings 7
Tom Brady versus his former backup looked like we thought it would.  Brady was very solid, although the Pats leaned on the running game and Matt Cassel threw four interceptions.  If Adrian Peterson misses an extended period of time, the Vikings will be hard pressed to find victories over anyone not named the Jaguars, Raiders or Giants.
Browns 26, Saints 24
Brian Hoyer has intestinal fortitude.  With most of America wanting him on the bench, he goes out there on Sundays and really plays to the best of his abilities with not a lot of talent around him. The performance of the Saints' defense is troubling as they're allowing 31.5 points per game, second-worst only to Jacksonville.  They are a completely different team on the road, which isn't exactly breaking news.
Bengals 24, Falcons 10
Cincinnati is a really good football team, even with Andy Dalton at quarterback.  A.J. Green hurt his toe and might miss next week's game, but the Bengals have a reliable running game and stingy defense. Atlanta talked a lot on HBO's Hard Knocks about being physical but it really hasn't translated onto the field of play.
Panthers 24, Lions 7
So much for that step back that everyone was predicting for the Panthers.  They play great defense and they have a playmaker at quarterback.  Cam Newton is making his receivers better and Kelvin Benjamin looks like he's going to be a star. Where did the Lions' offense from last Monday night go?  Oh, they're not playing the Giants again.
Rams 19, Bucs 17
Give Jeff Fisher tons of credit for getting his team ready to play a tough road game with a backup rookie quarterback.  Brian Quick is turning into a pretty good receiver and Greg Zuerlein is clutch. Tampa Bay still doesn't have a quarterback and their secondary is bad.  That was a win they really had to get and couldn't.  Gerald McCoy broke his hand and will likely miss some time.  The game oddly ended on a 10-second runoff as the Bucs were in field goal range.
Chargers 30, Seahawks 21
Saying the Chargers saved their season is a bit of an overstatement, but beating the defending champs is a huge confidence booster.  Ryan Matthews got hurt so it looks like Donald Brown will be the man in the San Diego backfield going forward. So, the Seahawks aren't going 16-0.  What if the champs start 1-2?  It's entirely possible with Denver coming to town.
Texans 30, Raiders 14
Arian Foster is back to being Arian Foster and J.J. Watt caught a touchdown pass.  The Texans are currently in first place, but they started last season 2-0 before losing their last 14 games. The Raiders are going to take their lumps with Derek Carr but isn't that better than taking them with Matt Schaub?  Jaguars and Vikings, take note.
Packers 31, Jets 24
Fantastic comeback by Green Bay to get a game they really needed to have.  Jordy Nelson is more than just a great fantasy receiver, he's a great receiver.  Kudos to Jets offensive coordinator Marty Mornhinweg for illegally calling timeout seconds before Geno Smith throws a game-tying touchdown pass, nullifying the play.  Rex Ryan now has a 2-12 record against Super Bowl winning quarterbacks in the regular season.
Broncos 24, Chiefs 17
This is two weeks in a row where the Broncos jumped out to a lead and put the offense in cruise control.  It's a testament to their efficiency that we question when they don't score. Jamaal Charles hurt his ankle early and the Chiefs did a good job to hang around against a superior team.
Bears 28, 49ers 20
Impressive comeback by Chicago as Brandon Marshall achieved the hat trick with three touchdown catches. Colin Kaepernick turned the ball over four times and the San Francisco defense wasn't good enough to overcome it.
Buccaneers admit mistake, boot Aguayo
In the NFL, it's always better to admit a mistake than to compound it. For the Buccaneers, the decision to burn a 2016 second-round pick on kicker Robert Aguayo has proven to be a mistake. The Buccaneers made the definitive admission of their error on Saturday, cutting Aguayo. He exits with $428,000 in fully-guaranteed salary [
more
]
Source: Mike Florio of ProFootballTalk
Powered by WPeMatico
Did Bucs put too much pressure on Aguayo?
After the Buccaneers surprised everyone by taking a kicker with the 59th overall pick in the draft, G.M. Jason Licht explained the move by heaping superlatives on the player. "I was very excited along with my staff and coaches about Roberto for a very long time," Licht told PFT Live in May 2016. "It's not [
more
]
Source: Mike Florio of ProFootballTalk
Powered by WPeMatico
Broncos holding their breath on Derek Wolfe
Only two days after losing Billy Winn for the year with a torn ACL, the Broncos are now sweating out another potentially serious injury along the defensive line. Via multiple reports, Broncos defensive lineman Derek Wolfe was carted off the field during practice on Saturday. It's being described as a right ankle injury by coach [
more
]
Source: Mike Florio of ProFootballTalk
Powered by WPeMatico