NFL Sunday Observations- Week 5
It's time to get your news, notes and nuggets from each of Sunday's games in just a few minutes.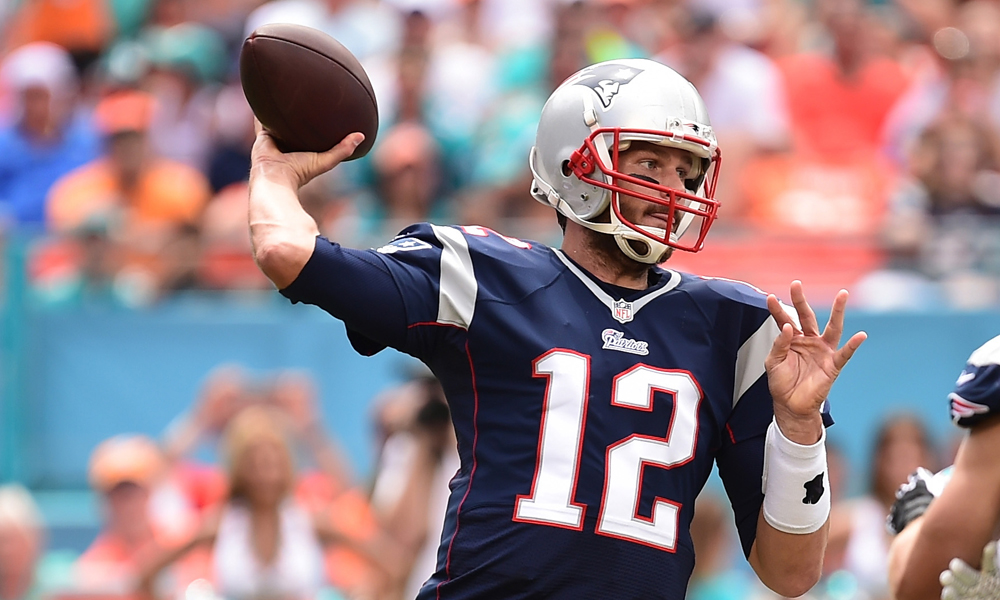 Carolina 31, Chicago 24
Big win for the Panthers as they moved into first place all by themselves in the NFC South. Carolina benefitted from four Chicago turnovers (while committing three of their own) and Cam Newton made enough plays to get by, while ruining a great effort by Matt Forte.
Cleveland 29, Tennessee 28
The Browns set a new NFL record as they came back from 25 points down on the road to beat the sliding Titans. Brian Hoyer is turning into somewhat of a folk hero as he has a Browns team without much talent playing reasonably well. If you chose the second quarter in your Jake Locker injury pool, you won.
Philadelphia 34, St. Louis 28
Two more turnovers from Nick Foles and the Eagles almost let a 34-7 lead slip away. Philly scored once on special teams and once on defense en route to their victory over the hapless Rams.
New York Giants 30, Atlanta 20
The Giants weren't perfect as they had to come back from 10 points down, but they did enough to beat a Falcons team that's lost nine of their last 10 games away from the Georgia Dome. I suppose the NFC East isn't so bad, is it?
New Orleans 37, Tampa Bay 31 (OT)
Great job by New Orleans rallying to find a victory and potentially save their season. Drew Brees had an off day but Mike Glennon had his usual Mike Glennon day- made some good plays, some bad plays and missed some open men. The Saints still have major issues, but the Bucs have more.
Dallas 20, Houston 17
The Cowboys managed to pull off the rare upset of beating both themselves and the Houston Texans. Dallas overcame three turnovers thanks to DeMarco Murray's 136 yards rushing. For Houston, having Ryan Fitzpatrick at quarterback is really starting to catch up to them. They simply can't make enough plays in the passing game.
Buffalo 17, Detroit 14
Doug Marrone's faith in Kyle Orton was proved to be valid as he scuffled at times, but found a way to lead the Bills to a hard-earned victory on the road and a share of first place in the AFC East. For the Lions, new coach, same old story. This was a game they really should have won and found a way to lose.
Indianapolis 20, Baltimore 13
Andrew Luck wasn't perfect, but he made plays and put the ball in the end zone when his team needed it. Bad Joe Flacco showed up for the Ravens as they went 1-11 on third downs.
Pittsburgh 17, Jacksonville 9
The Steelers' defense was the story of the game as they allowed just three field goals and scored a touchdown on a Brice McCain pick-six. Antonio Brown caught at least five passes for the 21st straight game and Le'Veon Bell ran well again. The Jaguars are going through some expected growing pains with their rookie quarterback.
Denver 41, Arizona 20
The Cardinals' defense hung in there for a while before Denver's offense made the damn burst. Arizona started backup Drew Stanton and lost him to injury during the game. A third-string quarterback is never going to beat Peyton Manning.
San Francisco 22, Kansas City 17
It wasn't a thing of beauty, but San Francisco benefited from five Phil Dawson field goals and made a big defensive stop on Alex Smith with the game in balance. Colin Kaepernick is going to have to play better if the 'Niners are going to beat better teams.
San Diego 31, New York Jets 0
The Chargers are separating themselves from the average teams in the NFL as Philip Rivers has been nothing short of brilliant. Geno Smith couldn't get anything going and was benched at halftime. Michael Vick came in and really wasn't any better. The Jets have a bad situation at quarterback that will likely lead to Rex Ryan's unemployment.
New England 43, Cincinnati 17
You can't ever bury the Patriots, no matter how dead they look. Tom Brady was very good and the Patriots' game plan kept the Bengals guessing on both sides of the football. New England dominated the line of scrimmage and it appears that Cincinnati really misses Vontaze Burfict.
Buccaneers admit mistake, boot Aguayo
In the NFL, it's always better to admit a mistake than to compound it. For the Buccaneers, the decision to burn a 2016 second-round pick on kicker Robert Aguayo has proven to be a mistake. The Buccaneers made the definitive admission of their error on Saturday, cutting Aguayo. He exits with $428,000 in fully-guaranteed salary [
more
]
Source: Mike Florio of ProFootballTalk
Powered by WPeMatico
Did Bucs put too much pressure on Aguayo?
After the Buccaneers surprised everyone by taking a kicker with the 59th overall pick in the draft, G.M. Jason Licht explained the move by heaping superlatives on the player. "I was very excited along with my staff and coaches about Roberto for a very long time," Licht told PFT Live in May 2016. "It's not [
more
]
Source: Mike Florio of ProFootballTalk
Powered by WPeMatico
Broncos holding their breath on Derek Wolfe
Only two days after losing Billy Winn for the year with a torn ACL, the Broncos are now sweating out another potentially serious injury along the defensive line. Via multiple reports, Broncos defensive lineman Derek Wolfe was carted off the field during practice on Saturday. It's being described as a right ankle injury by coach [
more
]
Source: Mike Florio of ProFootballTalk
Powered by WPeMatico