NFL Standings Showing Experience Matters At QB
Why is your team at the top or bottom? Find out here.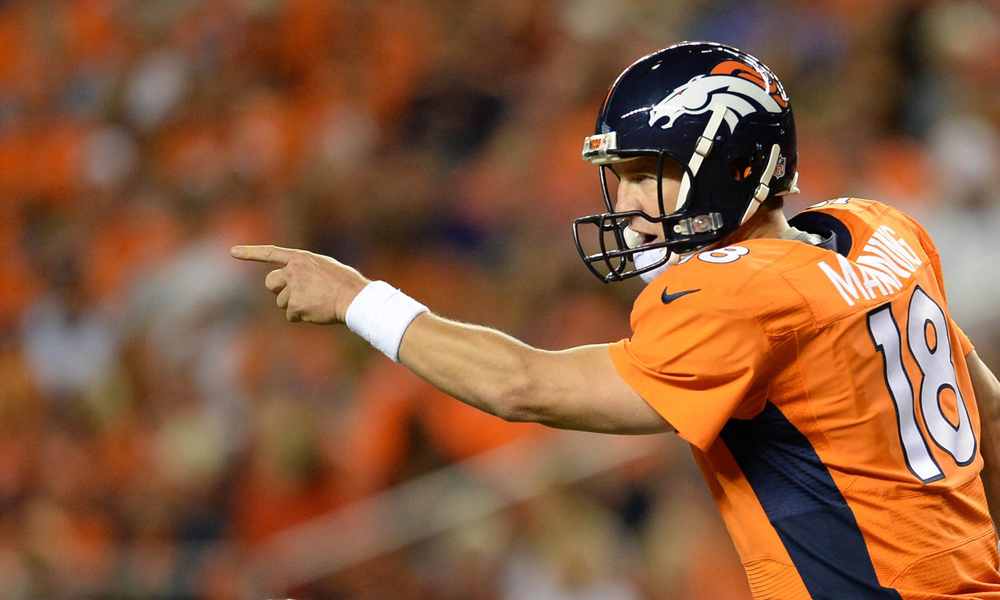 We have now officially moved into the fourth quarter of the NFL football season and although it has been a very topsy-turvy season, with many teams having a "Jekyll and Hyde" type personality to their play each week, one thing is becoming increasingly clear.  The more experience your team has at the quarterback position, the more successful your team is thus far.
QB patriarchs Peyton Manning and Tom Brady are both the oldest starting quarterback's in the league and are also the top two seeds in the AFC playoffs with four games to play.  The worst teams in the league start rookies (Raiders, Titans and Jaguars) and the others near the bottom have switched very young and more experienced QB's due to injury or inconsistent play (Bucs, Jets).
Teams at or near the top of their division start former top-overall picks (Colts, Lions) and the other QB's that have had great success early in their careers that were not top picks have been helped immensely by very strong defenses (Kaepernick, Wilson, Flacco).  The marginal outliers this season are the 7-5 Dolphins and Browns, starting QB's with a few years of experience and finding enough success to be above the .500 mark, but neither in a position to determine their own playoff destiny at this point and the Browns actually sitting in last place in the AFC North and actually pondering a quarterback change this week that would put a rookie in charge.
Underachieving teams starting veteran quarterbacks include the Bears, Giants, Saints, Falcons and Panthers, however, the Saints and Falcons are fighting it out for the division lead in the NFC South.  Cam Newton is still a young player, but a former No. 1 overall pick that should be showing signs of lifting his team to greater things and there seems to be no light shining at the end of the tunnel for him or the Carolina Panthers.  
Should the Bears and Giants be seriously thinking about a change at their most influential position to team success? 
I think so. 
While Eli Manning dons a pair of Super Bowl rings, his overall countenance and spotty play do not inspire confidence in the organization.  Both of these quarterbacks have horrible body language and would be the poster-boys for how not to carry yourself as a leader of any group trying to accomplish great things, not a boy scout troop, a military battalion and especially not a professional football team.
NFL teams that continue to struggle will continue to try to find the right fit at QB through the top of the draft and rightly so.  Only the Saints and Cardinals can claim any real success through free agency this season and only Carson Palmer is a recent acquisition.  Success this season for the vast majority of teams is through developing their own drafted talent, with former sixth rounder Tom Brady, third rounder Russell Wilson and former free agent Tony Romo leading the "steal" category, while Peyton Manning, Aaron Rogers, Andrew Luck and Matthew Stafford among others show the best way to the top of the league is finding your signal caller in the draft and most often at the very top of the draft, so tanking games for that top slot may not be a bad idea, although getting current players and coaches to give away games for higher future draft status is a tough thing to get done, although it would make many cynical fans very, very happy.
Buccaneers admit mistake, boot Aguayo
In the NFL, it's always better to admit a mistake than to compound it. For the Buccaneers, the decision to burn a 2016 second-round pick on kicker Robert Aguayo has proven to be a mistake. The Buccaneers made the definitive admission of their error on Saturday, cutting Aguayo. He exits with $428,000 in fully-guaranteed salary [
more
]
Source: Mike Florio of ProFootballTalk
Powered by WPeMatico
Did Bucs put too much pressure on Aguayo?
After the Buccaneers surprised everyone by taking a kicker with the 59th overall pick in the draft, G.M. Jason Licht explained the move by heaping superlatives on the player. "I was very excited along with my staff and coaches about Roberto for a very long time," Licht told PFT Live in May 2016. "It's not [
more
]
Source: Mike Florio of ProFootballTalk
Powered by WPeMatico
Broncos holding their breath on Derek Wolfe
Only two days after losing Billy Winn for the year with a torn ACL, the Broncos are now sweating out another potentially serious injury along the defensive line. Via multiple reports, Broncos defensive lineman Derek Wolfe was carted off the field during practice on Saturday. It's being described as a right ankle injury by coach [
more
]
Source: Mike Florio of ProFootballTalk
Powered by WPeMatico