NFL Rumor Mill: Jets, 49ers Mull Coaching Changes
A look at another potential head coach firing in the season, along with the team's who would dump their head coach for Jim Harbaugh. We also look at Tom Brady playing out the string.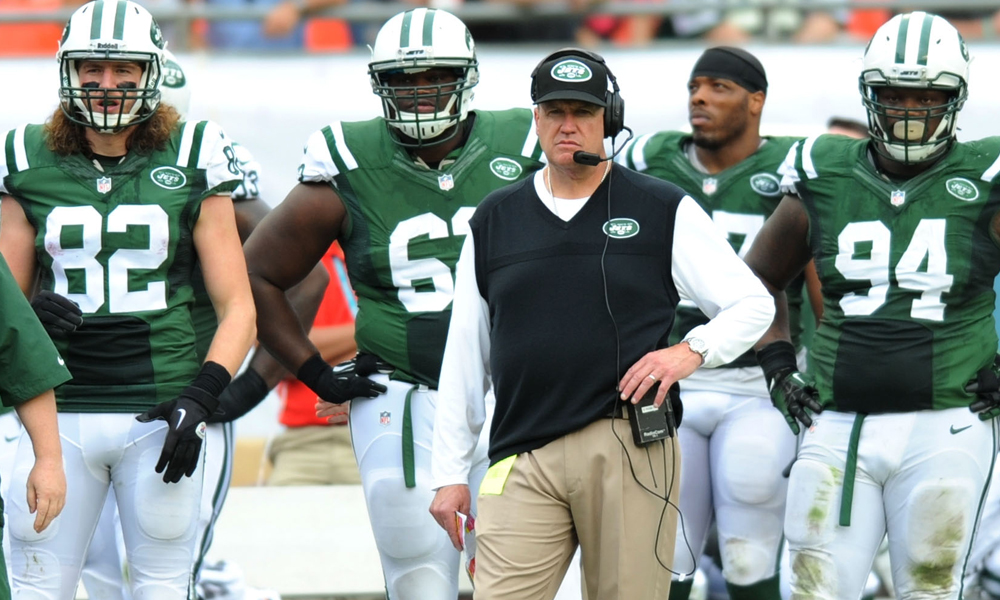 There are some juicy morsels of information in today's rumor mill as we reflect what we're hearing about high profile coaching changes and the highest profile quarterback playing out the twilight of his career.
Harbaugh Out No Matter What
Fox Sports' Jay Glazer reported on Sunday that San Francisco 49ers head coach Jim Harbaugh would be fired at the end of the season, regardless of the result – even if the 49ers "hoist the Lombardi."
The report certainly has a ring of truth to it as it was reported that the 49ers were in talks with the Cleveland Browns about trading their head coach.
San Francisco CEO Jed York responded to the report via his Twitter account.
"Jim is my coach. We are trying to win a SB, not a personality or popularity contest. Any more questions?"
Harbaugh has the personality of a perfectionist and a grinder. Although he's had an unbelievable amount of success everywhere he's been, his act does grow tired on a team, even if his team's are winning.
Part of this dissension began in 2012 when Peyton Manning was released from the Indianapolis Colts and was courted by many teams, including San Francisco. Sources tell Football Insiders that Alex Smith, the 49ers starting quarterback at the time, asked Jim Harbaugh directly about his involvement with courting Peyton Manning and Harbaugh was less than truthful. Although Smith wasn't a star, he was a team leader and a very popular player in the locker room. That began the distrust by the players in Harbaugh.
Hall of Fame defensive back Deion Sanders said on the NFL Network last week: "They want him out. They're not on the same page."
The 49ers were 5-11 the season before Harbaugh took over and they've made two NFC title game appearances and a Super Bowl appearance in the three years since, with a very similar core of players. If and when Jim Harbaugh leaves, he will be the hottest coaching commodity possibly ever. Look for teams that are lukewarm about their coaching situations to potentially accelerate their process and make a move. Teams that could fit that description are the Miami Dolphins, the New York Jets, Dallas Cowboys, Chicago Bears, St. Louis Rams, Buffalo Bills, Cleveland Browns and the already vacant job in Oakland with the Raiders.
Rex May Not Make Thanksgiving
The New York Jets have had a rocky marriage with head coach Rex Ryan. The honeymoon phase included a pair of AFC title game appearances. Since losing to the Pittsburgh Steelers in the AFC title game in January of 2011, Ryan hasn't navigated the Jets to a winning season including this year's 1-4 start.
Ryan has always run his team his way and that involves being a "player's coach," which has endeared his guys to him. He's loyal to a fault, and that's best referenced by his support of Mark Sanchez and now Geno Smith.
The team may be taking advantage of Ryan's support as Smith and a few other players missed a meeting before Sunday's 31-0 drubbing at the hands of the San Diego Chargers.
Smith looked completely dysfunctional as a quarterback as he completed just 4 of 12 throws for 27 yards and an interception before being benched at halftime.
"This wasn't on him," Ryan said following the shutout loss. "He wasn't the guy out there blocking or blowing assignments or doing whatever. It's not on one player, it's on one individual and that's me. Geno will be our quarterback next week. That's just the way it is."
If Ryan doesn't make a move and the team doesn't improve pretty quickly, he may not be around to see the fruits of his labor. New York has the two AFC title game participants from last season, Denver and New England in the next two weeks. The Jets then host the first place Buffalo Bills, travel to Kansas City and then host Pittsburgh prior to the bye week. It's likely that the Jets will be underdogs in every game but one and a 2-8 start through 10 games will likely give general manager John Idzik the ammunition necessary to make a move.
Pats Moving On From Brady?
ESPN's Chris Mortensen reported Sunday that the New England Patriots may be preparing for the Tom Brady era to end and that second-round draft pick Jimmy Garoppolo will take over sooner rather than later.
According to Mortensen, Brady isn't pleased with the direction the Patriots offense is going and he's "uncomfortable" with some of the changes to the personnel and coaching staff. Brady has seen his level of input in the offense decrease.
Brady has been one of the greatest quarterbacks to ever play the game. He's made everyone from owner Robert Kraft to head coach Bill Belichick millions of dollars with his on the field brilliance.
Still, father time is undefeated and not likely to lose anytime soon and Brady's level of play has slipped.
Even in Sunday night's "statement" victory over Cincinnati, Brady was inaccurate on several throws as he showed poor footwork and mechanics. A lot of that was lost in the 43-17 victory, but the truth is that Brady isn't playing at as high of a level as he played with a couple years ago.
The "Patriot Way" has loosely been defined as the team letting go of potentially overpriced veterans while they still have value, thus acquiring more draft picks and always grooming younger, cheaper replacements. Even though Brady has been the most important player in franchise history, he's not above being let go.
If you don't believe that, simply look at what happened in Indianapolis. Manning had even more of a bond with the Colts than Brady has with the Patriots and he was let go for the opportunity to select Andrew Luck, who wasn't then on the roster.
Patriots fans should enjoy the final games of the Tom Brady era, as he's not likely to be in a New England jersey all that much longer.
Buccaneers admit mistake, boot Aguayo
In the NFL, it's always better to admit a mistake than to compound it. For the Buccaneers, the decision to burn a 2016 second-round pick on kicker Robert Aguayo has proven to be a mistake. The Buccaneers made the definitive admission of their error on Saturday, cutting Aguayo. He exits with $428,000 in fully-guaranteed salary [
more
]
Source: Mike Florio of ProFootballTalk
Powered by WPeMatico
Did Bucs put too much pressure on Aguayo?
After the Buccaneers surprised everyone by taking a kicker with the 59th overall pick in the draft, G.M. Jason Licht explained the move by heaping superlatives on the player. "I was very excited along with my staff and coaches about Roberto for a very long time," Licht told PFT Live in May 2016. "It's not [
more
]
Source: Mike Florio of ProFootballTalk
Powered by WPeMatico
Broncos holding their breath on Derek Wolfe
Only two days after losing Billy Winn for the year with a torn ACL, the Broncos are now sweating out another potentially serious injury along the defensive line. Via multiple reports, Broncos defensive lineman Derek Wolfe was carted off the field during practice on Saturday. It's being described as a right ankle injury by coach [
more
]
Source: Mike Florio of ProFootballTalk
Powered by WPeMatico