NFL roundup: Vikings' Peterson out on bond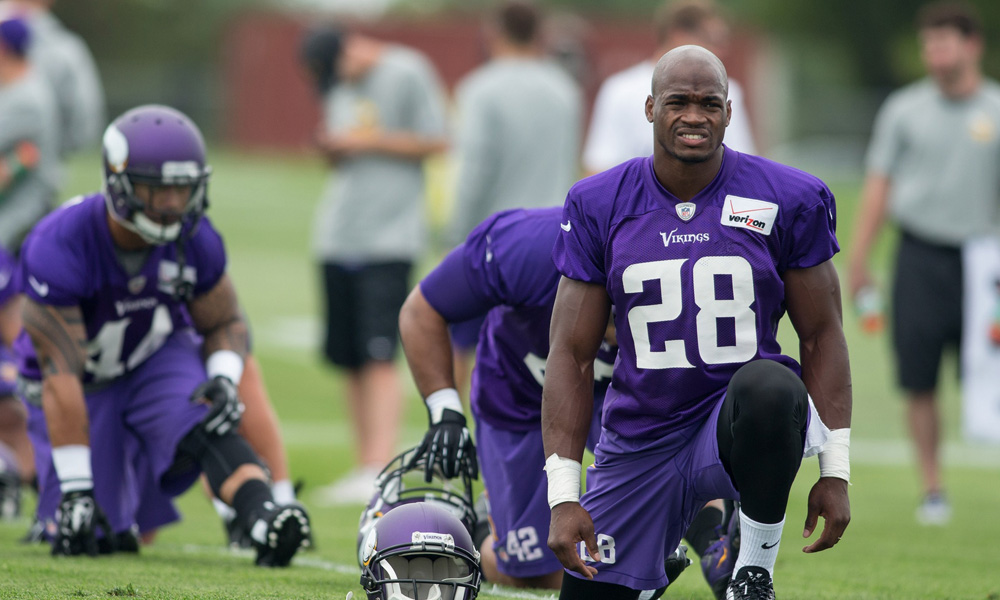 Minnesota Vikings star running back Adrian Peterson was released from Montgomery County, Texas, jail early Saturday morning after posting a $15,000 bond.
Peterson turned himself in after a warrant for his arrest was issued following an indictment Friday by a grand jury for reckless or negligent injury to a child.
Peterson, who was deactivated by the Vikings for their game against New England Sunday, was booked into the Montgomery County jail at 1:06 a.m. CT Saturday and released at 1:35 a.m. CT after posting the $15,000 bond.
Peterson's attorney, Rusty Hardin said in a statement Friday that his client's conduct "involves using a switch to spank his son." A report from Sports Radio 610 in Houston indicated Peterson removed leaves of a tree branch, which he referred to in a police report as "a switch," with which he struck the 4-year-old child.
The Minneapolis Star Tribune reported that the boy lives with his mother in Minnesota and had traveled to Texas with Peterson several months ago when the incident is alleged to have taken place.
At a news conference Saturday, Montgomery County first assistant district attorney Phil Grant said only one grand jury reviewed Peterson's case, refuting a report that an initial grand jury rejected the case and it took a second grand jury to indict Peterson.
Grant said the grand jury "was provided lots of evidence over a significant number of weeks, and at the conclusion of that evidence presentation and an explanation of the law in this particular matter, they chose to indict Mr. Peterson."
Grant said Peterson was charged with one count of injury to a child and could be sentenced to as many as two years in state jail, as well as a $10,000 fine. Probation also is an option for defendants with no prior criminal record.
Grant said Peterson will likely make a court appearance in the next several weeks, but it could be several months before the case would go to trial.
—The Vikings signed running back Joe Banyard from the practice squad to the active roster and waived fullback Zach Line.
Banyard was elevated to the 53-man roster after spending the first week of the regular season on the practice squad. Banyard originally joined the Vikings as a practice squad player in 2012. He spent the final 15 weeks of the 2013 season with the Vikings, including the final three weeks on the active roster.
—Washington Redskins owner Dan Snyder expressed his support of commissioner Roger Goodell in his handling of former Baltimore Ravens running back Ray Rice.
Goodell suspended Rice indefinitely earlier this week and the Ravens released him after a video emerged showing Rice knocking out his then-fiancee, Janay Palmer, with a punch in an elevator.
"Roger Goodell has always had the best interests of football at heart, both on and off the field," Snyder said. "We are fortunate to have him as our commissioner. The entire Washington Redskins organization strongly endorses his efforts to eradicate domestic abuse and the independent investigation into the Ray Rice assault."
Snyder joins Chicago Bears owner George McCaskey in releasing statements this week in support of Goodell.
—St. Louis Rams defensive end Robert Quinn signed a four-year contract extension through the 2019 season.
Details were not disclosed, but media sources said the deal is worth $66.575 million, including $41.2 million in guaranteed money. Quinn has two years remaining on his current contract, so the new deal won't kick in until 2016.
The 24-year-old Quinn finished second in the NFL with 19 sacks and made the Pro Bowl last season. He was selected in the first round of the NFL draft by the Rams in 2011.
—The New England Patriots signed rookie linebacker Deontae Skinner to the 53-man roster from the practice squad and released linebacker Darius Fleming.
Skinner, 23, was originally signed by New England as a rookie free agent out of Mississippi State on May 12. The 6-foot-2, 250-pounder was released by the Patriots on Aug. 26 and signed to the practice squad on Sept. 1.
—The Oakland Raiders signed linebacker Bojay Filimoeatu to their active roster from the team's practice squad.
Filimoeatu originally signed with Oakland as an undrafted free agent in May, and was waived by the team at the end of training camp before signing to the practice squad two days later.
To make room on the roster, the Raiders placed cornerback Taiwan Jones on the reserve/injured list.
Buccaneers admit mistake, boot Aguayo
In the NFL, it's always better to admit a mistake than to compound it. For the Buccaneers, the decision to burn a 2016 second-round pick on kicker Robert Aguayo has proven to be a mistake. The Buccaneers made the definitive admission of their error on Saturday, cutting Aguayo. He exits with $428,000 in fully-guaranteed salary [
more
]
Source: Mike Florio of ProFootballTalk
Powered by WPeMatico
Did Bucs put too much pressure on Aguayo?
After the Buccaneers surprised everyone by taking a kicker with the 59th overall pick in the draft, G.M. Jason Licht explained the move by heaping superlatives on the player. "I was very excited along with my staff and coaches about Roberto for a very long time," Licht told PFT Live in May 2016. "It's not [
more
]
Source: Mike Florio of ProFootballTalk
Powered by WPeMatico
Broncos holding their breath on Derek Wolfe
Only two days after losing Billy Winn for the year with a torn ACL, the Broncos are now sweating out another potentially serious injury along the defensive line. Via multiple reports, Broncos defensive lineman Derek Wolfe was carted off the field during practice on Saturday. It's being described as a right ankle injury by coach [
more
]
Source: Mike Florio of ProFootballTalk
Powered by WPeMatico