NFL Quarterback Power Rankings 9/16
Find out where your favorite quarterback ranks among the league's elite.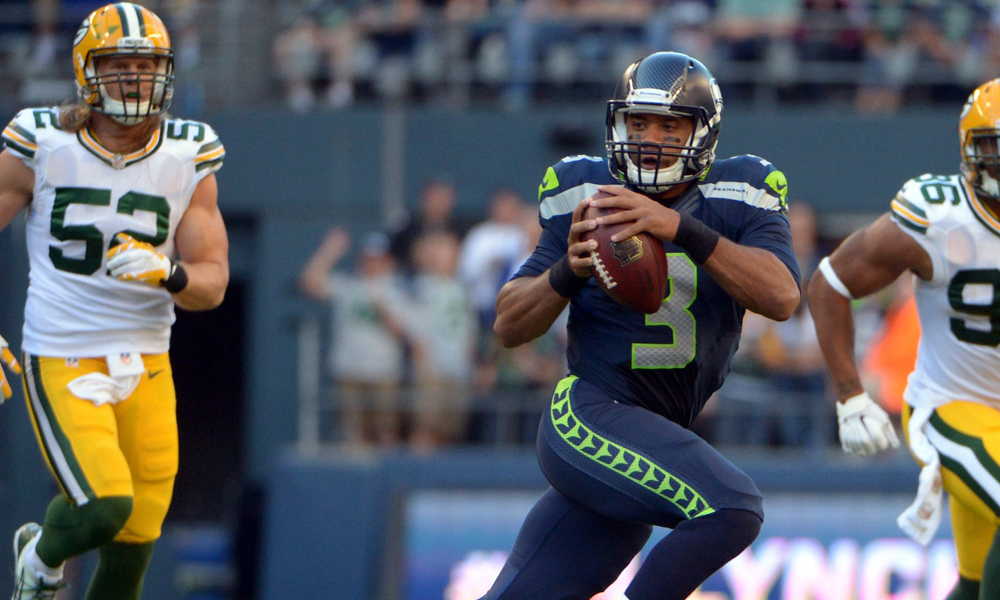 We're introducing a weekly power ranking of the most important position in sports, the quarterback position. Find out where your team's signal caller ranks among the elite.
Peyton Manning– It's the regular season and Peyton Manning is the best quarterback in regular season history.
Philip Rivers– He's been great to start the season thanks in part to surprisingly good line play.
Aaron Rodgers– Probably the most talented quarterback in the NFL, so we can forgive a bad game plan against the Seahawks.
Russell Wilson– He's seemingly getting better and better and he makes a lot of plays despite having just one legitimate playmaker on the outside.
Tom Brady- It pains me to put the best quarterback ever fifth, but he likely struggled because of his calf injury against Miami.
Drew Brees– He's the only winless quarterback in the top 10.  Brees was excellent in the opener and had the lead when he touched the ball for the final time in Cleveland.
Andy Dalton– It's not the playoffs so we shouldn't have to worry about "bad Andy" just yet.
Andrew Luck– He's a top five talent, but is still a little careless with the football.
Matthew Stafford– He can make unbelievable throws, but still has the occasional Matt Stafford mistake.
Cam Newton– Should be higher on the list but he missed the opener. He's a darkhorse MVP candidate
Matt Ryan– Unbelievable first game and unbelievably bad second game.  Matty Ice has all his horses at wide receiver healthy so no excuses.
Ryan Fitzpatrick– He's a game manager who can be pretty good when he doesn't make mistakes.
Colin Kaepernick– Another top talent who had a really bad game Sunday night.
Carson Palmer– He missed a game so he gets knocked down a little, but he was very solid in the Cards' opener.
Jay Cutler- Smokin' Jay has as much talent as anyone, but throws too many 50/50 balls.
Ben Roethlisberger– He's still very clutch, but doesn't seem to fit Todd Haley's system.  He finally has a healthy line to protect him.
Alex Smith– Smith really played well in Week 2, making some big throws and showing good mobility.
Joe Flacco- He's so up and down, but when he's up he can lead you to a Super Bowl title.
Kirk Cousins– The NFC East is a bad quarterback division when Kirk Cousins is playing the best.
Nick Foles– He sometimes sees ghosts in the pocket.  Chip Kelly has made him successful.
Tony Romo– The talent is there and I suspect that he'll move up the list as the weeks go by.
Ryan Tannehill– Good tools but a really bad offensive line.  Right now he still needs a good running game to be very successful.
E.J. Manuel– Still wildly inaccurate and doesn't throw downfield well despite having a plethora of speed at wide receiver. He's a product of the talent around him.
Brian Hoyer– He'll never be great but he's pretty serviceable right now. That's better than what Cleveland has had in quite a while.
Geno Smith– Still learning the position without much help on the coaching staff.  I believe he's going to improve.
Eli Manning- He's trying to learn a new offense and it's going to be a lengthy process, especially with a subpar offensive line.
Jake Locker- Another Jekyll/Hyde type of signal caller. Good physical tools but wildly inaccurate and a sometimes poor decision maker.
Austin Davis- Probably shouldn't be playing yet but was very solid against a decent Tampa Bay defense.  Major question marks about his arm strength.
Josh McCown– You can make a career backup a starter, but he's still really a backup.
Matt Cassel- He's serviceable when everything else is good around him, but he can't lead a team to victory with his arm.
Chad Henne- Awful on 3rd down, inaccurate and only has flashes of serviceability.
Derek Carr- He's bad right now but the Raiders are smart to take their lumps with the young guy instead of taking them with Matt Schaub.
Buccaneers admit mistake, boot Aguayo
In the NFL, it's always better to admit a mistake than to compound it. For the Buccaneers, the decision to burn a 2016 second-round pick on kicker Robert Aguayo has proven to be a mistake. The Buccaneers made the definitive admission of their error on Saturday, cutting Aguayo. He exits with $428,000 in fully-guaranteed salary [
more
]
Source: Mike Florio of ProFootballTalk
Powered by WPeMatico
Did Bucs put too much pressure on Aguayo?
After the Buccaneers surprised everyone by taking a kicker with the 59th overall pick in the draft, G.M. Jason Licht explained the move by heaping superlatives on the player. "I was very excited along with my staff and coaches about Roberto for a very long time," Licht told PFT Live in May 2016. "It's not [
more
]
Source: Mike Florio of ProFootballTalk
Powered by WPeMatico
Broncos holding their breath on Derek Wolfe
Only two days after losing Billy Winn for the year with a torn ACL, the Broncos are now sweating out another potentially serious injury along the defensive line. Via multiple reports, Broncos defensive lineman Derek Wolfe was carted off the field during practice on Saturday. It's being described as a right ankle injury by coach [
more
]
Source: Mike Florio of ProFootballTalk
Powered by WPeMatico