NFL Fun Stats – Week 14
J.J. Watt is becoming one of the NFL's best red-zone targets.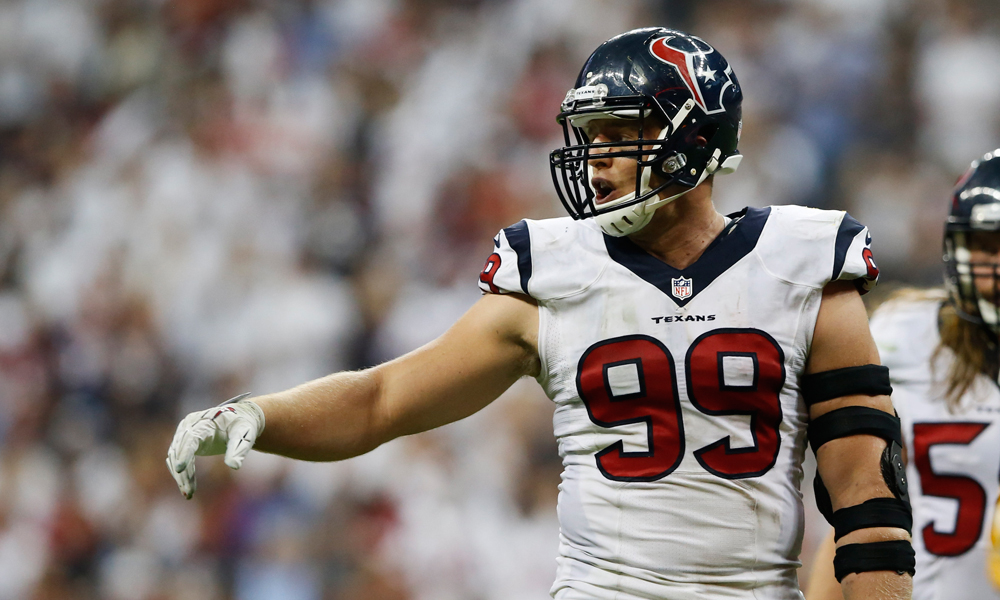 NFL Fun Stats is put together to provide a wide range of number-oriented morsels for those who crave the delicacy and geek-dom of NFL statistics, news and notes. If you're not quoting one note each week, I'm not doing my job. Here are your water cooler nuggets.
90
Is the total amount of rushing yards former Pro-Bowl running back Maurice Jones-Drew has on the season. Teammate Latavius Murray had 90-yards on one carry against the Kansas City Chiefs in the Oakland Raiders first and only win back in Week 12. Jones-Drew is a shell of his former self in his inaugural season in Oakland.
52
Points were scored by the St. Louis Rams in their shutout victory over the hapless Oakland Raiders. The last time St. Louis posted 50-plus points was back in Week 5 of the 2000 season against the San Diego Chargers where the Rams won 57-31. The Rams current starting quarterback Shaun Hill was a 20-year old junior playing at Maryland.
22
Points were scored by the Jacksonville Jaguars in the second half against the New York Giants. The come from behind 25-24 victory is the largest amount of points scored by Jacksonville all season. They have scored 20-plus points just three times all season and rallied to score 22 in one half.
3
Is the amount of touchdown passes caught by Houston Texans defensive end J.J. Watt. Arizona Cardinals' All-Pro receiver Larry Fitzgerald, the New York Jets' Percy Harvin and the entire Kansas City Chiefs receiving core has combined for two touchdowns all season.
736
Days between Atlanta Falcons running back Steven Jackson's last 100-yard rushing games. Jackson helped the Falcons stay in first place in the NFC South rushing for 101 on 18 carries as they upset the first-place Arizona Cardinals. His last 100-yard effort prior to Sunday was Week 11 in 2012.
43
Rushing touchdowns by Hall of Fame quarterback Steve Young during his 15-year career is the NFL record for modern-day quarterbacks. Cleveland Browns rookie Johnny Manziel saw his first extensive action against the Buffalo Bills after starter Brian Hoyer was ineffective. The score was 20-3 when head coach Mike Pettine benched Hoyer, and Manziel proceeded to lead a touchdown drive and went 5-for-8 for 63 yards, and rushed for 13 yards and a score on two carries. Forty-two more rushing touchdowns and Manziel ties Young. Hoyer retains the starting job for now, but Manziel is closer than ever to taking over in Cleveland and taking another step (no pun intended) at Young's record.
32
Games have been played by Indianapolis Colts running back Trent Richardson without exceeding 80 yards rushing. Richardson has hit a new low with Colts' rushing for 54 yards on 27 carriers over the last three weeks. Against the Washington Redskins in Week 13, Richardson had eight carries for 12 yards. Little used and undrafted Dan Herron rushed for 88 yards on eight carries and one touchdown.
1
Starting quarterback has a higher passer rating than Washington Redskins' starter Colt McCoy. Green Bay's Aaron Rodgers leads the league with a 118.6 rating while McCoy is at 113.5 after three starts. In McCoy's three starts, he has thrown for 819 yards with four touchdowns and one interception and an impressive 75.3 completion percentage.
Buccaneers admit mistake, boot Aguayo
In the NFL, it's always better to admit a mistake than to compound it. For the Buccaneers, the decision to burn a 2016 second-round pick on kicker Robert Aguayo has proven to be a mistake. The Buccaneers made the definitive admission of their error on Saturday, cutting Aguayo. He exits with $428,000 in fully-guaranteed salary [
more
]
Source: Mike Florio of ProFootballTalk
Powered by WPeMatico
Did Bucs put too much pressure on Aguayo?
After the Buccaneers surprised everyone by taking a kicker with the 59th overall pick in the draft, G.M. Jason Licht explained the move by heaping superlatives on the player. "I was very excited along with my staff and coaches about Roberto for a very long time," Licht told PFT Live in May 2016. "It's not [
more
]
Source: Mike Florio of ProFootballTalk
Powered by WPeMatico
Broncos holding their breath on Derek Wolfe
Only two days after losing Billy Winn for the year with a torn ACL, the Broncos are now sweating out another potentially serious injury along the defensive line. Via multiple reports, Broncos defensive lineman Derek Wolfe was carted off the field during practice on Saturday. It's being described as a right ankle injury by coach [
more
]
Source: Mike Florio of ProFootballTalk
Powered by WPeMatico