NFL Fun Stats – Playoff Edition 2.0
Green Bay Packers Aaron Rodgers must win a playoff game in 2015 to avoid a loser label.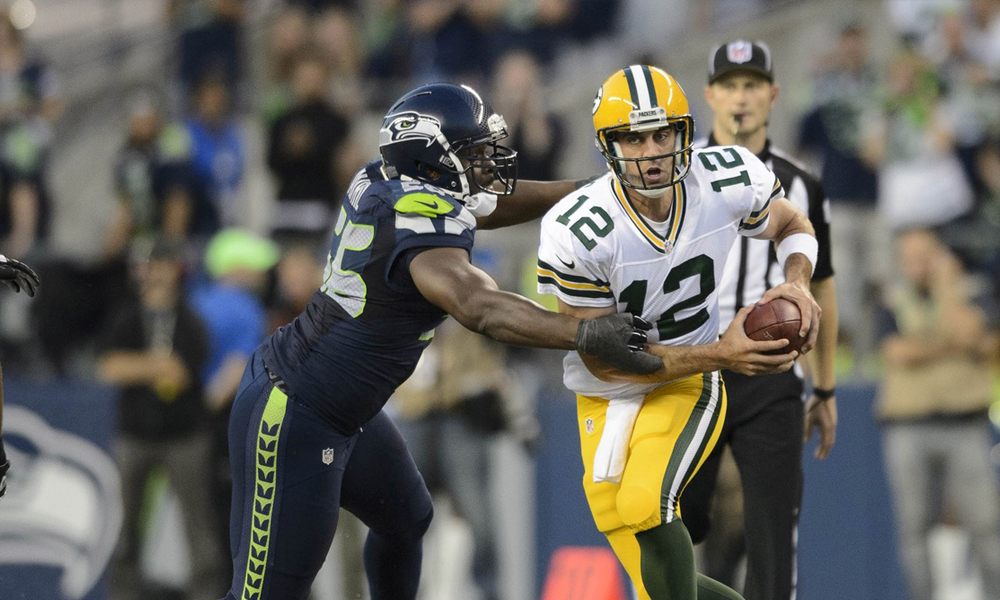 NFL Fun Stats is put together to provide a wide range of number-oriented morsels for those who crave the delicacy and geek-dom of NFL statistics, news and notes. If you're not quoting one note each week, I'm not doing my job. Here are your water cooler nuggets.
1
Playoff game won by Green Bay Packers quarterback Aaron Rodgers in his last four attempts. In his career he has played four games at Lambeau Field with an overall record of 2-2. The year Rodgers help guide Green Bay to the Super Bowl the team finished 4-0, without a single game at home. Take away the Super Bowl season and Rodgers' playoff record is 2-4 overall.
0
Losses by the Dallas Cowboys with Tony Romo in the playoffs when they score 21 or more points. Dallas is a perfect 2-0.
11
Trips to the playoffs and New England Patriots quarterback Tom Brady has only twice failed to win at least one game. The two seasons occurred in 2009-10, when Brady was one and done in the playoffs.
22
Career interceptions have been thrown by Tom Brady in the post-season. Seven of those interceptions have been thrown to the Baltimore Ravens' defense over a course of three games. That averages out to 32% of his post-season picks have been surrendered to the Baltimore. Brady is 1-2 overall against the Ravens in the playoffs, the same team New England hosts this weekend.
0
Losses by Denver Broncos quarterback Peyton Manning to the Denver Broncos in the playoffs. He acquired that record playing for the Indianapolis Colts for 14 years. The question now becomes – Will Manning be undefeated against his former team the Colts? Denver hosts Indianapolis this weekend.
7
Quarterbacks have repeated as Super Bowl Champions. The list includes Bart Starr, Bob Griese, Terry Bradshaw, Joe Montana, Troy Aikman, John Elway and Tom Brady. Seattle Seahawks' Russell Wilson has the opportunity to join this exclusive list if he can help lead his team to back-to-back Super Bowl titles.
1
Of the seven quarterbacks from the list above have played for more than one NFL team. That is Joe Montana who played for the San Francisco 49ers and Kansas City Chiefs.
4
Different quarterbacks from the University of California have appeared in the Super Bowl. The most by any college. The list of former Golden Bears includes Minnesota Vikings Joe Kapp, Dallas Cowboys-Denver Broncos Craig Morton, St. Louis Rams Vince Ferragamo and Green Bay Packers Aaron Rodgers. Their overall record is 1-4.
2
Quarterbacks from Delaware have graced the Super Bowl stage. Oakland Raiders Rich Gannon and current Baltimore Ravens quarterback Joe Flacco. Their overall record is 1-1.
1st
Three Super Bowls were won by Alabama Crimson Tide quarterbacks. Green Bay Packers Bart Starr won Super Bowls I and II and the New York Jets Joe Namath won Super Bowl III.
2
Of the last Super Bowls featured a quarterback who was 25-years old. San Francisco 49ers Colin Kaepernick and Seattle Seahawks Russell Wilson both appeared in the game at age 25. Carolina Panthers quarterback Cam Newton and Indianapolis Colts quarterback Andrew Luck can continue the trend if they lead their team to Super Bowl XLIX in Arizona on February 1st. Newton turns 26 on May 11, 2015 and Luck turns 26 years old in September 12, 2015.
Broncos holding their breath on Derek Wolfe
Only two days after losing Billy Winn for the year with a torn ACL, the Broncos are now sweating out another potentially serious injury along the defensive line. Via multiple reports, Broncos defensive lineman Derek Wolfe was carted off the field during practice on Saturday. It's being described as a right ankle injury by coach [
more
]
Source: Mike Florio of ProFootballTalk
Powered by WPeMatico
Buccaneers admit mistake, boot Aguayo
In the NFL, it's always better to admit a mistake than to compound it. For the Buccaneers, the decision to burn a 2016 second-round pick on kicker Robert Aguayo has proven to be a mistake. The Buccaneers made the definitive admission of their error on Saturday, cutting Aguayo. He exits with $428,000 in fully-guaranteed salary [
more
]
Source: Mike Florio of ProFootballTalk
Powered by WPeMatico
Did Bucs put too much pressure on Aguayo?
After the Buccaneers surprised everyone by taking a kicker with the 59th overall pick in the draft, G.M. Jason Licht explained the move by heaping superlatives on the player. "I was very excited along with my staff and coaches about Roberto for a very long time," Licht told PFT Live in May 2016. "It's not [
more
]
Source: Mike Florio of ProFootballTalk
Powered by WPeMatico