NFL Free Agent Quarterback Rankings
We take a look at the top quarterbacks available in unrestricted free agency.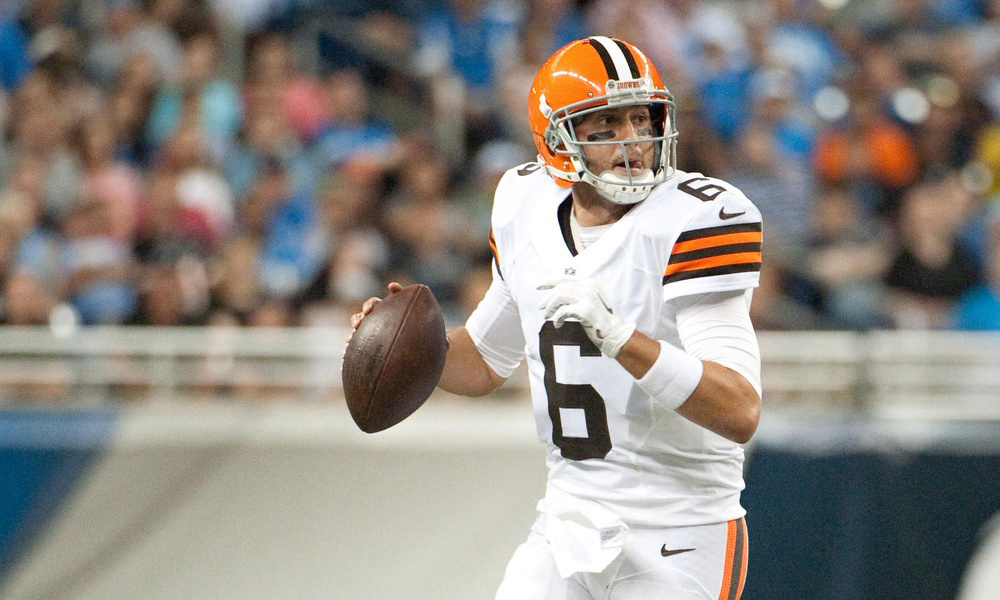 The quarterback position is the most important in all of sports and you either have a good one or a young one who you think will be good, or you're looking for one. Here's a ranking of the top impending free agent quarterbacks.
1. Brian Hoyer
The Cleveland Browns signal caller is the best player who will be available in free agency. Although Hoyer is far from a superstar, he's proving himself to be a guy you can win with, and if you can't get one of those superstars you definitely want someone who won't kill you with turnovers.
"The numbers don't lie," head coach Mike Pettine said on a conference call. "(Hoyer's) having a heck of a year for us, and the important number is the six wins. I think (Thursday) night is also a function of how the guys played around him."
Although Hoyer has a small body of work with just 13 career starts, he is 29 years old and we really don't yet know how NFL defensive coordinators will adjust to his skill set after a full season of starting.
The Browns are highly unlikely to place the franchise tag on Hoyer, as they have a first-round pick invested in Johnny Manziel. Look for Hoyer to get a minimum of $15 million per year.
2. Mark Sanchez
Mark Sanchez might be good enough to still be a starter, which will probably be determined over the next two months. Sanchez has had early success and well documented failures and we'll see what he can do with the Philadelphia Eagles' plethora of weapons.
NFL Films guru Greg Cosell believes that Sanchez has some limitations.
"The question everybody's asking is, 'Does Chip Kelly's system alleviate all of Sanchez's track record?' I would have a tough time answering that. Sanchez has played a lot of games in this league," Cosell said. "To me Mark Sanchez is along the lines of an Andy Dalton type of player, he can be effective on the right team if everything is working properly."
Sanchez's market value will be assessed over the rest of this season and he could either be a lower-level starting quarterback or a backup that you feel great about. That will be about a $10-12 million per year variance.
3. Jake Locker
The former first-round draft pick by the Tennessee Titans has outstayed his welcome in Music City as inconsistency and unavailability has hampered his career. Still, Locker has arm talent, very good mobility and is a solid locker room guy.
Perhaps Locker can realize his potential in a better system with better weapons?
"Locker needs things defined," Cosell said about the Titans quarterback last season. "You have to remove the gray areas for him by limiting his progressions. Maybe next year, after another full offseason, you can take the next step with him, because he does have talent."
No team is going to give Locker a contract that represents that of a starter, but he may be able to resurrect his career in the right situation. He will have to take a step back and play the role of backup while he hopefully plays well in preseason and any of his other opportunities.
4. Michael Vick
Certainly the sexiest name on the list, Michael Vick still has a rocket launcher for an arm and speed representative of a wide receiver. Physical talent has never been an issue with Vick, but more of the mental part of the game, his ability to read complex defenses and game preparation.
"I thought he played extremely well," New York Jets head coach Rex Ryan said of Vick after his second start this season. "And we'll just go that route. The guy is a phenomenal athlete and can still run with anybody in this league at that position. Sometimes, when it breaks down, that's not a bad option. He played great. There's no question."
Durability will always be an issue with Vick, which is likely why no team can feel confident hitching their wagons to the 34-year-old former first-overall pick. Vick is still a polarizing figure and his talent level will limit him from some backup opportunities, assuming a team has a shaky starting quarterback.
5. Colt McCoy
If Colt McCoy doesn't play another game this season, he will have served himself well in his limited opportunities. McCoy came in for a benched Kirk Cousins and helped lead the Washington Redskins to a victory over the Tennessee Titans. The next week he directed the team to an upset victory on the road over the Dallas Cowboys in which he completed 83.3 percent of his throws. McCoy was then stored away on the bench before he could add to or damage his own value.
McCoy has arm limitations and he has to anticipate his throws more than most quarterbacks as he doesn't have the arm to "grip it and rip it." Still, McCoy looked more confident in this year's stints than he did at any time in Cleveland.
To put it simply, McCoy entered the 2014 season as an afterthought and leaves it as a certain viable backup quarterback option and in the right situation he can compete for a starting job.
Who Else Could Be Available?
It's very possible that there could be some veterans whose contracts will be terminated. Some of those names could include Sam Bradford, Nick Foles and Josh McCown.
Best of the Rest
Some of the other quarterback names that are scheduled to hit free agency are Matt Moore, Matt Hasselbeck, Christian Ponder, Shaun Hill, Tavaris Jackson, Ryan Mallett, Joe Webb, T.J. Yates, Blaine Gabbert and Jason Campbell.
*Current Rams' starting quarterback Austin Davis would certainly make the list but he is a restricted free agent and it's highly likely that St. Louis will tender him an offer.
Buccaneers admit mistake, boot Aguayo
In the NFL, it's always better to admit a mistake than to compound it. For the Buccaneers, the decision to burn a 2016 second-round pick on kicker Robert Aguayo has proven to be a mistake. The Buccaneers made the definitive admission of their error on Saturday, cutting Aguayo. He exits with $428,000 in fully-guaranteed salary [
more
]
Source: Mike Florio of ProFootballTalk
Powered by WPeMatico
Did Bucs put too much pressure on Aguayo?
After the Buccaneers surprised everyone by taking a kicker with the 59th overall pick in the draft, G.M. Jason Licht explained the move by heaping superlatives on the player. "I was very excited along with my staff and coaches about Roberto for a very long time," Licht told PFT Live in May 2016. "It's not [
more
]
Source: Mike Florio of ProFootballTalk
Powered by WPeMatico
Broncos holding their breath on Derek Wolfe
Only two days after losing Billy Winn for the year with a torn ACL, the Broncos are now sweating out another potentially serious injury along the defensive line. Via multiple reports, Broncos defensive lineman Derek Wolfe was carted off the field during practice on Saturday. It's being described as a right ankle injury by coach [
more
]
Source: Mike Florio of ProFootballTalk
Powered by WPeMatico