Several NFL Coaching Gaffes In Week 6
Coaches around the league made huge mistakes this weekend that cost their team games.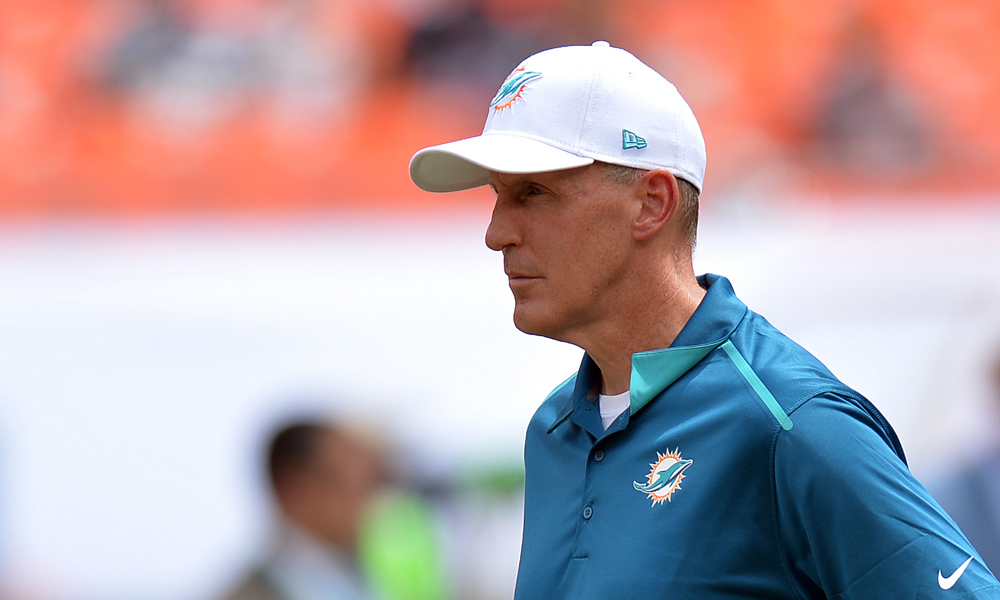 The job of NFL head coach is mostly a thankless one, as the good play calls are often attributed to players' execution and they are held responsible for the calls that don't work.
This weekend was a tough one for some NFL head coaches, as poor decisions by their leaders cost teams chances at valuable victories. We're going to look at some of the gaffes by head coaches around the league.
Philbin's Follies
We begin in Miami where Joe Philbin has the look of a high school principal. Along with that look comes the conservative approach that cost his team a victory on Sunday over the visiting Green Bay Packers.
With a lead in the final four minutes of the game, Philbin overruled offensive coordinator Bill Lazor and went ultra conservative with the play calling – with Aaron Rodgers on the opposing sideline. Philbin called a run on a third-and-9 play.
"I have to do a better job, first and foremost," Philbin said. "I'm the head coach. We had a lead with four minutes to go. Like I said often, you win as a team and you lose as a team. We could have done better in all three phases, coaching as well."
Philbin's coup de grace was using his final timeout with six seconds remaining, just in time to give the Packers a chance to call what would be the play that won the game. Let's repeat: Philbin called a timeout to give Aaron Rodgers and the Packers more time to think about a final play that would beat the Dolphins.
"Obviously that's what I get paid to do," Philbin said of his in-game decisions. "Some of them, I wished they worked out better."
Bradley's Boneheaded Moves
The Jacksonville Jaguars had an opportunity to get their first victory of the season as they took on the also hapless Tennessee Titans who were playing with backup quarterback Charlie Whitehurst. Although the Jaguars dominated key statistics – 27-14 first downs, 379-290 total yards, 31:07-28:53 time of possession – Gus Bradley's antics helped cost his team their first "W."
Bradley wasted two timeouts on challenges that simply had no chance of being overturned, leaving his team with no timeouts remaining on their final possession.
"I could have done better with the game management, with the challenge flags," Bradley admitted after Sunday's 16-14 loss. "We all challenge ourselves in areas that we could get better. I challenged the team and I pointed out the things that I could get better at, too."
After blowing the timeouts, Bradley panicked at the end of the game when the Jaguars had the ball on the Titans' 37-yard line with 12 seconds left. Instead of running one more play, Bradley instructed kicker Josh Scobee to attempt a 55-yard field goal, which was blocked.
What kind of message does it send to the quarterback and the rest of the offense that you don't trust your third-overall draft pick and face of the franchise not to get sacked or do something stupid?
"I know the clock was going down to five, four, three and it made Josh a little nervous as far as we had no timeouts, what was going on," Bradley said. "It wasn't ideal for him, but we've still got to make those plays. I think he would be the first to admit that. I think we all, at times, were a little frustrated. It probably stems from me. We talk about, 'Let's be strong, let's understand the situation that we're in and make the most of it.'"
Gus Bradley's record as Jaguars' head coach is now 4-18.
No More Riverboat Ron
Ron Rivera transformed himself from coach on the hottest of hot seats to division champion last season. He did a lot of that by rolling the dice and taking chances, earning himself the moniker, "Riverboat Ron."
The artist formerly known as Riverboat Ron had a chance to roll the dice for a victory on Sunday and instead chose to "kiss his sister."
Faced with a fourth-and-1 at the Cincinnati 18 with 2:24 remaining in overtime, down three points, Rivera sent kicker Graham Gano out for a 36-yard kick rather than keep his offense on the field.
To that point, the 6'5 Cam Newton had run for 107 yards. Getting one more probably had a better chance of happening than not happening.
"It was hard to see how far we had, and I really thought about going for it," Rivera said. "But it was outside of one (yard). So I figured it was the opportunity was kick it and let's see what happens."
What happened what was everyone thought would happen. Andy Dalton led the Bengals down the field in a two-minute drill and put them in position to kick the game-winning field goal. Fortunately for Rivera, Mike Nugent missed a 36-yard attempt and the game ended in a West Virginia style, everyone kiss their sister tie.
Way to roll the dice, Riverboat.
Smith Sticks To His Mis-Firing Guns
For the second time this season, the Tampa Bay Buccaneers were blown out in embarrassing fashion. They lost 48-17 to the Baltimore Ravens, who struggled to get to double-digits a week ago against Indianapolis.
Things haven't gone well in Buccaneers head coach Lovie Smith's homecoming as his team is on pace to allow the most points in NFL history.
Smith is noted as a defensive coach. A bigger problem is Smith's hesitancy, if not straight out defiance in terms of changing his scheme.
"Absolutely not," Smith said defiantly. "I'll stop you right there. Absolutely not. We're not changing our scheme. I've been doing this scheme every year I've been in the league. I believe in it. We're not coaching it and we're not playing it as well as we need to. Zero chance we change our scheme."
For the second time this season, Smith spoke about his team being ill-prepared.
"I'll just say [it]: our cornerback didn't play [Sunday], and we were finally getting our MIKE linebacker back [Sunday]," Smith said. "But I'm not going to – we had somebody on the football field that was representing the Tampa Bay Buccaneers, so that had very little to do with it. Who we have out there, the way we prepared them isn't good enough."
As much of a train wreck as the Bucs were with Greg Schiano last season, they've given up 72 more points through six games this season.
In the NFL, you have to either adapt or get left behind. Lovie Smith is blatantly refusing to adapt.
Broncos holding their breath on Derek Wolfe
Only two days after losing Billy Winn for the year with a torn ACL, the Broncos are now sweating out another potentially serious injury along the defensive line. Via multiple reports, Broncos defensive lineman Derek Wolfe was carted off the field during practice on Saturday. It's being described as a right ankle injury by coach [
more
]
Source: Mike Florio of ProFootballTalk
Powered by WPeMatico
Buccaneers admit mistake, boot Aguayo
In the NFL, it's always better to admit a mistake than to compound it. For the Buccaneers, the decision to burn a 2016 second-round pick on kicker Robert Aguayo has proven to be a mistake. The Buccaneers made the definitive admission of their error on Saturday, cutting Aguayo. He exits with $428,000 in fully-guaranteed salary [
more
]
Source: Mike Florio of ProFootballTalk
Powered by WPeMatico
Did Bucs put too much pressure on Aguayo?
After the Buccaneers surprised everyone by taking a kicker with the 59th overall pick in the draft, G.M. Jason Licht explained the move by heaping superlatives on the player. "I was very excited along with my staff and coaches about Roberto for a very long time," Licht told PFT Live in May 2016. "It's not [
more
]
Source: Mike Florio of ProFootballTalk
Powered by WPeMatico