NFL AM: Who Made the Right Calls on Black Monday?
Which team made the right call on Black Monday? And which decision will set a franchise back in a major way?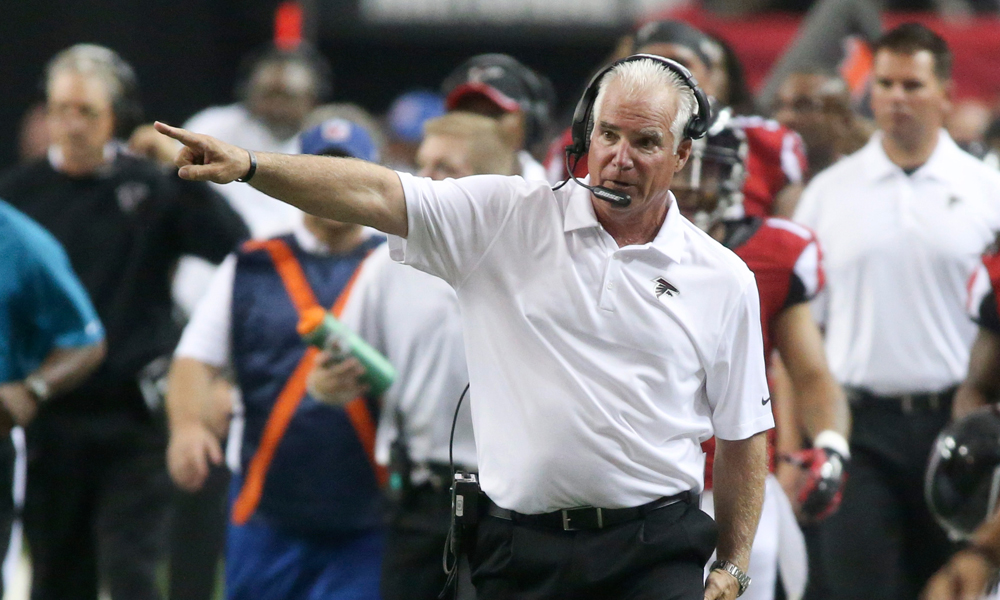 Black Monday, Part I: Who Got It Right
Falcons owner Arthur Blank should send a big thank-you to Ron Rivera and the Panthers. It is because the Panthers came into Atlanta for a de facto division championship game and stomped the Falcons, 34-3, that Blank could fire head coach Mike Smith without anyone blinking an eye.
Had the Falcons rallied to win the NFC South, and perhaps went on to beat the depleted Cardinals in the wild-card round, Smith would have made a compelling case to stay for an eighth season. Instead, Smith is gone, and it is a move that had to happen to get the Falcons back on track.
Smith got a pass for a 4-12 season in 2013, as the Falcons were decimated by injuries a season ago. However, things did not get much better this season, as the Falcons started 2-6, finished 6-10 and won just one game outside of the downtrodden NFC South.
"I would tell you that probably including my 23 years at Home Depot, this was the most difficult decision I've ever had to make," Blank said. "And I mean that very sincerely. It was complicated by the deepest respect that I had, we all had, for Smitty."
There comes a time when coaching changes become necessary, even if the head coach is doing his job well. Eventually, the same voice and the same routines become stale and change is needed to shake things up. No one feels safe under a new regime and the ensuing competition should bring out the best in Atlanta's underperforming roster.
The Falcons have already asked permission to speak to assistant coaches Todd Bowles (Arizona), Teryl Austin (Detroit) and Adam Gase (Denver). Bowles, a fiery leader who could fix the Falcons' last-ranked defense, would be the ideal fit for this opening.
Black Monday, Part II: Who Got It Wrong
The San Francisco 49ers didn't even wait until Black Monday to cut ties with Jim Harbaugh, but the separation became more real on Monday when Harbaugh signed on to become the new head coach at his alma mater, the University of Michigan.
There is no way this move doesn't come back to bite San Francisco GM Trent Baalke in the backside.
"This isn't a rebuild situation. This is a reload situation," Baalke said.
This is reminiscent of what happened to the Chargers after the 2006 season, when Marty Schottenheimer was forced out as head coach despite an incredibly successful run because of his inability to get along with GM A.J. Smith. What happened in the seasons after Schottenheimer was let go? The Chargers made the playoffs three years in a row, getting eliminated one round earlier each passing year, followed by three seasons outside of the playoffs. The 49ers can only hope their decline is so gradual.
Here's the catch: a general manager needs a strong head coach the same way a quarterback needs a strong left tackle. There is a reason A.J. Smith went from one of the most respected GMs in the league to one of the most ridiculed in the years after Schottenheimer left. It wasn't that Smith forgot how to draft; he just no longer had a coach capable of properly developing the young players he was bringing onboard.
That is the risk Baalke is taking. He won his power struggle with Harbaugh (although, at $8 million per season, Harbaugh isn't exactly a loser), but now all the heat is on him. San Francisco's dwindling depth was already exposed this season, as the 49ers missed the playoffs for the only time under Harbaugh's leadership, and the new coach will be charged with building that back up.
The new coach will also have to navigate the NFC West against the tough trio of the Seahawks, Cardinals and Rams. Also, next season the NFC West is paired up with the AFC North, meaning the 49ers will have to play all three of the playoff teams from that division in interconference play.
Long story short: Good luck to whoever fills Harbaugh's large — if occasionally squeaky — shoes.
Black Monday, Part III: To Be Determined
There is no disputing one half of the Jets' decision: GM John Idzik had to go. He refused to use the financial resources at his disposal; he left the secondary in shambles; and he left Rex Ryan with the worst quarterback situation north of Tampa Bay.
As for Ryan himself, it is too early to tell if letting him go was the right call. On the one hand, he failed to develop offensive talent, made questionable game-management decisions; and struggled to push his team over the top in close games.
"We're in the win business and we're not winning," said Jets owner Woody Johnson. "I thought this was something I had to do."
On the other hand, his defenses were always among the best in the league (even with declining talent); his players always go hard for him; and he is always the first to accept blame and the last to accept praise.
In the worst-case scenario, Ryan is the defensive version of Norv Turner (a superb coordinator who just isn't cut out to be a head coach). But in the best-case scenario (which could actually be the Oakland Raiders at this point, as crazy as that sounds), he could prove himself to be a championship coach who was simply held back by extreme mismanagement in New York.
This question will not be definitively answered any time soon, but something tells me the Jets will miss Ryan before he misses the Jets.
Want to talk more about these and other headlines? Join Michael Lombardo for his weekly NFL Chat on Friday at 2pm EST. But you don't have to wait until then … ask your question now!
Broncos holding their breath on Derek Wolfe
Only two days after losing Billy Winn for the year with a torn ACL, the Broncos are now sweating out another potentially serious injury along the defensive line. Via multiple reports, Broncos defensive lineman Derek Wolfe was carted off the field during practice on Saturday. It's being described as a right ankle injury by coach [
more
]
Source: Mike Florio of ProFootballTalk
Powered by WPeMatico
Buccaneers admit mistake, boot Aguayo
In the NFL, it's always better to admit a mistake than to compound it. For the Buccaneers, the decision to burn a 2016 second-round pick on kicker Robert Aguayo has proven to be a mistake. The Buccaneers made the definitive admission of their error on Saturday, cutting Aguayo. He exits with $428,000 in fully-guaranteed salary [
more
]
Source: Mike Florio of ProFootballTalk
Powered by WPeMatico
Did Bucs put too much pressure on Aguayo?
After the Buccaneers surprised everyone by taking a kicker with the 59th overall pick in the draft, G.M. Jason Licht explained the move by heaping superlatives on the player. "I was very excited along with my staff and coaches about Roberto for a very long time," Licht told PFT Live in May 2016. "It's not [
more
]
Source: Mike Florio of ProFootballTalk
Powered by WPeMatico