NFL AM: Which Losses Will NFL Teams Regret
We look at the worst losses of the NFL season to date, the Cards locking up Carson Palmer and what you should be watching.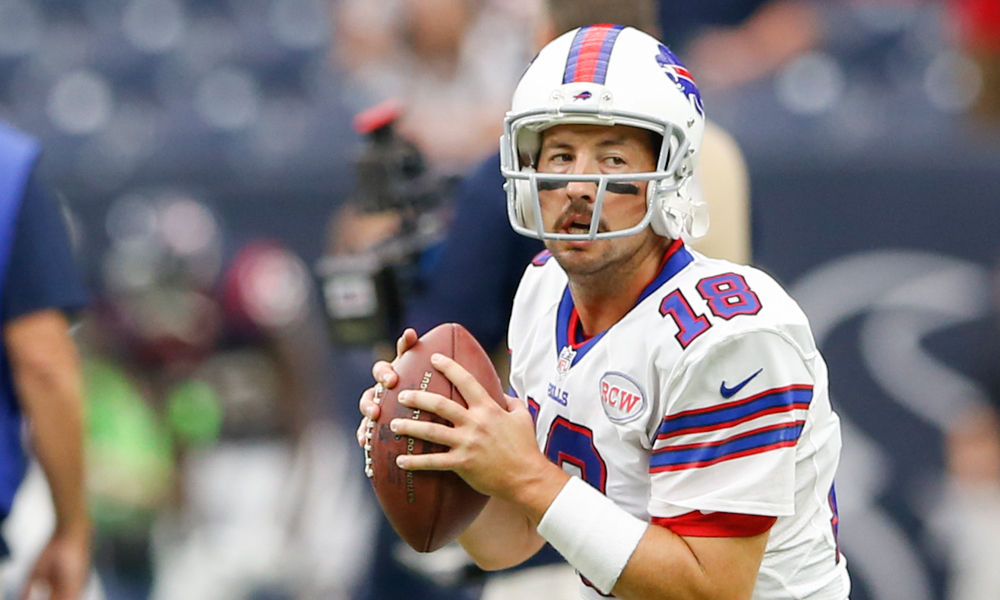 Losses That Might Come Back To Bite
From November on, the games seem to take a greater importance for those teams aiming at a playoff spot. Everyone wants to enter December and January playing their best football, but the games in September and October count just as much as these matchups down the stretch.
We're going to look at four bad losses that contenders would like to have "mulligans" on that might affect the playoffs.
Week 7, Jacksonville 24, Cleveland 6
It's extremely rare that an NFL team goes winless throughout an entire season. Aside from the anomaly in 2008 when Detroit pulled off bizarro perfection, it hasn't been done in nearly 40 years.
The Jacksonville Jaguars were going to beat someone this season.
It didn't have to be the Cleveland Browns.
Cleveland has been a great story this season as they currently have a share of first place with a 6-3 record. If they could've avoided the "bear-trap" that every other team in the NFL has avoided in Duval County, they'd be 7-2 and well on their way to a playoff berth and possibly their first AFC North title. If the Browns have to go on the road for a wildcard game or if they miss the playoffs altogether, you can look at the Jacksonville game as the one that got away.
Week 9, St. Louis 13, San Francisco 10
The Rams are certainly a viable NFL team, but if you have your sights set on the playoffs and your defense allows just 13 points, St. Louis is a team you have to beat. The 49ers fell to 4-4 with Sunday's loss and they are on the outside looking in on a playoff berth. San Francisco is currently sitting three games behind first-place Arizona in the NFC West, and are the eighth-seed overall in the NFC. With two games remaining against Seattle, a game left against Arizona and a trip to New Orleans this week, it's going to be a very tall task for the Niners to make it to their fourth consecutive NFC title game appearance.
Week 4, Tampa Bay 27, Pittsburgh 24
The Tampa Bay Buccaneers, like the Jacksonville Jaguars, were going to beat someone this season.
The game they win should not be on the road and it should definitely not be at the home of the Pittsburgh Steelers.
Pittsburgh grasped defeat from the jaws of victory as they allowed a last gasp drive by currently benched quarterback Mike Glennon. Although the Steelers have rebounded nicely and have won four of their five games since the Tampa Bay blunder, 7-2 would look a lot better on the record than 6-3 does. The Steelers are currently one game behind New England for the best record in the AFC and are tied with Cleveland for first place in the AFC North. That Tampa loss might end up being the difference between a first-round bye and possible home-field advantage throughout and traveling on wildcard weekend.
Week 5, Buffalo 17, Detroit 14
The Detroit Lions found a way to lose a home game to Kyle Orton, making his first start as a Buffalo Bill. What's worse is that Detroit had a 14-0 lead and wasted a pick-six from Rashean Mathis.
The Lions are still keeping pace in the NFC North with a 6-2 record as they hold a one-game lead over 5-3 Green Bay. If Detroit could've scored in the second half of their home game with the Bills, they would be tied for the best record in the NFC and a possible difference between sitting at home with a first-round bye and potentially traveling for wildcard weekend or possibly even missing the postseason altogether.
Cards Lock Up Palmer
According to CBS Sports, the Arizona Cardinals have come to an agreement on a contract extension with quarterback Carson Palmer. The deal is reported to be for three years and worth as much as $50 million with no current reports of how much is guaranteed.
Although many see Palmer as an average to above average quarterback whose best years are behind him, he has helped lead Arizona to a 15-6 record in his 21 games started as a Cardinal. That 21-game stretch is the best in franchise history, even better than the great Kurt Warner.
"Carson has played at an incredibly high level and has been a huge part of the team's success," Cardinals general manager Steve Keim said in a statement. "When you combine his on-field performance with the leadership, stability and professionalism he brings to our team, there was no question that we wanted to extend the relationship and we are excited he felt the same way."
Palmer was expected to be the hottest quarterback name on the free agent market this winter, but now that honor goes to Cleveland Browns signal caller Brian Hoyer.
Great Day Of College Football
This Saturday appears to have the most attractive slate of college football games this season, and if you could pick one day of the college football year to avoid your family and park yourself in front of the television this would be it.
12:00 EST/9 PST
The day gets kicked off with a non-playoff bearing, but sure to be entertaining game between Baylor and Oklahoma at noon eastern. Baylor is still technically alive for the playoff as their only loss came on the road at West Virginia. Baylor needs more quality wins and they'll have the opportunity with Saturday's game at Oklahoma, followed by home dates against Oklahoma State and Kansas State remaining.
3:30 EST/12:30 PST
Featured at 3:30 est. is a college football playoff elimination game as Notre Dame travels west to take on Arizona State. The Irish have no signature victories and most of the credit for their ranking comes from a close loss at Florida State. The Sun Devils likely control their own destiny as they are currently ranked ninth with road victories at USC and Utah, along with a win over Stanford. They still have a game at Arizona remaining before a potential Pac 12 title game matchup with Oregon.
7:30 EST/4:30 PST
At 7:30 eastern, seventh-ranked Kansas State takes on sixth-ranked TCU in what figures to be another playoff elimination game. K-State's only loss to this point was against third-ranked Auburn in a game that they controlled. The Wildcats still have trips to Morgantown and Waco remaining (against West Virginia and Baylor).
8:00 EST/5:00 PST
While you're watching K-State-TCU, you can flip over to a pair of great matchups that kickoff at 8:00 eastern. The game of the year in the Big Ten features a pair of one-loss teams when Ohio State travels to East Lansing to take on Michigan State. This is certainly an elimination game if the Big Ten is going to get a team into the playoff it would likely benefit from a Spartans victory. Although neither team has a signature victory, Michigan State's loss at Oregon was excusable. Ohio State has no quality victories and their loss at home to Virginia Tech was brutal.
If SEC football is more of your preference, the annual blood-bath between Alabama and LSU kicks off in Death Valley. With blowout losses to Auburn and Mississippi State, LSU has a long hill to climb to get into playoff consideration but it isn't completely out of the question so long as they run the table. There's nothing the Tigers would like to do more than end Alabama's playoff aspirations with a victory. Alabama clearly controls their own destiny as they have dates with Mississippi State and Auburn remaining.
10:00 EST/7:00 PST
For those who want a college football nightcap, the fourth-ranked Oregon Ducks travel to take on the 17th ranked Utah Utes. Oregon has played fantastic football and they are the best hope for the Pac 12 to get a team in the playoff. Utah is certainly capable of pulling an upset as they are 6-2 with their only losses coming by a total of four points, one of which in overtime at Arizona State.
Buccaneers admit mistake, boot Aguayo
In the NFL, it's always better to admit a mistake than to compound it. For the Buccaneers, the decision to burn a 2016 second-round pick on kicker Robert Aguayo has proven to be a mistake. The Buccaneers made the definitive admission of their error on Saturday, cutting Aguayo. He exits with $428,000 in fully-guaranteed salary [
more
]
Source: Mike Florio of ProFootballTalk
Powered by WPeMatico
Did Bucs put too much pressure on Aguayo?
After the Buccaneers surprised everyone by taking a kicker with the 59th overall pick in the draft, G.M. Jason Licht explained the move by heaping superlatives on the player. "I was very excited along with my staff and coaches about Roberto for a very long time," Licht told PFT Live in May 2016. "It's not [
more
]
Source: Mike Florio of ProFootballTalk
Powered by WPeMatico
Broncos holding their breath on Derek Wolfe
Only two days after losing Billy Winn for the year with a torn ACL, the Broncos are now sweating out another potentially serious injury along the defensive line. Via multiple reports, Broncos defensive lineman Derek Wolfe was carted off the field during practice on Saturday. It's being described as a right ankle injury by coach [
more
]
Source: Mike Florio of ProFootballTalk
Powered by WPeMatico