NFL AM: Week-To-Week League
We look at some teams who bounced back in the right and wrong ways, some fantasy phenoms and whose season ended with losses.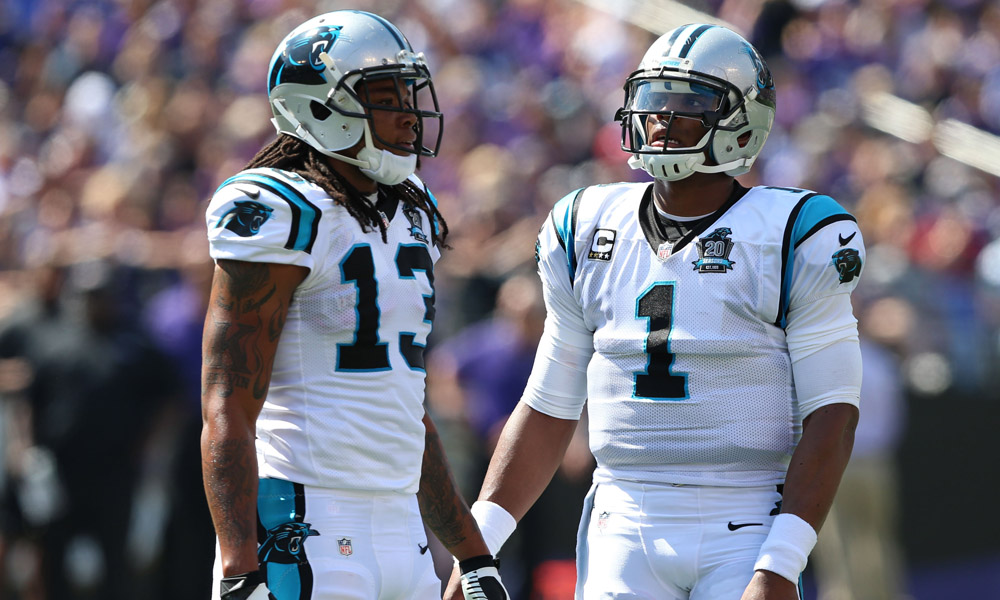 Week-To-Week League
It seems blatantly obvious, but the NFL is more of a week-to-week league than ever before. Aside from a few teams at the top that you can count on (Denver, Green Bay and New England), and a few teams at the bottom that you can count against (Tennessee, Tampa Bay and Jacksonville), everyone else looks like a different team each week.
Just one week after an impressive victory over the Pittsburgh Steelers in Heinz Field, the New Orleans Saints were bludgeoned at home by the Carolina Panthers, 41-10. The win was Carolina's first in over two calendar months (October 5th vs. Chicago).
"That was embarrassing how we played, how we coached — pick an area, it was awful," Saints head coach Sean Payton said. "You're not going to have a chance to win when you turn it over that frequently in the first quarter, don't tackle, give up almost 300 yards rushing, jump offsides — you name it."
Pittsburgh responded from their loss to New Orleans by taking down the AFC North leading Cincinnati Bengals, 42-21.
"I don't care about style points," said Steelers head coach Mike Tomlin. "It was a significant win for us today. We're just trying to get out of there with wins. We knew what we needed from everyone today."
After blowing a 21-point lead to the Jaguars a week ago, the New York Giants blew out the Tennessee Titans 36-7, halting a seven-game losing streak.
"I congratulated the guys on the way they've gone about their work," Giants head coach Tom Coughlin said. "They've come back in here and kept applying themselves, and today we get to smile for about 10 minutes before we get to work on Washington next week."
After putting their playoff hopes in major jeopardy with a 34-33 loss at home to the San Diego Chargers, the Baltimore Ravens responded by traveling to Miami and beating the red hot Dolphins, 28-13.
"We're built for this time of year. We are a well conditioned team," Ravens outside linebacker Elvis Dumervil said.
The Oakland Raiders, losers of 17 of their last 18 games, who were also on the wrong end of a 52-0 beatdown in St. Louis, responded by handing the San Francisco 49ers a playoff knockout blow, 24-13.
"This week it was preached to us just how important this game was," Raiders defensive end Antonio Smith said. "This week more and more of us became true Raiders, knowing what the heritage is about, knowing what this game was about, how important it was to this city."
Part of the NFL's mass popularity is the fact that any team can win any week. This is being proven every Sunday.
Statistical Superlatives
Sunday's Steelers-Bengals shootout (albeit one-sided) had plenty of fantasy implications as some league's have begun their playoffs. If you had Le'Veon Bell on your team, it was a very good day.
Bell had 26 carries for 185 yards and a pair of touchdowns on the ground and added six catches for 50 yards and another receiving touchdown.
"We have a great opportunity in front of us, so I'm going to embrace it," Bell said following the game. "This is the part of the year where things get a little tight, they get more exciting. Everybody in the locker room is excited about this last couple of weeks."
Although Bengals fans aren't very happy with the game result, A.J. Green owners couldn't be much more thrilled with his performance. Green caught 11 passes for 224 yards and a touchdown in the 42-21 loss.
"This is the best I've felt since Week 2," said Green regarding his physical status.
New York Giants rookie wide receiver Odell Beckham, Jr. had 11 catches for 130 yards and a touchdown in the Giants' 36-7 win at Tennessee. Beckham, who had at least 90 receiving yards in each of the previous five games, is the first rookie in NFL history to record at least 90 receiving yards in six consecutive games.
Beckham has 723 receiving yards in his past six games and joined Bill Groman (1960) as the only rookies in NFL history with at least 700 receiving yards in a six-game span.
Detroit Lions wide receiver Calvin Johnson had eight catches for 158 yards and a touchdown in the Lions' 34-17 win over Tampa Bay. Johnson now has 43 career 100-yard receiving games, tied with Marvin Harrison and Torry Holt for the second-most in a player's first eight NFL seasons. Only Randy Moss (45) has more.
"We've definitely found a rhythm," said Johnson, who has been hampered by a high ankle sprain much of the season. "I can't call our future but we're just going to keep on plugging away. I'm feeling pretty good, the best I've felt in a little while."
Houston Texans defensive end J.J. Watt continued his dominant play in the Texans' 27-13 victory over the Jacksonville Jaguars. Watt registered three sacks, five quarterback hits, four tackles for loss and a batted ball.
"I was a little bit everywhere. That's what you like as a player, you get to go all over the place and rush from different positions," Watt said. "You want to see everybody (on their line), it's fun. I just go out there and try to take advantage of whoever I'm playing."
They're Out!
You can't earn a playoff spot with one win in Week 14, but you can certainly lose one. Although the Miami Dolphins, San Francisco 49ers and Kansas City Chiefs aren't mathematically eliminated from the postseason, they are behind the proverbial "8-ball" in a major way.
Miami had the most to gain with their home game against the Baltimore Ravens as both teams came in with identical 7-5 records. After falling behind 10-0, Baltimore outscored Miami 28-3 the rest of the way. At 7-6, the Dolphins dropped from the sixth seed to the ninth seed and are tied with Houston, Kansas City, Buffalo and Cleveland.
"It's out of our hands to some extent," Dolphins quarterback Ryan Tannehill said. "But we will find a way to respond."
The San Francisco 49ers had the most disappointing loss of any of the wildcard contenders as their offense betrayed them again in their 24-13 loss to the Oakland Raiders.
The 49ers could only muster 248 yards of total offense and 13 points against a Raiders' defense that was ranked 30th in points allowed this season. It was the fourth-straight game that San Francisco failed to score 20 points and over that stretch they are averaging just under 10 points per game.
"I don't feel like we're us," 49ers running back Frank Gore said. "It's hard to get in a rhythm. As players, you have to be in a rhythm to be successful on the field. It's been tough all year."
San Francisco now drops to 7-6, which is two games behind Seattle, Detroit and Dallas in the wildcard race. Their 6-4 conference record is two games in the loss column behind both Seattle and Detroit.
"I'll see how the chips fall, and hopefully other teams help us," Gore said. "I hope it happens. We'll have to move forward from this one, but it's tough."
Finally, Kansas City began the day on the outside looking in with a 7-5 record and finished the day as the 10th seed in the AFC playoff race. The Chiefs became the seventh team to lose in Arizona this season as they were dropped by the Cardinals, 17-14.
Kansas City was their own worst enemies as they turned the ball over twice, committed nine penalties for 75 yards and were held scoreless for the final 31:12 of the game. The Chiefs had a touchdown called back on a questionable offensive pass interference penalty and lost a very questionable fumble that wasn't ruled a fumble on the field.
"I can't comment on the officials," Chiefs head coach Andy Reid said in his postgame news conference. "We all have to do our jobs and do them to the best of our ability. Go on to something else, besides the officials. I don't have anything good to say."
Running back Jamaal Charles was not so diplomatic.
"The reason why we lost is the refs didn't go our way," Charles said.
Bad calls or not, Kansas City now finds itself needing a series of miracles to earn their second straight playoff appearance.
Buccaneers admit mistake, boot Aguayo
In the NFL, it's always better to admit a mistake than to compound it. For the Buccaneers, the decision to burn a 2016 second-round pick on kicker Robert Aguayo has proven to be a mistake. The Buccaneers made the definitive admission of their error on Saturday, cutting Aguayo. He exits with $428,000 in fully-guaranteed salary [
more
]
Source: Mike Florio of ProFootballTalk
Powered by WPeMatico
Did Bucs put too much pressure on Aguayo?
After the Buccaneers surprised everyone by taking a kicker with the 59th overall pick in the draft, G.M. Jason Licht explained the move by heaping superlatives on the player. "I was very excited along with my staff and coaches about Roberto for a very long time," Licht told PFT Live in May 2016. "It's not [
more
]
Source: Mike Florio of ProFootballTalk
Powered by WPeMatico
Broncos holding their breath on Derek Wolfe
Only two days after losing Billy Winn for the year with a torn ACL, the Broncos are now sweating out another potentially serious injury along the defensive line. Via multiple reports, Broncos defensive lineman Derek Wolfe was carted off the field during practice on Saturday. It's being described as a right ankle injury by coach [
more
]
Source: Mike Florio of ProFootballTalk
Powered by WPeMatico