NFL AM: Redskins Send Robert Griffin Back to Bench
The Redskins and Jets make changes at quarterback, again, while the Broncos make a key player-swap of their own.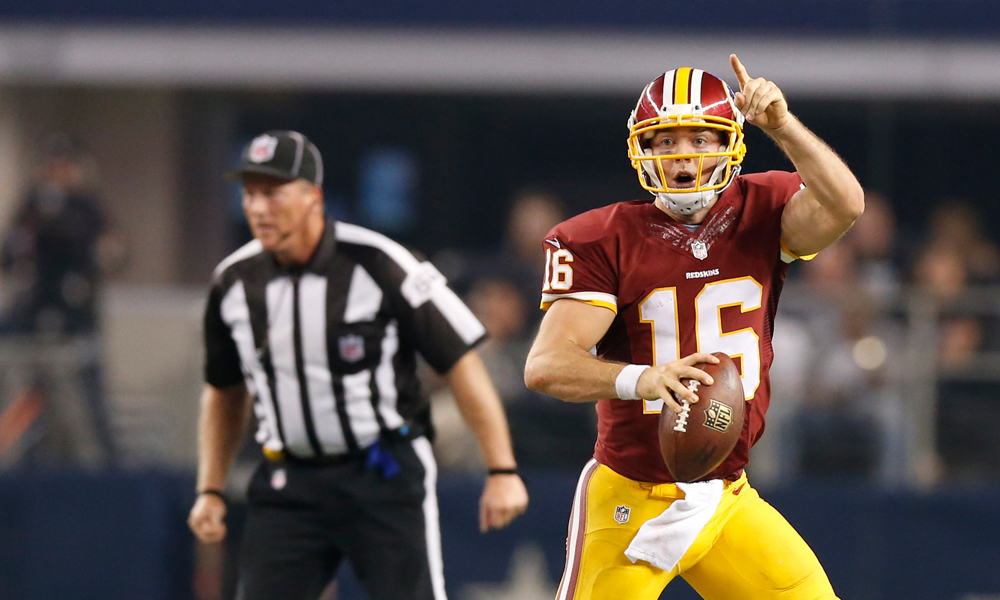 RGIII Sent Back to the Bench
Jay Gruden's official title is head coach, although he came to Washington wearing another title as well: quarterback guru. He was supposed to fix Robert Griffin's mechanics and teach him to be more efficient from the pocket, turning Griffin into a true dual-threat quarterback who could keep the Redskins atop the NFC East for years to come.
Now, after Griffin struggled mightily in his fifth start of the season, Gruden is officially throwing in the towel.
The Redskins will go back to Colt McCoy for this week's game in Indianapolis, perhaps mercifully avoiding a showdown between the top two picks in the 2012 NFL Draft that would have demonstrated quite clearly just how much improvement is needed by Griffin.
McCoy rallied the Redskins to a home win over Tennessee earlier this year, then started a road game the following week and directed a huge victory over the rival Cowboys. He completed over 85 percent of his passes in those two games, then was promptly benched when Griffin returned from an ankle injury.
Washington sources are trying to leak word that Griffin's long-term future with the team is still safe and this switch is more about development than demotion. That, of course, is malarky, on par with Daniel Snyder's line about the Redskins' team name embodying respect.
Redskins officials are trying to salvage Griffin's trade value, hoping to get something in return for the player they sacrificed three-first round picks to acquire. Never known to sell high (see Cousins, Kirk), this is a last-ditch attempt by Washington to get something in return when this seemingly inevitable divorce is finalized.
There is another benefit to the Redskins if they can trade Griffin instead of releasing him outright: control. The team would prefer to ship him to an AFC team, but if nothing else, it wants to make sure he doesn't stay in the division and sign with the Eagles, who are first place in the NFC East despite a quarterback situation that is in flux.
But who would trade for a quarterback whose mechanics are so poor his own coach felt the need to put him on blast? More on that below.
The Year of the Journeyman
The Jets are also making a quarterback change, going back to Geno Smith after Michael Vick's terrible outing on Monday night against the Bills (7-of-19 for 76 yards and an interception). Vick suffered wrist and ankle injuries in that game before being replaced by Smith in the third quarter, but the latest change at the helm is based on performance and not health.
It will be interesting to see the response from the New York locker room as the week unfolds, as many of the team's veterans had grown tired of Smith and his inability to protect the football. Nonetheless, with a 2-9 record (and the misfortune of not playing in the NFC South), the Jets have nothing left to play for but a high draft pick.
There will be no rallying to save Rex Ryan's job, as happened a season ago, as Ryan is as good as gone once the season is over.
"I'm not worried about it," said Ryan of his job status following the 38-3 loss to the Bills. "One thing I know, unless it changes drastically, I will be the head coach here for the next five weeks. That's what I know and I am going to go about my job like I always do."
The quarterback carousel in New York is part of an odd, depressing trend across the NFL. Think of this: At various points this season, teams benched perfectly healthy quarterbacks to promote the likes of Kyle Orton (Buffalo), Shaun Hill (St. Louis), McCoy (Washington), Josh McCown (Tampa Bay) and Vick (New York).
Call it the Year of the Journeyman.
This takes us back to the first segment of this story: Yes, there will be a trade market for Griffin. Not because he is good, but because there are so many quarterbacks out there who are so agonizingly bad.
Who knows, maybe the Jets will trade for Griffin and pair him with Percy Harvin and Chris Johnson. They won't be very good on the field, but in their own minds they will be the 2007 Patriots.
Just for Kicks
The Broncos made a change at kicker on Tuesday, releasing Brandon McManus and replacing him with veteran Connor Barth.
Barth last kicked in 2012, having missed last season with a torn right Achilles tendon suffered the offseason prior.
The Broncos acquired McManus in a preseason trade with the Giants, sending a seventh-round pick to New York in exchange for the kicker who was to fill in for (and eventually supplant) the then-suspended Matt Prater. But McManus missed four field goals over the last eight games, including one from 33 yards out in a close contest against the Dolphins on Sunday.
In five seasons (one with the Chiefs followed by four with the Buccaneers), Barth has converted on 84.2 percent of his field-goal attempts. His best season came in 2011, when he posted a career-best conversion rate of 92.9 percent.
The move to stabilize the kicker position may not be Denver's last transaction this week, either.
The Titans released pass rusher Shaun Phillips on Tuesday. Phillips, who led Denver in sacks last season, had just two this year in Tennessee. His middling production led to his release, but in his defense, it is much easier to ring up sacks when your team is playing with the lead. That was often the case in Denver and rarely the case in Tennessee.
The Broncos rank No. 9 in sacks with 28, which is less impressive when you consider that Denver has faced more pass attempts than any defense in the league (459, to be exact, 20 more than the next closest team, the Bengals).
The Broncos may be interested in reuniting with Phillips once he clears waivers. He also has familiarity with the defensive coordinators in San Diego (John Pagano) and Indianapolis (Greg Manusky), having played for both men when he was with the Chargers. Either of those contenders could make for logical landing spots for Phillips as well.
Want to talk more about these and other headlines? Join Michael Lombardo for his weekly NFL Chat on Friday at 2pm EST. But you don't have to wait until then … go ahead and ask your question now! 
Did Bucs put too much pressure on Aguayo?
After the Buccaneers surprised everyone by taking a kicker with the 59th overall pick in the draft, G.M. Jason Licht explained the move by heaping superlatives on the player. "I was very excited along with my staff and coaches about Roberto for a very long time," Licht told PFT Live in May 2016. "It's not [
more
]
Source: Mike Florio of ProFootballTalk
Powered by WPeMatico
Broncos holding their breath on Derek Wolfe
Only two days after losing Billy Winn for the year with a torn ACL, the Broncos are now sweating out another potentially serious injury along the defensive line. Via multiple reports, Broncos defensive lineman Derek Wolfe was carted off the field during practice on Saturday. It's being described as a right ankle injury by coach [
more
]
Source: Mike Florio of ProFootballTalk
Powered by WPeMatico
Buccaneers admit mistake, boot Aguayo
In the NFL, it's always better to admit a mistake than to compound it. For the Buccaneers, the decision to burn a 2016 second-round pick on kicker Robert Aguayo has proven to be a mistake. The Buccaneers made the definitive admission of their error on Saturday, cutting Aguayo. He exits with $428,000 in fully-guaranteed salary [
more
]
Source: Mike Florio of ProFootballTalk
Powered by WPeMatico