NFL AM: Trestman's Seat Becomes Hotter
We discuss Marc Trestman's future, DeMarco Murray's impending payday and the Texans' big draft mistake.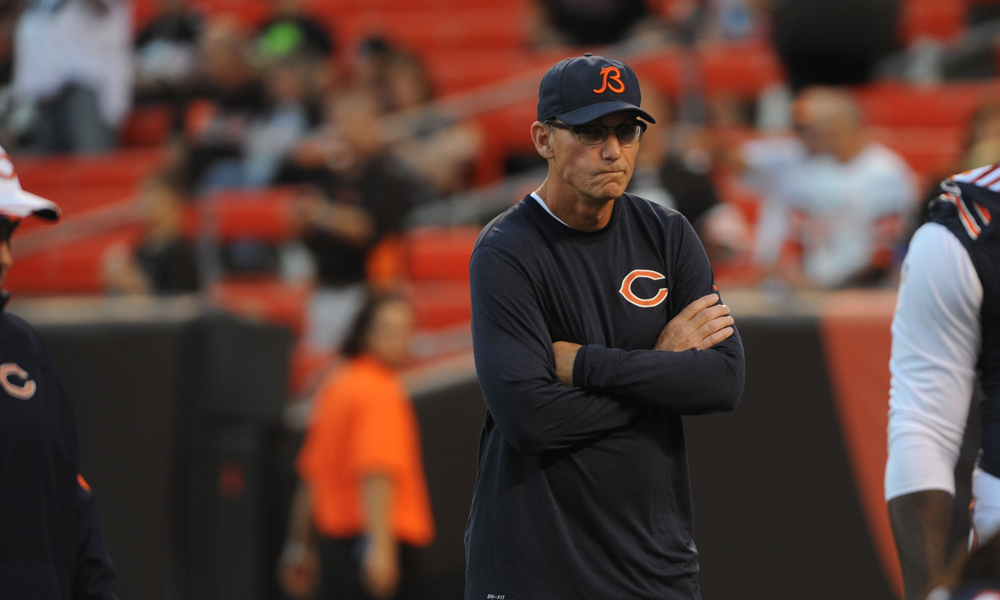 Trestman's Seat Gets Hotter
When the Chicago Bears hired head coach Marc Trestman two years ago, it was a move that was widely lauded as "out of the box thinking."
Right now, it just looks stupid.
The Bears lost to the Dallas Cowboys, 41-28, to drop to 5-8 on the season and all by their lonesome in last place in the NFC North.
Chicago was expected to compete for the the NFC North title this season, but fell flat and will miss the playoffs for the second year under Trestman as he took over a 10-6 team from Lovie Smith.
Trestman isn't worried about his job, at least not publicly as he claims that he has plenty of support in Halas Hall.
"The support in this building has been outstanding," Trestman said. "That's all I can say. Everybody upstairs has been extremely supportive of the way we're handling things. Our team has been unbelievably compliant in doing everything that we as coaches and myself have asked them to do. That's evident on the field. It's evident in the locker room. It's evident in the meeting room that these guys are an amazing group of men that have been extremely compliant. And the support has been there."
With Jay Cutler floundering at quarterback and the Bears' defense looking more clueless by the week, it seems as if change is necessary. The one area that figured to be under control under Trestman would be the offense, and entering Thursday's action the Bears were 20th overall in total offense and 21st in the league in scoring.
Trestman's Bears have defeated just one winning team this season, and that was the San Francisco 49ers back in Week 2.
It's difficult to justify keeping the status quo in Chicago after Trestman has taken the team and run it into the ground.
Murray Racing Toward 2,000
DeMarco Murray is turning into the new poster child for contract-year productivity.
After averaging just over 12 games per year and just under 900 yards per season through his first three campaigns in Dallas, Murray is on pace to eclipse the 2,000- yard mark as he has 1,606 yards through 13 games.
"People don't understand the beating that those hits take on your body and for him to just get up and continue to produce," Cowboys quarterback Tony Romo said about Murray. "It's really a special season that he's having and the guys up front deserve credit. It's really just a special thing to see."
The fourth-year running back from Oklahoma has eclipsed the 100-yard plateau in 11 of 13 games this season.
"I'm just being patient," said Murray, who gained 179 yards in Thursday's 41-28 victory at Chicago. "The offensive line did a great job blocking and the receivers did a great job winning matchups and we had a favorable box and were able to run the ball."
Murray can not only break the Cowboys' single-season rushing record, but he can be the first 2,000-yard running back to switch teams following the campaign.
With both Murray and All-Pro wide receiver Dez Bryant heading for free agency at season's end, the Cowboys need to make plenty of financial decisions and it's likely that Bryant will be the player they keep.
April's NFL Draft will boast the best crop of rookie running backs in years and it's likely that the Cowboys will opt for a younger, cheaper option rather than pay Murray the elite contract he's earned.
Clowney To IR
It's too soon to declare Houston Texans defensive end Jadeveon Clowney a bust. With that said, the can't-miss No. 1 pick hasn't made any impact on the Texans season.
The Texans have decided to place Clowney on season-ending injured reserve as he gets a second surgery to his injured right knee.
"We met as an organization this morning with all of our medical personnel, doctors, trainers. We came to the decision that in the best interest of JD is that we will place him on injured reserve and he will have surgery on his right knee," said Texans head coach Bill O'Brien.
The Texans have been a nice story this year as they've tripled their win total of a year ago, but despite having a balanced roster they still have no real answer at quarterback.
With Clowney not contributing a thing to the team, it seems as if the Texans may have made an error by not selecting a quarterback early.
"At the end of the day, he wasn't able to do the things that he really wants to do to be the player that he can be. We feel like, like I said, that this is in the best interest of the organization and most importantly in the best interest of JD," said O'Brien.
Houston will be in the same position this offseason, still looking for an answer at quarterback, and unfortunately this time they won't be selecting at the top of every round in the draft.
Buccaneers admit mistake, boot Aguayo
In the NFL, it's always better to admit a mistake than to compound it. For the Buccaneers, the decision to burn a 2016 second-round pick on kicker Robert Aguayo has proven to be a mistake. The Buccaneers made the definitive admission of their error on Saturday, cutting Aguayo. He exits with $428,000 in fully-guaranteed salary [
more
]
Source: Mike Florio of ProFootballTalk
Powered by WPeMatico
Did Bucs put too much pressure on Aguayo?
After the Buccaneers surprised everyone by taking a kicker with the 59th overall pick in the draft, G.M. Jason Licht explained the move by heaping superlatives on the player. "I was very excited along with my staff and coaches about Roberto for a very long time," Licht told PFT Live in May 2016. "It's not [
more
]
Source: Mike Florio of ProFootballTalk
Powered by WPeMatico
Broncos holding their breath on Derek Wolfe
Only two days after losing Billy Winn for the year with a torn ACL, the Broncos are now sweating out another potentially serious injury along the defensive line. Via multiple reports, Broncos defensive lineman Derek Wolfe was carted off the field during practice on Saturday. It's being described as a right ankle injury by coach [
more
]
Source: Mike Florio of ProFootballTalk
Powered by WPeMatico