NFL AM: Trestman Needs To Win Out
Marc Trestman needs Jimmy Clausen to save his job; The 49ers part ways with Ray McDonald; A Thursday night to forget.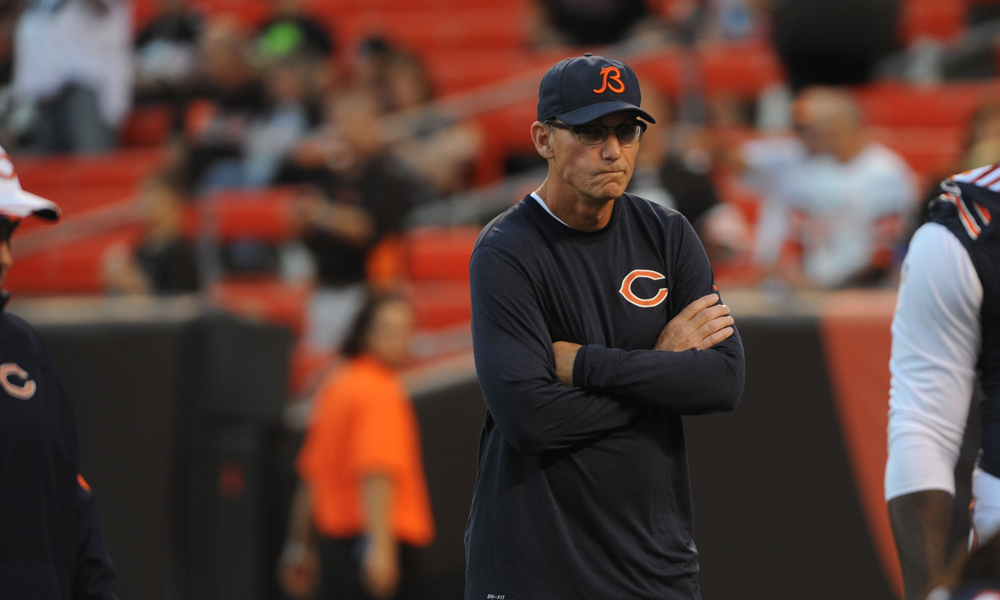 Bears Need To Finish Strong
It's safe to say that the Chicago Bears have been the biggest disappointment in the NFL in 2014. After not experiencing a losing season since 2009, Chicago is firmly in last place in the NFC North with a 5-9 record.
Sources tell Football Insiders that if the Bears don't finish strong in their final two games of the season, head coach Marc Trestman and his staff will be fired.
"The bottom line is that this is a business based on winning and losing," Trestman said. "We can't sugarcoat it. We are disappointed that we're not playing well enough to win."
Trestman came in with the reputation as a "quarterback whisperer" and he did great things with journeyman Josh McCown last season when Jay Cutler was injured. With a loaded arsenal at Cutler's disposal this year, he and the Bears' offense have thoroughly disappointed.
Cutler hasn't played nearly as well as his stats would indicate. He's completed 66.1 percent of his throws for 3,640 yards with 28 touchdowns and 18 interceptions, but he's also taken 36 sacks and fumbled 12 times, leading the NFL in turnovers.
"Absolutely it's frustrating," Cutler told the Bears' official website. "We're trying to say the same thing different ways after games. You get to a point where you don't have the answer. I think that's where we're at."
On Wednesday, Trestman decided to bench Jay Cutler in favor of Jimmy Clausen in Sunday's game against the first-place Detroit Lions.
Although Trestman isn't a defensive coach, he clearly hasn't put the right support staff around himself to make the Bears anything more than laughable. Chicago's defense ranks 30th overall, while allowing the most points in the NFL (29.2 points per game).
To make matters worse, a story leaked about the Bears' coaching staff feeling poorly about the team's decision to sign Jay Cutler to a long-term deal. During a meeting last week, offensive coordinator Aaron Kromer admitted that he was the leak and he apologized to Cutler and the team.
"I think there's a way of doing things when you have issues, and it's keeping it in-house," Packers' quarterback Aaron Rodgers said of the Bears' situation. "We talk about that with our group a lot, and Mike always talks about, usually on Mondays or Wednesdays, 'Here's some of the media topics [that we'll be asked].' It gives guys a chance, if there are any questions or anything we need to talk about, to get it out there.
To sum it up, things couldn't be going much worse in Chicago and it's difficult, if not impossible to feel good about bringing any of the principles in this mess back for 2015.
Final Straw For McDonald
Amid an investigation for sexual assault, the San Francisco 49ers have decided to part ways with defensive tackle Ray McDonald.
The team stood by McDonald through an accusation and subsequent domestic violence arrest, where he was ultimately acquitted of any wrongdoing.
"This is about a pattern of poor behavior," 49ers general manager Trent Baalke said Wednesday. "We expect a lot from our players, hold them accountable for their actions."
Sticking by McDonald was a highly unpopular move considering what was going on in the Ray Rice and Greg Hardy situations. The 49ers seemed vindicated when McDonald was absolved of all charges, but getting in trouble shortly after puts the egg right back on the organization's face and left general manager Trent Baalke virtually no choice but to release the veteran.
"If this was one incident, we would be standing up here talking about due process, like we have multiple times, in multiple other situations," Baalke said. "But this is just a pattern of decision-making that Ray has demonstrated over a period of time that, once again, it's no longer going to be tolerated."
One has to wonder how much of an additional leash the 49ers would have with McDonald if the team was still in the playoff race.
Titans vs. Jaguars On National Television
Forget the playoffs, draft position is on the line on Thursday night as the 2-12 Tennessee Titans take on the 2-12 Jacksonville Jaguars on national television.
You name the statistic, these two teams are terrible at it as this game lives up to the billing as one of the worst in the history of nationally televised football.
Just don't tell the coaches that, as they are throwing around praise for the quarterback matchup of Charlie Whitehurst versus Blake Bortles.
"I think we know what he's capable of doing," Jaguars head coach Gus Bradley said of the Titans' Whitehurst. "He can get hot, he can do some really good things. He's more of a pocket passer so I think you watch his skill set but he can do some good things, obviously. They beat us the first time."
Yes, Charlie Whitehurst beat the Jaguars earlier this season. That's exactly 50 percent of his two career wins in the NFL throughout a career that spans nine seasons. Over the last two seasons, Jacksonville has lost to such quarterbacking legends as Kirk Cousins, Terrelle Pryor, Sam Bradford, E.J. Manuel and Ryan Fitzpatrick (who actually navigated two different franchises to wins over Jacksonville). None of those quarterbacks will be playing this weekend.
We're not saying that beating the Jaguars is easy, but 20 different quarterbacks over the last two years have done it.
Jaguars rookie quarterback Blake Bortles has thrown daggers into the hearts of Brian Hoyer and Eli Manning already this year, and he has his sights set on Charlie Whitehurst being the third victim.
"He's gotten a lot more reps," Titans' head coach Ken Whisenhunt said of Bortles. "He's much more comfortable in the offense than what you've seen. He's made some plays for them."
Blake Bortles and Charlie Whitehurst have combined for four wins in their career and their teams have a .143 winning percentage.
Enjoy America!
Buccaneers admit mistake, boot Aguayo
In the NFL, it's always better to admit a mistake than to compound it. For the Buccaneers, the decision to burn a 2016 second-round pick on kicker Robert Aguayo has proven to be a mistake. The Buccaneers made the definitive admission of their error on Saturday, cutting Aguayo. He exits with $428,000 in fully-guaranteed salary [
more
]
Source: Mike Florio of ProFootballTalk
Powered by WPeMatico
Did Bucs put too much pressure on Aguayo?
After the Buccaneers surprised everyone by taking a kicker with the 59th overall pick in the draft, G.M. Jason Licht explained the move by heaping superlatives on the player. "I was very excited along with my staff and coaches about Roberto for a very long time," Licht told PFT Live in May 2016. "It's not [
more
]
Source: Mike Florio of ProFootballTalk
Powered by WPeMatico
Broncos holding their breath on Derek Wolfe
Only two days after losing Billy Winn for the year with a torn ACL, the Broncos are now sweating out another potentially serious injury along the defensive line. Via multiple reports, Broncos defensive lineman Derek Wolfe was carted off the field during practice on Saturday. It's being described as a right ankle injury by coach [
more
]
Source: Mike Florio of ProFootballTalk
Powered by WPeMatico