NFL AM: Three Teams to Watch as Playoff Heat Intensifies
The Cardinals are ready to reassert themselves; the Bengals look to bury the Steelers; and the Chargers get a chance to make a statement.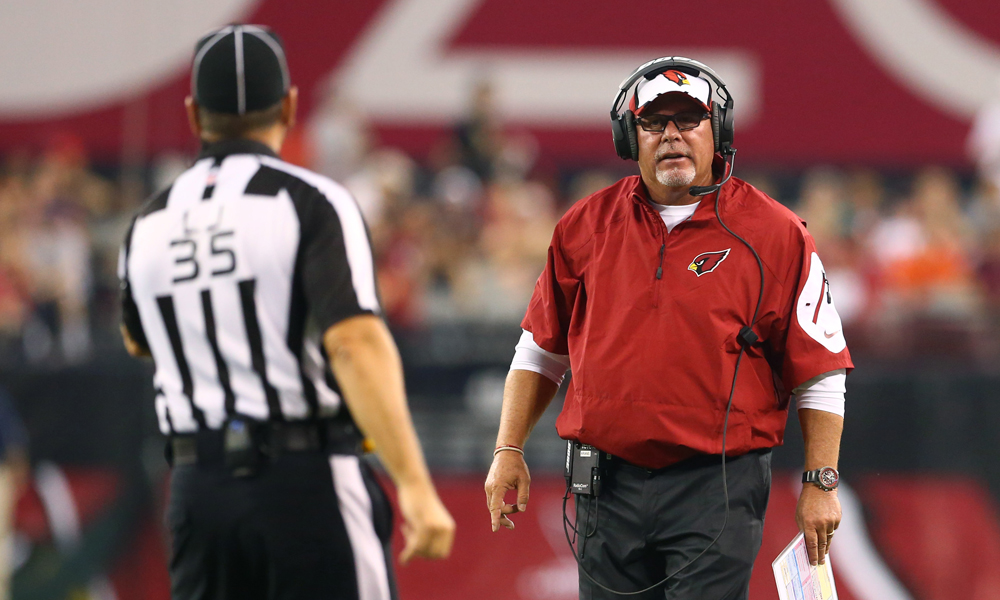 Believe in the Red Birds
If you are a believer in the buy-low, sell-high theory of real estate, now is a great time to purchase a spot on the Cardinals bandwagon. People are jumping off left and right following consecutive losses to the Seahawks and Falcons, questioning whether the wheels are falling off under the extended reign of fill-in quarterback Drew Stanton.
Many have reinstalled the Seahawks as favorites in the NFC West, as Seattle is now just a game back with four to play. However, headstrong Cardinals coach Bruce Arians refuses to believe Stanton is not capable of taking Arizona where it wants to go.
"Drew was really, really hot and cold," Arians said of Stanton's performance in Atlanta. "He threw the ball extremely well outside and down the field. He missed Jaron [Brown] about 6 inches too high on the interception. The other [mistake] was he went through a progression and dumped one over Michael [Floyd]'s head. He has not made those earlier in the season. It's something that is easily correctable."
The Cardinals and Seahawks have similar closing schedules. Both finish with three consecutive games against NFC West opponents. This week, Arizona hosts Kansas City while Seattle travels to Philadelphia. But the key is that when these teams meet again in Week 16, the game is at University of Phoenix Stadium, where the Cardinals have yet to lose this season.
It's not as though Arizona's home schedule has been easy, either. The Cardinals have won at home against the Chargers, 49ers, Eagles and Lions. This wins against San Francisco and Detroit, by the way, came with Stanton under center.
The pressure is on the Cardinals to avoid a late-season collapse, but this team does not run from pressure … it thrives under it. Remember, the Cardinals and Seahawks met in Week 16 last season, too, in a game Arizona had to win to stay in the playoff race. That game was in Seattle, where the Seahawks had yet to taste defeat, until Arians' team came to town and left with a 17-10 victory.
And here's a fun fact: all of Arizona's remaining opponents have a passing offense that ranks in the bottom quarter of the league, so it is not as though Stanton will be expected to win shootouts. He can serve as a classic game-manager and the Cardinals are still plenty good enough to capture the NFC West and a first-round bye.
Bengals Try to Close the Door on Steelers
Speaking of quarterbacks under the microscope, Andy Dalton is under scrutiny — again — following a three-interception performance against the Buccaneers. But here is what is lost in all the criticism … the Bengals won, again, the only team in the AFC North to pick up a victory on in Week 13.
"A win's a win regardless of how you get it" Dalton said. "The ultimate goal is to win by one. We'll take the win any way we can get it."
The Bengals are far more consistent than their opponent this week, a Steelers side that has dropped three games to sub-.500 teams so far this season.
Dalton needs to do a better job protecting the ball, for sure, but he has proven he can bounce back after a bad performance. The previous time he threw three picks in a game was during a Week 10 loss to the Browns. The following week, he tossed three touchdowns (without an interception) in a road win over the Saints. Yes, the same Saints who just went into Pittsburgh and won handily.
The Bengals have not lost since, sweeping a three-game road trip to move a game-and-a-half ahead of the pack in the AFC North.
The Bengals and Steelers will play twice over the final four weeks of the regular season, this week in Cincinnati and again in the season finale in Pittsburgh, so their meetings will go a long way towards determining how each team will finish the season. The teams have split their season series each of the past two years.
Dalton's sloppy game against the Bucs gives Steelers fans hope they can sweep Cincinnati and steal the AFC North. Spoiler alert: it's not going to happen. For one thing, Pittsburgh is ill suited to take advantage of Dalton's sometimes lackadaisical ball security; only six teams have fewer interceptions than the Steelers. And secondly, that same Bucs team that almost beat the Bengals actually beat the Steelers in Week 4.
The Bengals have made the playoffs every year since drafting A.J. Green and Andy Dalton in 2011, including back-to-back division titles in 2012 and 2013. That streak will continue for at least another season.
Chargers Face Pair of Measuring Sticks
The Chargers moved ahead of the wild-card pack with their come-from-behind win over the Ravens, which coincided with losses by the Steelers, Browns and Chiefs. The win put San Diego (8-4) in an enviable position in terms of the playoff race. If the Chargers win three of their final four games, they are guaranteed a postseason spot. If they win two of their final four, according to makenflplayoffs.com, they still have an 89.2 percent chance of making the playoffs.
"These are the kind of games you have to win to get in," said Rivers after the Baltimore game. "And these are the kind of games you have to win when you get in. If you can't win these — and I'm not saying you're going to win all of them — but if you can't win these you probably aren't good enough."
Here's where things get tricky: San Diego's next two games are against the undisputed top teams in the AFC: the Patriots and the Broncos. If the Chargers lose both of those games, they will be forced to win their final two contests — tough road games in San Francisco and Kansas City — in order to return to the playoffs for a second straight season.
There are some silver-linings. For one, both of the games will be played in San Diego. For another, the Chargers are playing with supreme confidence after last-minute wins over the Ravens and Rams in consecutive weeks. Lastly, but most importantly, there's this: if you are going to out-duel Tom Brady and Peyton Manning, you need a quarterback like Philip Rivers.
Rivers, who cracked the Top 20 on the NFL's all-time career passing yards list in the win over the Ravens, is making a late push to resuscitate an MVP campaign that had serious steam during San Diego's 5-1 start. He lit up the Ravens for 383 yards and three touchdowns, completing over 75 percent of his passes overall and 100 percent of his passes on third down. This occurred one week after he completed 82.9 percent of his passes against the Rams.
San Diego will be underdogs in its next two games and rightfully so. But don't bet against Rivers directing an upset in one of those two contests, which is all the Chargers need to feel good about their playoff future. And if he somehow leads San Diego to wins in both games? He may just earn that MVP award after all.
Want to talk more about these and other headlines? Join Michael Lombardo for his weekly NFL Chat on Friday at 2pm EST. But you don't have to wait until then … ask your question now! 
Buccaneers admit mistake, boot Aguayo
In the NFL, it's always better to admit a mistake than to compound it. For the Buccaneers, the decision to burn a 2016 second-round pick on kicker Robert Aguayo has proven to be a mistake. The Buccaneers made the definitive admission of their error on Saturday, cutting Aguayo. He exits with $428,000 in fully-guaranteed salary [
more
]
Source: Mike Florio of ProFootballTalk
Powered by WPeMatico
Did Bucs put too much pressure on Aguayo?
After the Buccaneers surprised everyone by taking a kicker with the 59th overall pick in the draft, G.M. Jason Licht explained the move by heaping superlatives on the player. "I was very excited along with my staff and coaches about Roberto for a very long time," Licht told PFT Live in May 2016. "It's not [
more
]
Source: Mike Florio of ProFootballTalk
Powered by WPeMatico
Broncos holding their breath on Derek Wolfe
Only two days after losing Billy Winn for the year with a torn ACL, the Broncos are now sweating out another potentially serious injury along the defensive line. Via multiple reports, Broncos defensive lineman Derek Wolfe was carted off the field during practice on Saturday. It's being described as a right ankle injury by coach [
more
]
Source: Mike Florio of ProFootballTalk
Powered by WPeMatico