NFL AM: The Hall of Fame and the Hall of Pain
The Rams race for busts in Canton; the Colts add a legendary return man; and the Chargers and Saints lose their first-round picks for the season.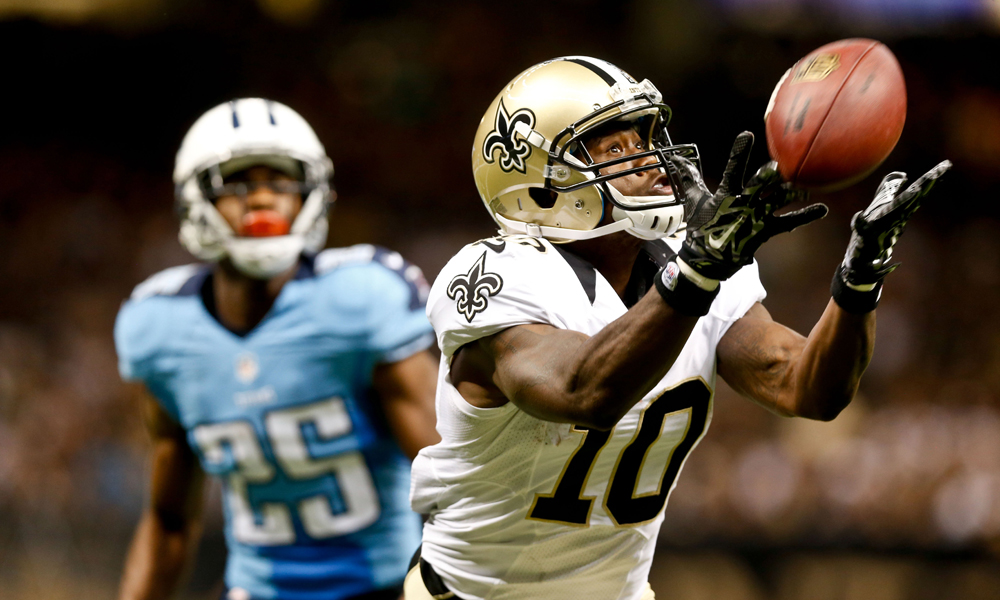 The Greatest Show in the Hall? 
Candidates for the 2015 Hall of Fame were pared down to 26 semifinalists on Tuesday. The list includes eight players who are in their first year of eligibility, with four of those new-blood candidates coming from St. Louis' "Greatest Show on Turf" teams: Kurt Warner, Isaac Bruce, Torry Holt and Orlando Pace.
Other noteworthy first-time candidates include Ty Law and the late Junior Seau.
The Rams' star receiving tandem will likely have to wait before being inducted. Marvin Harrison and Tim Brown are still on the list after missing the cut last year and those two will probably go in first. Brown has inexplicably been a finalist and missed the cut five years in a row, so his time may be now. And although there is no steadfast rule against it, voters do not like putting in more than one player at the same position.
Pace has the best chance to make it during his first shot at eligibility. Last year, Walter Jones was selected in his first year eligible, and Jones and Pace's careers mirrored one another in many respects.
"It's a honor to be moving on in the next phase of the process," Pace said. "It's also special to share this experience with my teammates."
Seau, who committed suicide on May 2, 2012, will be one of the more interesting cases to follow. His family is currently suing the NFL in a wrongful death suit. Seau suffered from a degenerative brain disease when he died, which his family alleges was the result of excessive head trauma during his stellar playing career.
The 26 semifinalists for this year's class will be trimmed to 15 by early January. Final voting will be completed by January 31, 2015.
Cribbs Joins Colts' Playoff Push
The Colts signed return specialist Josh Cribbs on Tuesday, filling the opening created by placing Ahmad Bradshaw on injured-reserve with a broken leg.
Now in his 10th season, Cribbs ranks fifth all-time in kickoff/punt returns for touchdowns (11) and combined kick/punt return yards (10,505). He spent the final six games of last season with the Jets, where he averaged 24.5 yards per kickoff return and 12 yards per punt return. That punt return average is nearly 5 yards better than incumbent Colts returner Griff Whalen is averaging (7.2 yards).
"I look forward to having a fountain of youth with this football team, having a quarterback like (Andrew) Luck, having a team with a drive such as this one, a knack for the playoffs," Cribbs said. "I feel like this is my big break."
The Colts know first-hand what a sizable impact an elite return specialist can have on a game, especially in the postseason. Devin Hester, the only return man of this era more dominant than Cribbs, returned the opening kickoff of Super Bowl XLI 92 yards for a touchdown, which at the time staked the Colts to the quickest deficit in Super Bowl history.
During this season's playoff push, Indianapolis hopes Cribbs can put its opponents in a similar predicament.
Cribbs was not the only former Pro Bowl return man to find work on Tuesday. The Bears signed Marc Mariani to a two-year deal. Mariani averages 24.8 yards per kickoff return and 11.2 yards per punt return for his career and earned a Pro Bowl invite as a return specialist in 2010.
First-Round Picks Dropping Like Flies
On Tuesday, the New Orleans Saints placed rookie WR Brandin Cooks on injured-reserve with a broken thumb. Cooks leads all rookies with 53 receptions, good for 550 yards and three touchdowns.
New Orleans will miss Cooks' game-breaking speed, which helped Drew Brees stretch the field and also helped offset the offseason loss of Darren Sproles on screen passes and quick-hitters.
Cooks is the second first-round pick to go on injured-reserve in the last few days. On Saturday, the Chargers placed cornerback Jason Verrett on injured-reserve with a shoulder injury. Verrett's shoulder has been an issue since before he was drafted, and after re-injuring it a few weeks ago in a loss in Denver, it was determined he will not be able to make it back this season.
Verrett had emerged as San Diego's top cover man, ahead of even Pro Bowl cornerback Brandon Flowers. The TCU product finishes his rookie season with 19 tackles and an interception; his lone pick saved San Diego's Week 6 win over the Oakland Raiders.
The losses of Cooks and Verrett hurt the Saints and Chargers a great deal, as both teams are on the playoff bubble. The good news is that both players are expected to be 100 percent healthy in time for OTAs in the spring, which should allow them to pick up right where they left off.
Want to talk more about these and other headlines? Join Michael Lombardo for his weekly NFL Chat on Friday at 2pm EST. But there is no need to wait until then … ask your question now!
Buccaneers admit mistake, boot Aguayo
In the NFL, it's always better to admit a mistake than to compound it. For the Buccaneers, the decision to burn a 2016 second-round pick on kicker Robert Aguayo has proven to be a mistake. The Buccaneers made the definitive admission of their error on Saturday, cutting Aguayo. He exits with $428,000 in fully-guaranteed salary [
more
]
Source: Mike Florio of ProFootballTalk
Powered by WPeMatico
Did Bucs put too much pressure on Aguayo?
After the Buccaneers surprised everyone by taking a kicker with the 59th overall pick in the draft, G.M. Jason Licht explained the move by heaping superlatives on the player. "I was very excited along with my staff and coaches about Roberto for a very long time," Licht told PFT Live in May 2016. "It's not [
more
]
Source: Mike Florio of ProFootballTalk
Powered by WPeMatico
Broncos holding their breath on Derek Wolfe
Only two days after losing Billy Winn for the year with a torn ACL, the Broncos are now sweating out another potentially serious injury along the defensive line. Via multiple reports, Broncos defensive lineman Derek Wolfe was carted off the field during practice on Saturday. It's being described as a right ankle injury by coach [
more
]
Source: Mike Florio of ProFootballTalk
Powered by WPeMatico