NFL AM: The Good, The Bad And The Raiders
Aaron Rodgers double-checked the Patriots, Ryan Fitzpatrick looked like a genius, the AFC North was bad and the Oakland Raiders continued their commitment to excrement.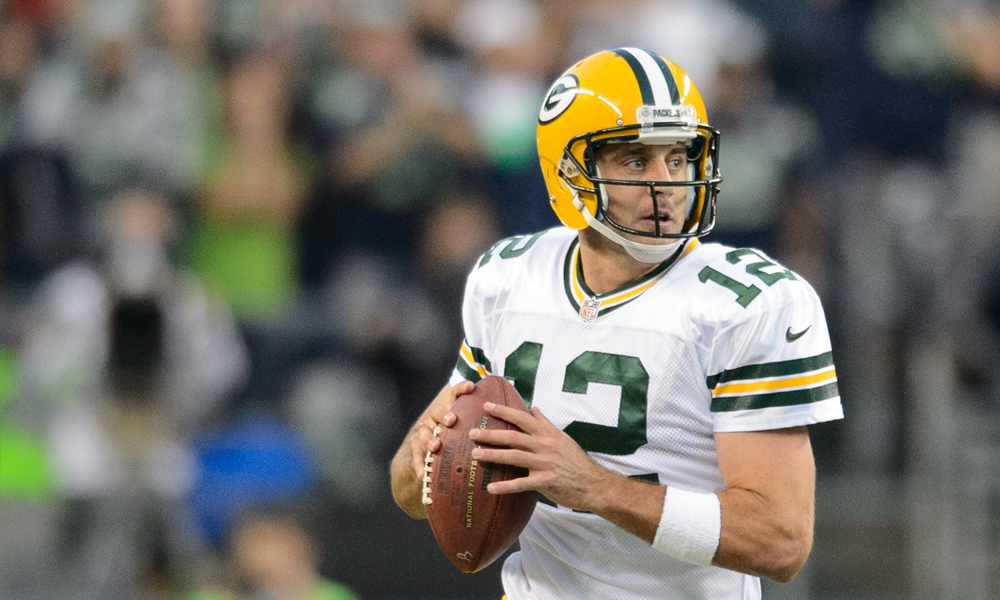 Rodgers wins Duel With Brady
Aaron Rodgers is the best quarterback in the world and his team is currently the best in the NFL.
Rodgers led the Packers to a 26-21 victory over the New England Patriots, who had won their previous seven games.
"We have some big goals, and we're getting into December football now with a chance with everything right in front of us," Rodgers said.
The Green Bay quarterback completed 24 of 38 throws, for 368 yards with a pair of touchdowns and no interceptions. Rodgers hasn't thrown an interception at home this year, extending his NFL record streak to 20 consecutive touchdowns at home without a pick.
Rodgers' counterpart, Tom Brady played well but not well enough. Brady completed 22 of his 35 throws for 245 yards with a pair of touchdowns and no interceptions.
"I just wish we would have won this one," Brady said. "We put a lot into this one, and this was a great test for us. I think the guys knew how important this was for our season."
The meeting between Rodgers and Brady was their first ever, as Aaron Rodgers missed the game between the two teams in 2010. It is only the second time in NFL history that a pair of quarterbacks with at least 200 touchdown passes started against one another for the first time. The other instance was December 14, 1974 between Pro Football Hall of Famers Len Dawson and Fran Tarkenton.
Fitzpatrick Makes The Most Of His Shot
After being benched as a starting quarterback presumably for the rest of his career, Ryan Fitzpatrick some a glimmer of hope in the worst way possible as his replacement, Ryan Mallett tore his pectoral and had to be placed on the Texans' injured reserve list.
The Harvard grad made the most of his mulligan as he set a Texans' franchise record by throwing for six touchdowns in Sunday's 45-21 victory over the Tennessee Titans.
"I didn't know if I'd ever have a chance to play again," said Fitzpatrick, who completed 24 of 33 throws for 358 yards and a career best six scores. "It was eye-opening for me not to take it for granted and to embrace it."
Fitzpatrick played well enough to earn himself another start in Houston, but the forecast for the rest of his starting career is still a bit murky. Short of winning the remaining four games of the season for the Texans, it's likely that Fitzpatrick will have to win a quarterback competition somewhere in 2015, and at 32 years old, most teams would rather take a chance on someone younger with more upside.
Unimpressive Week For AFC North
When the Baltimore Ravens defeated the New Orleans Saints last Monday, it marked the first time that an entire division was three games over .500.
Is the AFC North the greatest collection of talent since….the SEC West?
No, they've just had the scheduling coup of playing both the AFC South and NFC South in the same season.
On Sunday, the AFC North returned to Earth in a major way, as the Pittsburgh Steelers lost at home to the New Orleans Saints, the Cleveland Browns were destroyed by the Buffalo Bills and the Baltimore Ravens blew a pair of 10-point leads at home as they lost to the San Diego Chargers, 34-33.
"We're up 10 at home in the fourth quarter and our offense gave us 33 points and usually that's enough. It wasn't. That's why this is extremely disappointing," Ravens' All-Pro linebacker Terrell Suggs said.
The only team in the AFC North to win on Sunday was the Cincinnati Bengals, who turned the ball over three times and scored just 14 points as they did the absolute bare minimum to beat the Tampa Bay Buccaneers.
"I'm pleased that we overcame ourselves and won the football game today," Cincinnati Bengals' head coach Marvin Lewis said. "We obviously had the turnovers offensively, led to scores. We had penalties on defense that kept drives alive and those are things we overcame today. They're going to show up once in a while, but we seemed to have them all today. Had penalties in the kicking game. There was a lot we didn't do right and we were able to overcome it and come out with the win."
The AFC North is little more than a division without a terrible team. There are no teams that have a real shot at making a deep postseason run as the Ravens and Steelers are more legendary than they are good. The Bengals will likely win the division again but it would be more of a surprise if they actually won a playoff game with Andy Dalton. Cleveland now has to start over as they will likely make the move to Johnny Manziel next week.
Oakland Gets Embarrassed Under The Arch
The Oakland Raiders were feeling as good as they've felt this season, coming off last Thursday's victory over Kansas City which was their first of the year.
Those good feelings came to an end abruptly on Sunday as Oakland was put on blast by the St. Louis Rams, 52-0.
"It just wasn't us," quarterback Derek Carr said. "That didn't look like us. I don't know if flat is the word, but it just wasn't us."
Oakland couldn't get out of their own way as they turned the ball over five times and rookie quarterback Derek Carr had to be benched after throwing his second interception in the second half. Carr finished 24 of 39, for 179 yards with two interceptions and a quarterback rating of 50.5. As bad as Carr was, backup Matt Schaub was even worse, completing just five of his nine throws for 57 yards with an interception and three sacks. Schaub finished with a quarterback rating of 35.2.
The good news for the Raiders is that with Jacksonville pulling off the biggest comeback in team history, Oakland is now by their lonesome with the worst record in the NFL at 1-11, and in the pole position for the No. 1 overall pick.
Buccaneers admit mistake, boot Aguayo
In the NFL, it's always better to admit a mistake than to compound it. For the Buccaneers, the decision to burn a 2016 second-round pick on kicker Robert Aguayo has proven to be a mistake. The Buccaneers made the definitive admission of their error on Saturday, cutting Aguayo. He exits with $428,000 in fully-guaranteed salary [
more
]
Source: Mike Florio of ProFootballTalk
Powered by WPeMatico
Did Bucs put too much pressure on Aguayo?
After the Buccaneers surprised everyone by taking a kicker with the 59th overall pick in the draft, G.M. Jason Licht explained the move by heaping superlatives on the player. "I was very excited along with my staff and coaches about Roberto for a very long time," Licht told PFT Live in May 2016. "It's not [
more
]
Source: Mike Florio of ProFootballTalk
Powered by WPeMatico
Broncos holding their breath on Derek Wolfe
Only two days after losing Billy Winn for the year with a torn ACL, the Broncos are now sweating out another potentially serious injury along the defensive line. Via multiple reports, Broncos defensive lineman Derek Wolfe was carted off the field during practice on Saturday. It's being described as a right ankle injury by coach [
more
]
Source: Mike Florio of ProFootballTalk
Powered by WPeMatico