NFL AM: The Good, The Bad And The Mannings
The Cards remain on top, Aaron Rodgers has everyone relaxed and the Mannings have a terrible day.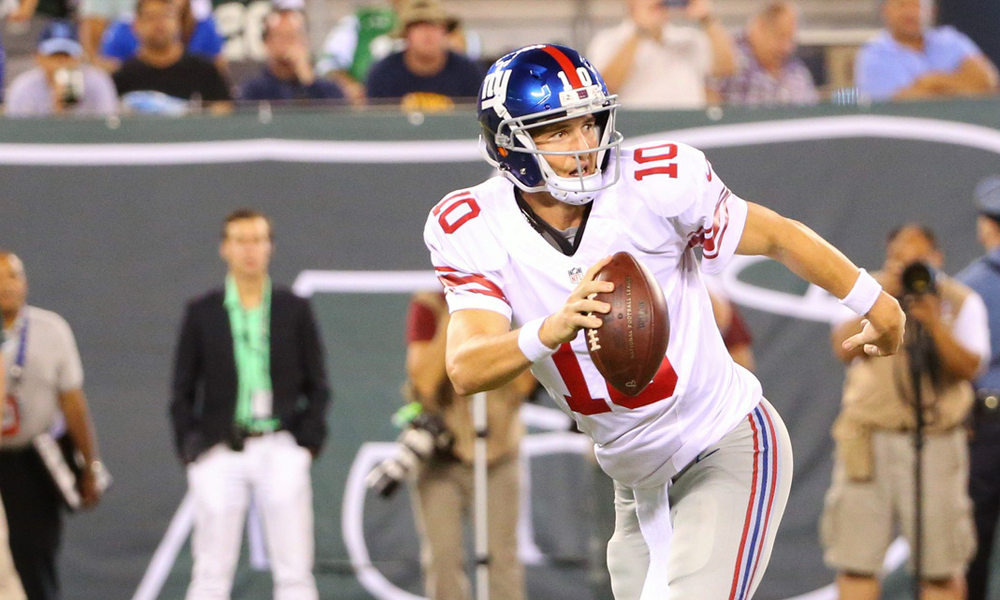 Angry Birds Keep Winning
Drew Stanton or Carson Palmer, it doesn't really matter who starts for the Arizona Cardinals as they just keep winning football games.
"It was a great win for us, and solidifies the belief in our locker room that whoever steps in steps up," Cardinals coach Bruce Arians said following the Cardinals' 14-6 victory over the Detroit Lions.
The Cards defense was the big story as they held Lions quarterback Matthew Stafford to just 164 yards passing and a 63.6 quarterback rating. Arizona sacked Stafford four times and held Calvin Johnson to just five catches for 59 yards as he was often shadowed by Cardinals Pro Bowl cornerback Patrick Peterson.
Peterson predicted that he would have a good game.
"He's a great athlete, I'm a great athlete," Peterson said. "It's going to be a battle of the best at their positions and I can't wait for it to happen. I'm going to give the fans a great show. I hope they've got their popcorn ready."
Making his first start in over a month for the injured Palmer, Stanton connected with wide receiver Michael Floyd on a pair of first quarter touchdown throws that would prove to be all the offense that Arizona needed as they moved to an NFL-best 9-1 record.
"It was by far the best start for a football game that we've had," Arians said. "The start of the game was very refreshing to see us go down and score touchdowns and stop them."
Arians now has a 19-7 record since taking over in the desert.
Packers Are Peaking
For the first time in the Green Bay Packers' illustrious 95-year history, they have scored 50 points in back-to-back games.
Green Bay dismantled the first-place Philadelphia Eagles, 53-20, in a game that wasn't nearly as close as the final score would indicate.
"Very good home victory," Packers head coach Mike McCarthy said after the game. "I thought our players did an excellent job in all three phases."
Packers quarterback Aaron Rodgers kept up his commitment to excellence as he completed 22 of 36 throws for 341 yards with three touchdowns and no interceptions for a quarterback rating of 120.3. Rodgers has thrown 29 straight touchdown passes at home without an interception, an NFL record.
"We're playing really well right now," Rodgers said after the game. "This is the kind of stretch you want to be on at this point in the season."
The victory was Green Bay's sixth in their last seven games and they pulled to a first-place tie with the Detroit Lions in the NFC North at 7-3.
"This is a point in the season where you really need to start separating yourself," Packers linebacker Clay Matthews said. "Tonight was a really big victory against a really good team. That being said we need to continue to progress moving forward not only at home but on the road too."
Green Bay is 5-0 at home and just 2-3 on the road. They travel to Minnesota next Sunday to take on the 4-6 Vikings.
Browns Go From First To Worst
How do you go from first place in your division to last place in your division in a matter of three hours?
You invite a Ryan Mallett led Houston Texans team into your stadium.
In Ryan Mallett's first NFL start, he led the Houston Texans to a 23-7 victory over the formerly first place Cleveland Browns.
"It feels good," Mallett said after completing 20 of 30 throws for 211 yards, with two touchdowns and an interception. "It made the four years worth it."
Texans defensive end J.J. Watt dominated the football game as he caught Mallett's first touchdown pass and followed it up by registering a sack, three tackles for loss as well as a fumble recovery.
"He's a special player," Browns head coach Mike Pettine said. "You run to him. You run away from him. You try to do different things. He's an excellent player."
The loss was a costly one for Cleveland as they fell all the way out of first place and into the AFC North cellar, as the Cincinnati Bengals won in New Orleans and the Baltimore Ravens are on a bye. Pittsburgh plays Tennessee on Monday night.
"It's disappointing," said Browns quarterback Brian Hoyer, who completed just 20 of 50 passes with a touchdown. "We had a great opportunity and we let it slip through our hands. We're not there yet."
As much as the Browns in the playoffs would be a feel good story, Cleveland has only defeated two teams with winning records (Cincinnati and Pittsburgh), and they've found ways to lose to Houston and Jacksonville.
Rough Day If You're Named Manning
The Manning family is NFL royalty. Archie Manning was a Pro Bowl quarterback for the Saints, and his sons will likely be enshrined in Canton when their playing days are finished.
There hasn't been a ton of bad days for the Manning clan on the football field. Peyton owns most of the NFL's passing records and although Eli has had more than his fair share of inconsistent moments, he's won a pair of Super Bowl rings.
Sunday was an ugly day for the Manning family, and it's difficult to determine which brother had the more disappointing performance.
Peyton's Broncos lost 22-7 to a St. Louis Rams team that has 28-, 27- and 14-point losses to the Vikings, Chiefs and 49ers, respectively. Although Peyton threw for nearly 400 yards, he had 20 incompletions and a pair of interceptions while directing his team to the fewest points (seven) since he became a Denver Bronco.
"We didn't execute very well and I just think I didn't play very well," Manning said. "No excuses. I have to play better and we have to score more points than seven."
Despite playing in a climate controlled Edward Jones Dome, Manning's passes fluttered and he showed an inability to put any notable velocity on his throws.
While Peyton was having issues completing passes, his brother Eli was completing plenty of them… to the San Francisco 49ers.
San Francisco picked off Eli five times en route to their 16-10 victory in the Meadowlands.
"I have to make better throws," said Manning, who finished 22 of 45 for 280 yards. "It's no one else's fault. I've got to protect the ball and not turn it over. I turned it over close a couple of times and that can't happen."
Entering Sunday, Eli had thrown just six interceptions on the season as he cut down on his turnovers and kept the Giants in plenty of games. Eli reverted back to the quarterback that's led the NFL in interceptions three times over his career.
"We made it hard for him," 49ers linebacker Aldon Smith said of Manning. "Making him uncomfortable in the pocket and moving him around, pressuring him from everywhere."
As far as we know, Peyton and Eli's brother Cooper is in fine health as well as Archie, who is battling a knee injury that forced him to step away from the College Football Playoff Committee.
Buccaneers admit mistake, boot Aguayo
In the NFL, it's always better to admit a mistake than to compound it. For the Buccaneers, the decision to burn a 2016 second-round pick on kicker Robert Aguayo has proven to be a mistake. The Buccaneers made the definitive admission of their error on Saturday, cutting Aguayo. He exits with $428,000 in fully-guaranteed salary [
more
]
Source: Mike Florio of ProFootballTalk
Powered by WPeMatico
Did Bucs put too much pressure on Aguayo?
After the Buccaneers surprised everyone by taking a kicker with the 59th overall pick in the draft, G.M. Jason Licht explained the move by heaping superlatives on the player. "I was very excited along with my staff and coaches about Roberto for a very long time," Licht told PFT Live in May 2016. "It's not [
more
]
Source: Mike Florio of ProFootballTalk
Powered by WPeMatico
Broncos holding their breath on Derek Wolfe
Only two days after losing Billy Winn for the year with a torn ACL, the Broncos are now sweating out another potentially serious injury along the defensive line. Via multiple reports, Broncos defensive lineman Derek Wolfe was carted off the field during practice on Saturday. It's being described as a right ankle injury by coach [
more
]
Source: Mike Florio of ProFootballTalk
Powered by WPeMatico