NFL AM: The Good, The Bad and Johnny Football
The Pats make it look easy, the Seahawks are stingy, Johnny Football hit rock bottom and the Titans won by losing.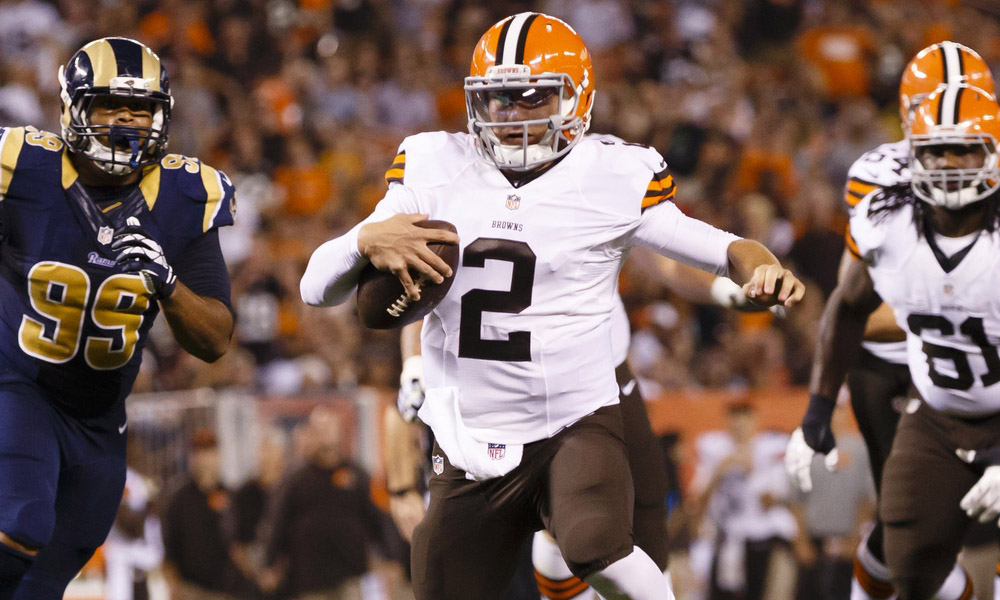 AFC East Champs Again
The New England Patriots have been the definition of consistency, not only in 2014 but over the last decade and a half.
On Sunday, the Patriots demolished the Miami Dolphins, 41-13 to claim their sixth-straight AFC East crown and their 13th in the last 15 years.
"It's good to go in there and finish them off like we did," Patriots quarterback Tom Brady said.
The Patriots have reached such a high level of excellence that they're no longer measured by measly division titles, but postseason success. Still, the best way to have postseason success is to win your division and get at least one home playoff game and the Patriots have been able to do just that year after year.
"Everything starts with winning your division," Patriots safety Devin McCourty said after the game. "We wanted to win big."
At 11-3, the Pats are clinging to the top seed in the AFC and with victories already in their pocket over the Denver Broncos and Indianapolis Colts, New England is not only the team to beat, but there really isn't a bad matchup out there until they get to the Super Bowl.
Seahawks' Defense Impenetrable Again
Any NFL coach will tell you that they want their team to play their best football in December and January.
The Seattle Seahawks have put an enormous check mark next to the December portion of that statement, as they won their fourth straight game to end their division rival San Francisco 49ers' season on Sunday with a 17-7 victory.
Seattle controls their own destiny in terms of home-field advantage with their 10-4 record.
"I don't care about that stuff right now," Seattle coach Pete Carroll said. "We have two more games to play and we have one more game that's at hand right now. That's all we got. The rest of it doesn't matter."
Seattle has been winning with virtually the same formula that led them to the Lombardi Trophy last year – great defense and a strong running game.
In the last four games, the Seahawks' defense has held their opponents to a total of 27 points, roughly 6.8 points per game. Seattle has sacked opposing quarterbacks 16 times and forced six interceptions.
"We didn't give up any yards, we just played our way," Seahawks defensive end Michael Bennett said. "We played team defense and that's the way you play championship football."
Their four-game winning streak hasn't come against the NFL's downtrodden. The Seahawks have defeated Arizona, San Francisco twice and Philadelphia. Those teams have a combined record of 27-15.
The Seahawks are rounding into shape quite nicely after having a mediocre stretch in the middle of the season. This is yet another example of the cream rising to the top in the cold weather months.
Johnny Be Bad
As the season progressed and Cleveland Browns quarterback Brian Hoyer regressed, it seemed obvious that first-round pick Johnny Manziel would eventually be thrust into action.
We found out on Sunday why Browns head coach Mike Pettine was s0 hesitant to make the move.
Manziel led the Browns to exactly no points on Sunday in their 30-0 whooping at the hands of the Cincinnati Bengals, in a game that wasn't as close as the final score would indicate.
"It was tough," Manziel said. "When you get beat, you get beat and you take it like a man. I felt like it was a fail on my part. "
Manziel looked lost, small and slow, while showing bad mechanics and a small arm as he made mistake after mistake in his first NFL action. Manziel completed 10 of 18 throws for 80 yards with a pair of interceptions. He posted a quarterback rating of 27.3.
"Didn't play well — looked like a rookie, played like a rookie," Browns coach Mike Pettine said. "We didn't play well around him, but he made some obvious mistakes that typically a veteran quarterback won't make."
You can't determine a player's career after just one start, but Manziel looked like anything but a first-round pick. He physically doesn't look the part and if you don't have the physical attributes, everything else has to be nearly perfect to succeed. With poor footwork and decision making, Manziel has a lot of work to do if he's going to resemble a starting quarterback.
With that said, it was still the right move to start Manziel and continue to start him for the rest of the season.
Sometimes A Win Is A Loss
"Sometimes when you win, you really lose, and sometimes when you lose, you really win, and sometimes when you win or lose, you actually tie, and sometimes …"
That above quote is from Rosie Perez playing Gloria in the American classic, "White Men Can't Jump."
When the New York Jets and Tennessee Titans squared off Sunday afternoon in Nashville, it seemed as if there were no winners.
The scoreboard says that the Jets won, 16-11, in a game that was anything but aesthetically pleasing.
As if a matchup between Geno Smith and Jake Locker at quarterback wasn't bad enough, Locker injured his shoulder and the matchup turned into Smith versus Charlie Whitehurst.
In fact, the most memorable part of the game was a brawl that was incited by Tennessee defensive end Jurrell Casey. Casey hit Geno Smith in the face following a long completion to Eric Decker. Casey was flagged but remained in the game.
The "winning" Jets were just 2-for-13 on third down conversions and amassed just 277 yards of total offense.
Rex Ryan, Smith and the Jets won the battle on Sunday, but may very well have lost the war. The victory moves them to 3-11, one game better than the Titans who they defeated, as well as the Oakland Raiders, Jacksonville Jaguars and Tampa Bay Buccaneers.
"A real fan, a Jet fan, wants to win," Ryan said following the victory. "It doesn't matter what pick you get or whatever. If Peyton Manning's out there, I can understand it, but I don't think Peyton Manning's out there. You know what? We're fighting every game, and we're going to fight next week, too, against New England. Jet fans want to win, are you kidding me? We've only got two of them."
Although neither Marcus Mariota nor Jameis Winston look like sure things on the next level, the Jets will likely have no shot to select either one of them.
Looking over to the other sideline, the Titans found a way to lose to get to 2-12. The Titans more or less control their own destiny as they play the 2-12 Jaguars on Thursday night. If Tennessee loses out, they will select no worse than second in the draft and be in line for a new quarterback and potentially a rebirth of the franchise.
Buccaneers admit mistake, boot Aguayo
In the NFL, it's always better to admit a mistake than to compound it. For the Buccaneers, the decision to burn a 2016 second-round pick on kicker Robert Aguayo has proven to be a mistake. The Buccaneers made the definitive admission of their error on Saturday, cutting Aguayo. He exits with $428,000 in fully-guaranteed salary [
more
]
Source: Mike Florio of ProFootballTalk
Powered by WPeMatico
Did Bucs put too much pressure on Aguayo?
After the Buccaneers surprised everyone by taking a kicker with the 59th overall pick in the draft, G.M. Jason Licht explained the move by heaping superlatives on the player. "I was very excited along with my staff and coaches about Roberto for a very long time," Licht told PFT Live in May 2016. "It's not [
more
]
Source: Mike Florio of ProFootballTalk
Powered by WPeMatico
Broncos holding their breath on Derek Wolfe
Only two days after losing Billy Winn for the year with a torn ACL, the Broncos are now sweating out another potentially serious injury along the defensive line. Via multiple reports, Broncos defensive lineman Derek Wolfe was carted off the field during practice on Saturday. It's being described as a right ankle injury by coach [
more
]
Source: Mike Florio of ProFootballTalk
Powered by WPeMatico