NFL AM: The Good, The Bad and Brian Hoyer
We discuss the greatness of Peyton Manning, the Falcons' futility and Brian Hoyer playing himself out of a contract.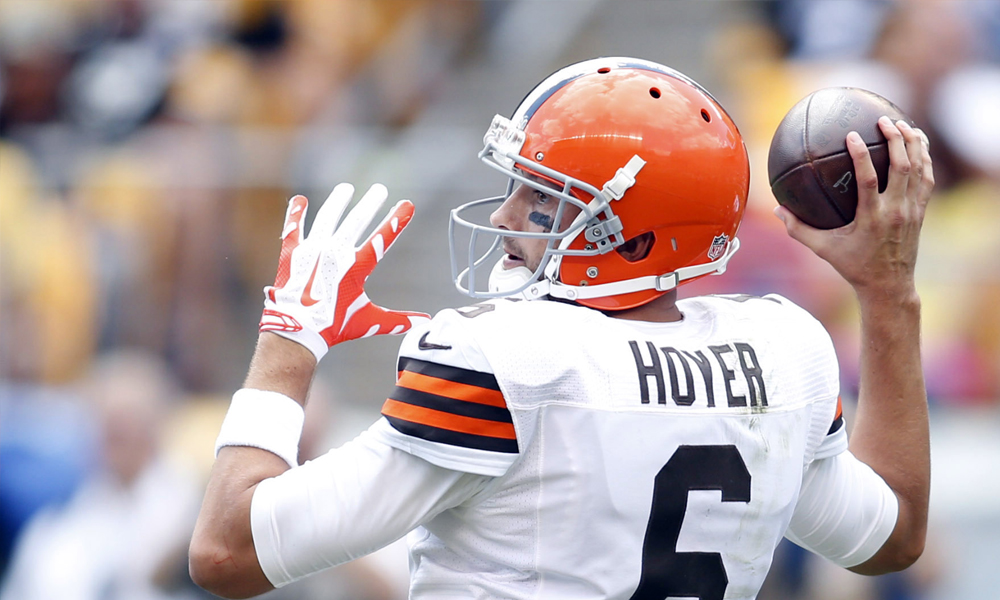 In this edition of "The Good, The Bad and The Ugly," we discuss the greatness that we take for granted in Peyton Manning, the Atlanta Falcons away from home and the nightmarish day that Browns quarterback Brian Hoyer had in Jacksonville.
The Greatest Ever?
Peyton Manning entered Sunday night's game with the San Francisco 49ers needing two touchdowns to tie Brett Favre's all-time record and three touchdowns to break it. Against a 49ers defense that is ranked seventh-overall, it took Manning less than a half of play to toss his third touchdown of the game en route to the Broncos' 42-17 victory.
"It's special because of the way our team played," Manning said after breaking Favre's record with an 8-yard touchdown pass to Demaryius Thomas.
Peyton made breaking the record look easy just as he's had for the past 16 years. He makes playing the position of quarterback look like a video game and his excellence is something that we've come to expect and sometimes take for granted.
Favre issued a statement congratulating Manning on breaking his record.
"I want to say congratulations for breaking the touchdown record," Favre said. "I'm not surprised. You've been a wonderful player and I've enjoyed watching you play. I've enjoyed competing against you. I wish you great success for the rest of the season and the rest of your career."
Manning responded by saying some kind words to Favre after the game.
"I think Brett has always known he is one of my favorite players. He played the position with so much passion, so much toughness and great production as a quarterback," Manning said.
It's not only the product of a league that shifted it's focus to passing why Manning has been so unstoppable. He's perhaps the smartest quarterback ever to play the game and he's a tireless worker when it comes to film study. He's one of the most competitive people in any sport and he's accomplished everything with a high level of class and dignity.
We are truly witnessing a living legend and it's easy to take him for granted.
Broken Wings Away From Home
The Atlanta Falcons were featured on HBO's Hard Knocks and they spent a lot of time talking about how they wanted to be a tougher, more physical football team. Through seven games, the talk seems like nothing but lip service as the Falcons have a 2-5 record and haven't defeated anyone away from the Georgia Dome or outside of the pitiful NFC South.
"We've got to find a way to practice better, to prepare better and ultimately to play better," Falcons quarterback Matt Ryan said after the team's latest loss, a 29-7 defeat at Baltimore.
After a 2-1 start, it appeared that the Falcons were putting last season's miserable 4-12 campaign behind them, but through seven games they have just two wins.
What's worse is that the Falcons, built for playing on the fast track in a climate controlled environment, haven't won a game outdoors since November 25, 2012, when they defeated Tampa Bay, 24-23.
With major injuries to the offensive line, things don't appear as if they're going to get much better anytime soon for Atlanta and there's a growing possibility that Falcons head coach Mike Smith may lose his job at the end of the year.
"We have nine games left and I know every man in that locker room and every coach in that room will work their (butts) off this week to get prepared for the Detroit Lions," Smith said. "I have no doubt what the makeup of these football players and coaches and the organization we have in Atlanta."
The good news for the Falcons is that they play in the right division to make a playoff run, even with a 2-5 record. Everyone in the NFC South that played yesterday lost and Atlanta still sits just two games behind division-leading Carolina in the loss column with two games remaining head to head.
Hoyer Looked Like A Backup
There was plenty of talk this week about Cleveland Browns quarterback Brian Hoyer's next contract as his current one expires at the end of the season.
The Browns have a decision to make as Hoyer has been playing efficient football and the team has been winning. They also have a first-round pick invested in rookie Johnny Manziel who, outside of some gadget plays, has yet to see time on the field in a real game.
After Brian Hoyer's abysmal performance in Sunday's 24-6 loss to the Jacksonville Jaguars, Cleveland is not going to be in any rush to make their decision anytime soon.
"We got our butts kicked," said Hoyer, who completed just 16 of 41 throws for 215 yards with an interception against one of the worst defenses in football. "You have to give credit where credit is due. Their defense, I talked about it all week long, probably could have been the toughest defense we were going against. They handed it to us and we just couldn't get anything going. Offensively, we played definitely our worst game so far."
Part of the reason that Jacksonville looked so good on defense is because they made a commitment to stop the Browns rushing attack, which was ranked third in the NFL entering the game. They forced the game on the right arm of Hoyer and he performed miserably.
"I know he missed some throws, but we didn't play near well enough around him," said Browns head coach Mike Pettine. "I think he was pressured a lot, got knocked down and then with the inability to run the football, that put us in some predictable down and distance situations where they were able to maximize their coverage and tee off with their front four. To me, that's a perfect example of you've got to play good team offense if you want your quarterback to succeed. You've got to be able to run the ball, get ahead on the sticks and you've got to be able to protect him when you're throwing it, and we did neither."
"When you get beat like this, it's a copycat league and teams are going to try to do exactly what Jacksonville did," Hoyer said after the game.
The Jaguars forced Hoyer and Browns to beat one-on-one coverage and they couldn't. You can expect that same game plan by teams going forward and if Hoyer performs similarly to how he did in Jacksonville, Cleveland will be back at "Square 1," having to start over with another rookie quarterback with plenty of talent and character questions.
Buccaneers admit mistake, boot Aguayo
In the NFL, it's always better to admit a mistake than to compound it. For the Buccaneers, the decision to burn a 2016 second-round pick on kicker Robert Aguayo has proven to be a mistake. The Buccaneers made the definitive admission of their error on Saturday, cutting Aguayo. He exits with $428,000 in fully-guaranteed salary [
more
]
Source: Mike Florio of ProFootballTalk
Powered by WPeMatico
Did Bucs put too much pressure on Aguayo?
After the Buccaneers surprised everyone by taking a kicker with the 59th overall pick in the draft, G.M. Jason Licht explained the move by heaping superlatives on the player. "I was very excited along with my staff and coaches about Roberto for a very long time," Licht told PFT Live in May 2016. "It's not [
more
]
Source: Mike Florio of ProFootballTalk
Powered by WPeMatico
Broncos holding their breath on Derek Wolfe
Only two days after losing Billy Winn for the year with a torn ACL, the Broncos are now sweating out another potentially serious injury along the defensive line. Via multiple reports, Broncos defensive lineman Derek Wolfe was carted off the field during practice on Saturday. It's being described as a right ankle injury by coach [
more
]
Source: Mike Florio of ProFootballTalk
Powered by WPeMatico