NFL AM: Suh Wins Appeal, Will Play Vs. Dallas
Ndamukong Suh wins his appeal; The Steelers are making a backup plan; The Jaguars jettison their offensive coordinator.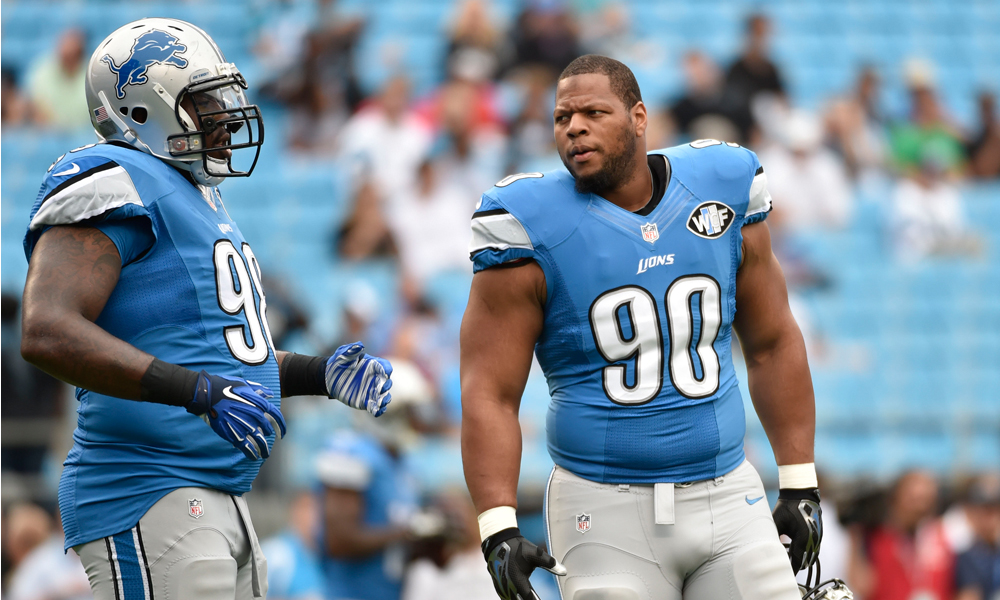 Suh Wins Appeal, Will Play Sunday
Ted Cottrell, the hearing officer in the appeal of Ndamukong Suh of the Detroit Lions of his one-game suspension, has reduced the discipline to a $70,000 fine.
Cottrell is jointly appointed and compensated by the NFL and NFL Players Association to hear and decide appeals for on-field player discipline.
Suh was suspended on Monday for one game without pay by NFL Vice President of Football Operations Merton Hanks for violating safety-related playing rules prohibiting unnecessary roughness.
Suh is now eligible to play in Detroit's Wild Card playoff game on Sunday against the Dallas Cowboys.
Our take: The NFL is apparently negotiating suspensions like a used car dealer would with a customer who requires secondary financing. Instead of initially being fair, they are simply trying to get as much time and fine money as possible, knowing that it will eventually be negotiated down.
Ndamukong Suh is far from a classy player, he's actually one of the dirtiest players in the league. Still, simply stepping on Aaron Rodgers leg shouldn't be enough to get Suh to miss a playoff game, even if it was on purpose and with Suh's reputation. Ted Cottrell did the right thing to give a more reasonable punishment.
There's concern now that the NFL is going to try and "shoot for the moon" with suspensions and fines, now that they will have to play some sort of negotiating game with the NFLPA.
Steelers Get Insurance For Bell
With Pro Bowl running back Le'Veon Bell suffering a hyperextended knee stemming from a Reggie Nelson hit, the Pittsburgh Steelers have employed some insurance, signing free agent running back Ben Tate.
"It's too early to tell, but it doesn't look good," one source inside the Steelers' organization told NFL Media's Aditi Kinkhabwala about the chances Le'Veon Bell plays on Saturday.
Tate was a highly sought after free agent entering the 2014 season as he inked a deal with the Cleveland Browns. Shortly after, Tate was beaten out by rookies Terrance West and Isaiah Crowell and eventually released from his contract.
The 26-year old back when then claimed by the Minnesota Vikings and played in three games, rushing the ball 13 times for 38 yards.
Although they won't admit it publicly, the Steelers have to be kicking themselves over releasing Legarrette Blount from his contract after 11 games. In the five games since being claimed by the Patriots, Blount has averaged 4.7 yards per carry with three touchdowns.
Black Tuesday For Jags OC
The Jacksonville Jaguars decided to make a change to their coaching staff as they fired offensive coordinator Jedd Fisch on Tuesday.
"There is a lot of truth now to philosophical differences as far as we want to put on Blake's plate to do a lot," Jaguars head coach Gus Bradley said. "Let's throw a lot at him and then let's see how much he'll be able to carry that over to next year. Or, no, let's not put a lot on his plate and let him grow through this. Which way is best? I don't know. I know the way we kind of want to do it.
"I just think we want to help him get better every day and not overwhelmed. I think you know my philosophy enough of be careful of how much you put on a guy to create a lot of anxiety that might keep him from being his best."
The Jaguars offense finished the 2014 season ranked 31st in yards, 31st in passing and 32nd in points scored (15.6 ppg) under Fisch.
"Those are coaches' decisions," Jaguars' general manager Dave Caldwell said. "I firmly believe that the coach is kind of the CEO of the coaches and players. He'll ask my guidance, he'll ask my opinion, but I try not to get too involved in that because Gus is really the expert on Xs and Os and our staff is the expert on Xs and Os. I may ask some tough questions. We may have some tough conversations, but at the end of the day, that's Gus' decision."
Although having elite physical talent, Blake Bortles looked lost at times during his rookie season. Bortles completed just 58.9 percent of his passes with just 11 touchdowns and 17 interceptions. The former third-overall pick's 69.5 quarterback rating was worst among full-time starters.
It's likely that Gus Bradley will reach out to longtime friend and former Bears head coach Marc Trestman about the opening.
Buccaneers admit mistake, boot Aguayo
In the NFL, it's always better to admit a mistake than to compound it. For the Buccaneers, the decision to burn a 2016 second-round pick on kicker Robert Aguayo has proven to be a mistake. The Buccaneers made the definitive admission of their error on Saturday, cutting Aguayo. He exits with $428,000 in fully-guaranteed salary [
more
]
Source: Mike Florio of ProFootballTalk
Powered by WPeMatico
Did Bucs put too much pressure on Aguayo?
After the Buccaneers surprised everyone by taking a kicker with the 59th overall pick in the draft, G.M. Jason Licht explained the move by heaping superlatives on the player. "I was very excited along with my staff and coaches about Roberto for a very long time," Licht told PFT Live in May 2016. "It's not [
more
]
Source: Mike Florio of ProFootballTalk
Powered by WPeMatico
Broncos holding their breath on Derek Wolfe
Only two days after losing Billy Winn for the year with a torn ACL, the Broncos are now sweating out another potentially serious injury along the defensive line. Via multiple reports, Broncos defensive lineman Derek Wolfe was carted off the field during practice on Saturday. It's being described as a right ankle injury by coach [
more
]
Source: Mike Florio of ProFootballTalk
Powered by WPeMatico