NFL AM: Steelers Play the Name Game
With Halloween fast approaching, it only makes sense that the ghost of James Harrison has returned. Plus, the Titans are still struggling to throw the ball, while the Steelers are dominating by running it.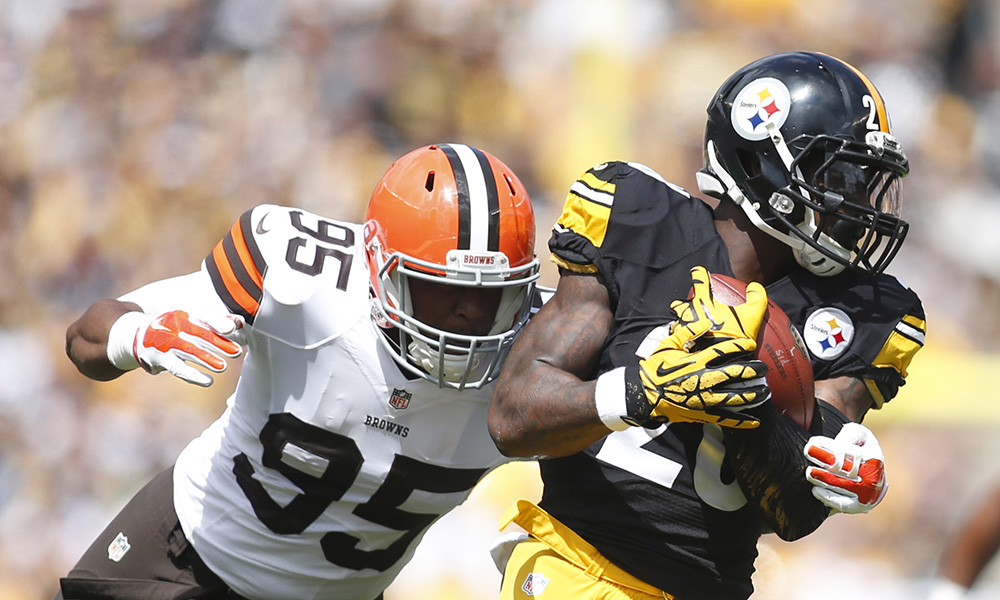 Le'Veon Wins Over LaDainian
LaDainian Tomlinson said Tuesday on NFL Total Access he would take Le'Veon Bell "over any running back in the league."
Tomlinson went on to say: "He can do it all, people. He can run inside, he has the speed to turn the corner, he can catch the football, he's versatile, he's athletic. I love Le'Veon Bell."
The words mean something coming from Tomlinson, who was once described by Marty Schottenheimer as "the finest running back ever to wear an NFL uniform."
Bell is making a strong case for himself through the first three weeks of the season. He leads the league in yards from scrimmage (461), ranks second in rushing yards (315), and paces all running backs with an average of 5.9 yards per carry (minimum 31 attempts).
Tomlinson knows as well as anybody, what separates good running backs from great ones is consistency and longevity. Bell had an up-and-down rookie season in 2013, finishing with just 860 rushing yards and averaging a pedestrian 3.5 yards per carry. The progress he has made so far in his sophomore season is impressive, for sure, but he must maintain this level of play throughout the season and beyond before he can join the elite ranks with the likes of LeSean McCoy, Jamaal Charles and Marshawn Lynch.
Harrison Back in Black & Gold
The Steelers, after placing outside linebacker Jarvis Jones on IR (designated to return), reached back into their past and signed James Harrison to a one-year contract on Tuesday. Harrison played with the team from 2004 to 2012, winning two Super Bowls and a Defensive Player of the Year award.
This marks the second time this season the Steelers have made a late move to bring back a fan favorite. The team re-signed defensive end Brett Keisel on Aug. 20 after appearing ready to let him walk for most of the offseason. At the time, the Arizona Cardinals were making a push to sign Keisel, forcing Pittsburgh's hand.
But there was no one competing for the services of Harrison, who was released by the Cincinnati Bengals after one unproductive season with the team (30 tackles, two sacks). The market was so cool on Harrison that he announced his retirement on Sept. 5, a decision that was basically forced upon him by 32 disinterested general managers.
"We know James. James knows us. James understands the schemes," Mike Tomlin said. "We're going to do what he's capable of handling from a mental standpoint and a physical standpoint."
Harrison played well against the run last season, which could help a Steelers defense that ranks No. 22 in that category (130 yards per game). But the game-changer who once wreaked havoc in opposing backfields is long gone.
Jake's Hurt Locker
Tennessee Titans quarterback Jake Locker, a regular visitor to the Hall of Pain, is hurt yet again. He injured his right (throwing) wrist in Sunday's 33-7 loss to the Bengals and is questionable to play in Week 4.
"It got bent up under him at some point," said Ken Whisenhunt of Locker's wrist. "He did hit his hand a couple times; that happens during the course of a game. But he did something where he strained part of his wrist on his right hand."
It has been a rough start to the season for Locker, who was expected to make massive progress under Whisenhunt, a renowned quarterback repair man. The coach known as "Whiz" worked wonders with Kurt Warner in Arizona and Philip Rivers in San Diego, so the hope was he could do the same with Locker in Tennessee. Instead, Locker is completing just 56.4 percent of his passes and has more interceptions than touchdowns (four to three).
If Locker cannot go, the Titans will turn to Charlie Whitehurst, who followed Whisenhunt from San Diego. Whitehurst is a confident player with a big arm and experience in this offensive system, but he has not started a game since the 2011 season with the Seattle Seahawks.
Regardless of who starts, Sunday is a big game for the Titans, who go on the road to take on their division rivals, the Indianapolis Colts. Both teams are 1-2.
Did Bucs put too much pressure on Aguayo?
After the Buccaneers surprised everyone by taking a kicker with the 59th overall pick in the draft, G.M. Jason Licht explained the move by heaping superlatives on the player. "I was very excited along with my staff and coaches about Roberto for a very long time," Licht told PFT Live in May 2016. "It's not [
more
]
Source: Mike Florio of ProFootballTalk
Powered by WPeMatico
Broncos holding their breath on Derek Wolfe
Only two days after losing Billy Winn for the year with a torn ACL, the Broncos are now sweating out another potentially serious injury along the defensive line. Via multiple reports, Broncos defensive lineman Derek Wolfe was carted off the field during practice on Saturday. It's being described as a right ankle injury by coach [
more
]
Source: Mike Florio of ProFootballTalk
Powered by WPeMatico
Buccaneers admit mistake, boot Aguayo
In the NFL, it's always better to admit a mistake than to compound it. For the Buccaneers, the decision to burn a 2016 second-round pick on kicker Robert Aguayo has proven to be a mistake. The Buccaneers made the definitive admission of their error on Saturday, cutting Aguayo. He exits with $428,000 in fully-guaranteed salary [
more
]
Source: Mike Florio of ProFootballTalk
Powered by WPeMatico