NFL AM: Should Cutler And McCown Swap Addresses?
Would a Lovie Smith-Jay Cutler reunion work for both teams? Is LeGarrette Blount running out of chances? Will the Chiefs take over first place?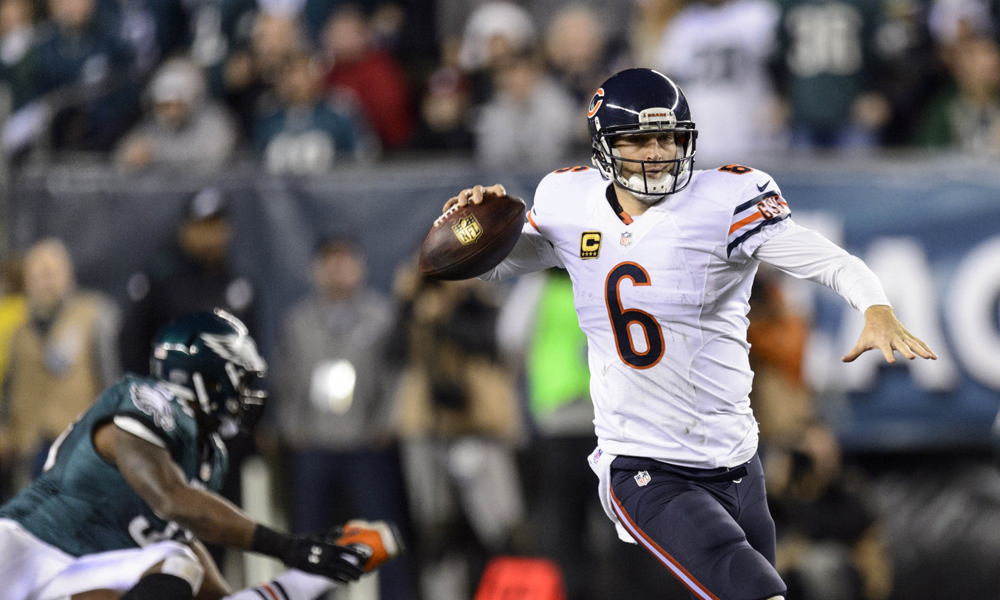 Coach-Speak At An All-Time High For Bucs-Bears
Aside from when Baltimore Ravens wide receiver Steve Smith is involved, when players and coaches face their former teams it's rare that any "bad blood" gets leaked in the media. The 2-8 Tampa Bay Buccaneers go on the road to take on the 4-6 Chicago Bears this Sunday, which features a return of Lovie Smith and quarterback Josh McCown to the "Windy City."
If Wednesday's conference call is any indication, there's a gulfstream of love that's blowing directly from Chicago to the Bay area.
Bears head coach Marc Trestman had glowing remarks about his former quarterback McCown.
"Well, it was a great experience and privilege to coach him in Chicago, no doubt about it," Trestman said. "He's a man of very, very high character, a great teammate to everybody in the locker room and, as I said on Monday, we were very excited and happy for him to be able to continue his journey in Tampa."
The love fest goes both ways as Lovie Smith spoke highly of his former signal caller Jay Cutler.
"Had a great relationship with most of my players, I would like to think," Smith said. "Jay, of course, was a part of it. Jay helped us win a lot of football games. I was there when we brought him in. Again, relationship with Jay is just like hopefully it was with all the guys I had a chance to coach there."
In a fill-in role while Cutler was hurt, McCown completed 66.5 percent of his throws for 1,829 yards with 13 touchdowns and just one interception in eight games as he posted a quarterback rating of 109.0. Since coming to Tampa, McCown has played in five games, won one of them, is completing 63.4 percent of his throws for 1,009 yards with six touchdowns and nine turnovers (six interceptions). His quarterback rating is 82.6.
With great expectations in year two of the Trestman era, Cutler has disappointed. Smokin' Jay is leading the NFL in turnovers with 15 and a Bears team that was supposed to contend for an NFC North title is 4-6 and many people are talking about how a change of scenery would be good for Cutler.
Here's a crazy thought. Why don't the Bears trade Jay Cutler for Josh McCown?
Sure, the Bears would be giving up a more talented player but they would be getting someone who thrived in Trestman's system that the locker room loves. They would also get rid of a lot of salary and could pave the way to potentially draft their future quarterback without Cutler getting a pouty face (which will likely happen even if they don't).
McCown has very little equity built up in Tampa and there will be very few tears shed if he plays elsewhere next season. The Bucs have talent on their roster and a head coach that has expelled the most out of Cutler.
A Cutler-McCown trade makes so much sense, it will probably never happen.
Blount Running Out Of Chances
The Pittsburgh Steelers parted ways with running back LeGarrette Blount on Tuesday, just hours after he left the team's 27-24 victory over the Tennessee Titans on Monday night.
Blount left the field early and then bolted for the team bus prior to talking to the media, obviously upset by his lack of carries in the game. It should be noted that Steelers' starting running back Le'Veon Bell was having a great game, rushing for 204 yards and a touchdown.
"You know what, man, we have a good team," center and team captain Maurkice Pouncey said. "If you don't want to be here, don't be here. At the end of the day, you have your decision to make as a man, and he made it."
Pouncey said Blount's release was "a blessing in disguise."
"We're fine," Pouncey said. "We have our starting running back. It's probably a good thing that it happened. At the end of the day, if it was a cancer, he ended up leaving on his own. That's a blessing for us. At the end of the day, we're good. We don't need him."
Blount's act is growing tired all across the NFL as the Buccaneers traded him to the New England Patriots after a 1,000-yard season. Despite being productive in New England, the Patriots washed their hands of him after just one season and the Steelers just got rid of him after eight months following Monday's episode as well as a marijuana arrest back in August.
When asked about Blount, an AFC executive told Football Insiders, "he's not the type of guy we would want in our locker room. He's a mediocre back and that's too much of a headache to put up with for mediocre."
The New England Patriots are reportedly going for a second round of Blount as they're expected to sign him today. He will likely back up last week's hero, Jonas Gray. Don't expect to see much action from Blount until next week at the earliest.
First-Place Chiefs?
The Kansas City Chiefs have rescued their season from a 2-3 start and have an opportunity to take over first place in the AFC West with a victory over the Oakland Raiders.
Beating the Raiders seems easy on paper, as every team that Oakland has played has come away with a victory this season. Still, Oakland has played tough as five of their 10 losses have been by one score or less including losses against good teams on the road such as New England, San Diego and Seattle.
"[The players] are excited," Chiefs head coach Andy Reid said following the team's victory over the defending Super Bowl champion Seahawks. "But they also know we are soon getting on a plane to fly out and play a good Oakland team. So we've got to make sure we enjoy this today, but we have to get ourselves back and ready to go quickly so we understand that."
A game that's two time zones away on a short week against a hungry, winless group looking to make a statement on a national television audience could have all the makings of a trap game for Kansas City.
"Sometimes you can go into games and on paper you have an advantage in different areas," Raiders head coach Tony Sparano said. "In this game here, we're going to have to play well in every phase of the game, obviously, which we have to do every week."
Sparano talking up his opponent may be just enough of a chip to add to his Raiders to pull the upset.
Reid also played the same game in the media.
"When you go to the Black Hole, you better be ready," Reid said. "We know that. That's a given, and this is a great rivalry that's far exceeded my time as a head football coach in this league, so we understand that these are two competitive football teams when they play each other. The records, you just throw the record out."
Oakland has lost nine straight home games and 16 straight games overall. It appears that everyone for the last year and a half has been "ready" when entering the Black Hole.
With a victory, Kansas City can take a lead in the AFC West, which would certainly put pressure on the Denver Broncos as they host a Miami Dolphins team that has been playing very good football.
Buccaneers admit mistake, boot Aguayo
In the NFL, it's always better to admit a mistake than to compound it. For the Buccaneers, the decision to burn a 2016 second-round pick on kicker Robert Aguayo has proven to be a mistake. The Buccaneers made the definitive admission of their error on Saturday, cutting Aguayo. He exits with $428,000 in fully-guaranteed salary [
more
]
Source: Mike Florio of ProFootballTalk
Powered by WPeMatico
Did Bucs put too much pressure on Aguayo?
After the Buccaneers surprised everyone by taking a kicker with the 59th overall pick in the draft, G.M. Jason Licht explained the move by heaping superlatives on the player. "I was very excited along with my staff and coaches about Roberto for a very long time," Licht told PFT Live in May 2016. "It's not [
more
]
Source: Mike Florio of ProFootballTalk
Powered by WPeMatico
Broncos holding their breath on Derek Wolfe
Only two days after losing Billy Winn for the year with a torn ACL, the Broncos are now sweating out another potentially serious injury along the defensive line. Via multiple reports, Broncos defensive lineman Derek Wolfe was carted off the field during practice on Saturday. It's being described as a right ankle injury by coach [
more
]
Source: Mike Florio of ProFootballTalk
Powered by WPeMatico