NFL AM: Rams Bench Davis
We discuss how Rams head coach Jeff Fisher is trying anything to save his job, and the Philadelphia Eagles beating the odds.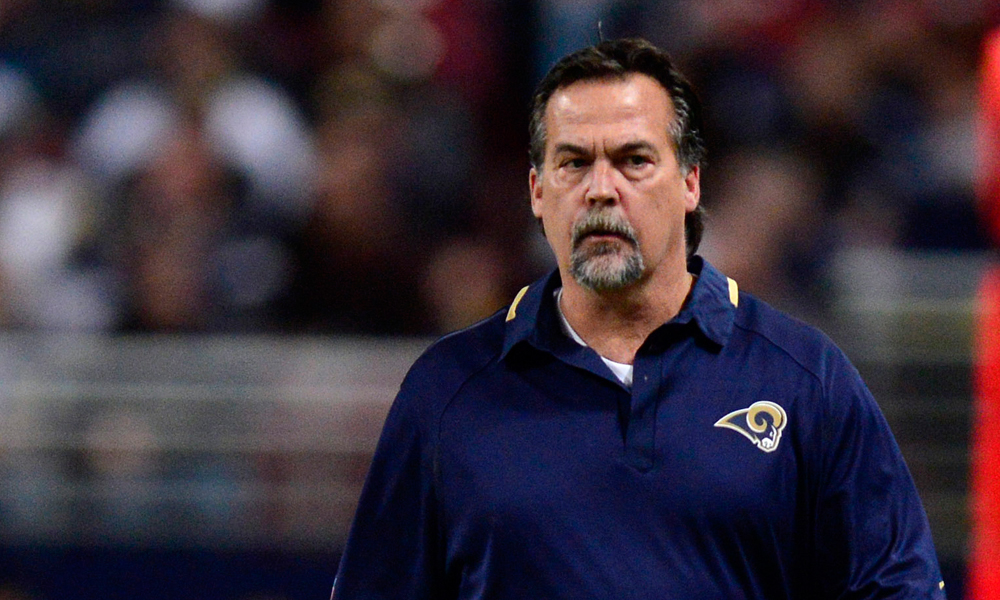 Fisher Flip Flops
St. Louis Rams head coach Jeff Fisher has decided to make a change at quarterback as he's benching young Austin Davis for experienced veteran Shaun Hill.
Hill began the preseason as Sam Bradford's backup and when Bradford went down with his season-ending injury, Hill couldn't make it through Week 1.
Austin Davis showed some positives during his eight starts but he also had some crippling turnovers. He threw for 2,001 yards with 12 touchdowns and nine interceptions for a passer rating of 85.1. Four of those interceptions were returned for touchdowns, and he also had two fumbles returned for scores.
"It's never an easy decision when you make a change in the middle part of the season," Fisher said. "But we looked at things Monday night in lengthy discussions with the offensive staff and just felt that the best thing to do at this point moving forward was to lean on the experienced quarterback."
Not only head coach Jeff Fisher, but general manager Les Snead both have their jobs potentially on the line and they likely don't have time to endure rookie mistakes. Although starting Shaun Hill may not be in the team's best interests in the long-term, if he catches fire and the team finishes strong both Fisher's and Snead's jobs can potentially be spared.
Eagles Are Statistical Outliers
Outside of the actual scoreboard, the most important statistic in football is turnover differential. For a team to win that consistently commits more turnovers than it forces, teams have to be excellent in other areas.
One of those teams is the NFC East leading Philadelphia Eagles.
Mostly under currently injured starting quarterback Nick Foles, Philadelphia has a turnover ratio of minus-5.
As explosive as the Eagles offense is, as they're currently ranked fifth-overall in yardage (404.3) and fourth-overall in points per game (31.0), they've had major issues in the red zone. Philadelphia converts touchdowns on less than 40 percent of their red zone trips and a major reason is turnovers.
"If you turn it over you aren't scoring any points in there," Eagles head coach Chip Kelly explained. "Our mindset is you have to get three and you're greedy and you want seven.
"But we can't come away without any points in that situation. I think the turnovers are really the biggest part that's killing us in the red zone right now."
What's helped Philadelphia overcome their turnover issues has been stellar special teams play and opportunistic defense. The Eagles have returned a kickoff and a pair of punts for touchdowns and their defense has taken a pair of interceptions and a pair of fumbles back to the house. Add in a pair of punt blocks for scores and the Eagles have scored a total of nine non-offensive touchdowns.
"We were really good at (special) teams when I was at Oregon and we spent a lot of time on them, and I believe the same thing here," Kelly said. "I think, especially in this league where everything is so close, there's very, very rarely blowouts anywhere. The game is usually coming down to a possession or two.
"The hidden yardage that can be found in the special teams game is something that I think you need to address because it's the one play where you can drastically change field position one way or another, whether it be with a good return or whether it be with a great cover."
The Philadelphia Eagles may be losing the turnover battle, but they're winning big everywhere else.
Buccaneers admit mistake, boot Aguayo
In the NFL, it's always better to admit a mistake than to compound it. For the Buccaneers, the decision to burn a 2016 second-round pick on kicker Robert Aguayo has proven to be a mistake. The Buccaneers made the definitive admission of their error on Saturday, cutting Aguayo. He exits with $428,000 in fully-guaranteed salary [
more
]
Source: Mike Florio of ProFootballTalk
Powered by WPeMatico
Did Bucs put too much pressure on Aguayo?
After the Buccaneers surprised everyone by taking a kicker with the 59th overall pick in the draft, G.M. Jason Licht explained the move by heaping superlatives on the player. "I was very excited along with my staff and coaches about Roberto for a very long time," Licht told PFT Live in May 2016. "It's not [
more
]
Source: Mike Florio of ProFootballTalk
Powered by WPeMatico
Broncos holding their breath on Derek Wolfe
Only two days after losing Billy Winn for the year with a torn ACL, the Broncos are now sweating out another potentially serious injury along the defensive line. Via multiple reports, Broncos defensive lineman Derek Wolfe was carted off the field during practice on Saturday. It's being described as a right ankle injury by coach [
more
]
Source: Mike Florio of ProFootballTalk
Powered by WPeMatico