NFL AM: Pro Bowl Snubs Come in Pairs
Five teams get the Pro Bowl double-snub; the Cardinals get some good news at quarterback; and the Bucs get closer to the No. 1 overall pick.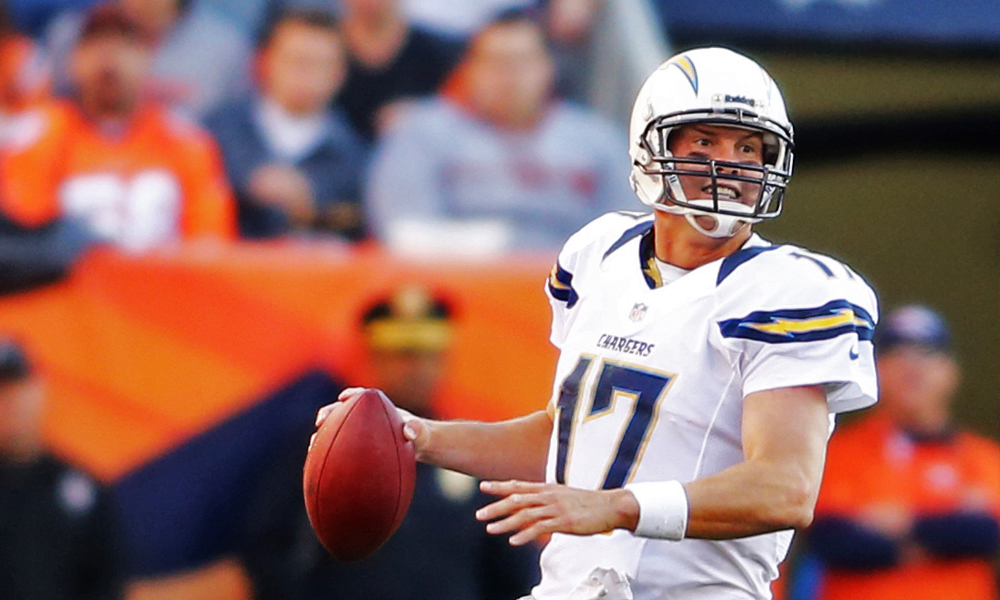 Pro Bowl Voting: Screwed in Tandem
There are several players around the league with legitimate gripes about not earning Pro Bowl invitations. Amazingly, several teams have a couple of snubs.
Here is a look at five teams with at least two players who were robbed:
Detroit Lions: LB DeAndre Levy and WR Golden Tate
Levy is the leader of the league's No. 2 defense. One of the best two-way linebackers in the game, he leads Detroit with 140 tackles to go along with an interception and 2.5 sacks. On the other side of the ball, Tate absolutely deserved to go for the work's he's done in his first season in the Motor City. With four catches and 15 yards on Sunday, he will finish with 100 receptions and over 1,300 yards. Numbers like that should have you playing in the showcase.
Minnesota Vikings: DE Everson Griffen and FS Harrison Smith
Griffen ranks No. 8 in the league with 12 sacks, which is even more impressive considering how little time his team has spent playing with a lead. His defensive mate, Smith, should feel even worse about his snub. The big hitter from Notre Dame has three sacks and five interceptions, including one he returned 81 yards four a touchdown. If the Vikings had a winning record at the moment, both of these guys would be going to the Pro Bowl.
New York Jets: DE Muhammad Wilkerson and DT Sheldon Richardson
This is another example of great players paying the price for their team's losing record. New York's defense is top-five against the run and top-10 in sacks and these two are the main reasons why. Wilkerson is one of the most complete defensive ends in the game, while Richardson is on the same level as J.J. Watt … just ask him. This duo has combined for 12 sacks and 15 tackles for loss.
San Diego Chargers: QB Philip Rivers and TE Antonio Gates
Rivers was a leading MVP candidate over the first half of the season. And although a three-game losing steak took some of the wind out of those sails, his recent directing of thrilling come-from-behind wins in Baltimore and San Francisco shows he is more than deserving of an invitation. His favorite target, Gates, deserves to be there too. An eight-time all-star, Gates is enjoying a renaissance season at age 34, as his 12 touchdown catches are his most in a decade.
Tampa Bay Buccaneers: LB Lavonte David and WR Vincent Jackson
David ranks second in the league in tackles (141) and is an every-down backer with sideline-to-sideline range. Head coach Lovie Smith calls him the best outside linebacker in the league and Smith has worked with Lance Briggs before, so he knows a great outside linebacker when he sees one. As for Jackson: he is one catch and 9 yards away from 70 receptions and 1,000 yards. Not huge numbers until you look at who is throwing him the ball and who is calling plays in Tampa Bay. To hit those plateaus on such a handicapped offense is phenomenal.
Arians: '85 percent' Chance Stanton Starts in Playoffs
Anyone who watched the Seahawks run away from the Cardinals on Sunday night came away with one conclusion: Ryan Lindley is not leading this team anywhere.
Bruce Arians even conceded as much this week by making a change and going with raw rookie Logan Thomas, despite the fact the Cardinals are still alive in the race for the NFC West title and a first-round bye. Arians' goal is to see what Thomas can do in case Stanton is not able to play in the postseason.
"He has obviously some mobility, he's got a very strong arm," Arians said of Thomas. "The few times he's had an opportunity … Denver wasn't quite fair because he got no (practice) snaps. I want to see him with a full week of practice and getting the reps."
Luckily for Cardinals fans, it does not appear Thomas' audition will extend beyond the regular season.
Arians said on SiriusXM NFL Radio on Tuesday that Stanton will practice more this week and has an "85 percent" chance of starting in Arizona's first-round playoff game, which will likely be in Dallas, Atlanta or Carolina.
While Stanton is no savior, he is light years better than any other passer on Arizona's roster. If nothing else he can protect the football and get it into the hands of Arizona's playmakers. That, plus one of the best defenses in the league, is enough to give Cardinals fans legitimate hope of making some noise in the tournament.
Tampa Bay a Loss Away
If the Buccaneers lose to the Saints on Sunday, they are guaranteed the No. 1 overall pick in the NFL Draft. That would be a huge development for the quarterback deficient Buccaneers, as the draft has only one surefire quarterback prospect without a litany of off-the-field issues: Marcus Mariota.
"From a 2-13 record right now, I think that we've found out our draft class, we've played them and we like some things we've seen from the draft class," Lovie Smith said, via the Tampa Bay Times. "Of course, Mike Evans, it goes without saying, Charles Sims, we're seeing flashes from him, Austin Seferian-Jenkins — you know, our top three picks, amongst others. So that part is good. And if you have to be down here, you need to get something from it. We are going to get from our position — wherever it might be — we are going to get to add some more, we have a full allotment of draft picks, we have an excellent staff that evaluates guys. We are going to add some more players to the mix. We need some more players added to the mix. I am excited about that part. And again, if you have to be down where we are, why not get your choice of a few of the best players in the draft."
The news is not so nice for Tennessee. If the Titans fail to move up in the draft order, they would be looking at potentially taking Jamies Winston with the No. 2 overall pick. Perhaps that is why reports are already leaking out about Tennessee doing its due diligence on Jay Cutler, who is expected to be available either through free agency or trade.
If you look at the other teams currently slated to pick in the top-10, most of them are already set at quarterback, including Jacksonville (Blake Bortles), Oakland (Derek Carr), Washington (Robert Griffin III), Atlanta (Matt Ryan), Minnesota (Teddy Bridgewater) and the New York Giants (Eli Manning). That means the Buccaneers and Titans would have a hard time getting top value in a trade-down.
The Titans host the Colts on Sunday. Should Tennessee lose and Tampa Bay win, the Titans would officially go on the clock as soon as Week 17 comes to an end.
Want to talk more about these and other headlines? Join Michael Lombardo for his weekly NFL Chat on Friday at 2pm EST. But you don't have to wait until then … ask your question now!
Buccaneers admit mistake, boot Aguayo
In the NFL, it's always better to admit a mistake than to compound it. For the Buccaneers, the decision to burn a 2016 second-round pick on kicker Robert Aguayo has proven to be a mistake. The Buccaneers made the definitive admission of their error on Saturday, cutting Aguayo. He exits with $428,000 in fully-guaranteed salary [
more
]
Source: Mike Florio of ProFootballTalk
Powered by WPeMatico
Did Bucs put too much pressure on Aguayo?
After the Buccaneers surprised everyone by taking a kicker with the 59th overall pick in the draft, G.M. Jason Licht explained the move by heaping superlatives on the player. "I was very excited along with my staff and coaches about Roberto for a very long time," Licht told PFT Live in May 2016. "It's not [
more
]
Source: Mike Florio of ProFootballTalk
Powered by WPeMatico
Broncos holding their breath on Derek Wolfe
Only two days after losing Billy Winn for the year with a torn ACL, the Broncos are now sweating out another potentially serious injury along the defensive line. Via multiple reports, Broncos defensive lineman Derek Wolfe was carted off the field during practice on Saturday. It's being described as a right ankle injury by coach [
more
]
Source: Mike Florio of ProFootballTalk
Powered by WPeMatico