NFL AM: Pressure Mounts on Cam Newton
The pressure is mounting on Cam Newton in Carolina… The Cardinals and Bengals look to stay perfect and more!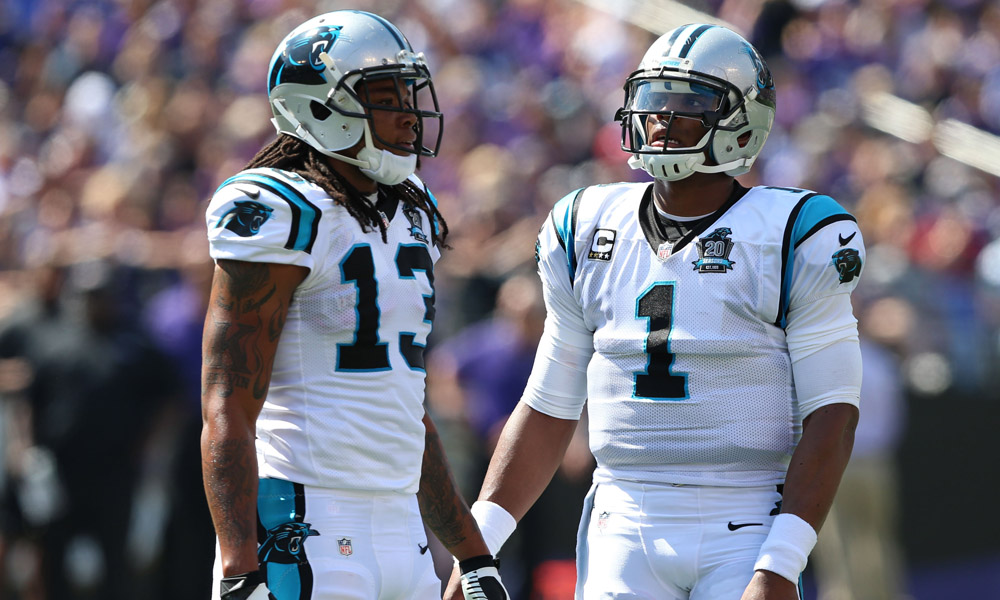 Panthers take correct approach with Newton
Quarterbacks cashed in left and right last offseason. Colin Kaepernick inked a new six-year, $126 million pact, Andy Dalton signed a six-year, $115 million deal and Alex Smith re-upped with a new four-year, $68 million contract.
Then there was Cam Newton, fresh off a magical season in which he led his team to wins in 11 of its final 12 regular season games. But instead of rewarding Newton with a lucrative new deal, the Panthers opted to simply pick up his fifth-year option for 2015, delaying talks on a mega-deal until next offseason.
Through four games, it looks like Carolina's shrewd move may pay off.
Newton, who has been limited by ankle and rib injuries, has been inconsistent through his first three games (the rib injury caused him to miss the season opener). He has been sacked nine times and fumbled twice. He has been awful on second downs, completing just 40 percent of his passes. That leads to too many third-and-long situations.
It doesn't help that injuries have zapped his ability as a runner. He is averaging just 11 rushing yards per game, less than a third of what he averaged in 2013 (36.6). Those injuries also limited his offseason work with a receiving core that has been completely turned over, which explains some of the chemistry issues.
"He's still developing his relationships with his receivers," said Ron Rivera of Newton. "If he had the OTAs and the mini camps and most of training camp, he could have been at this point a little sooner. Now that he's been out there in successive weeks, that rapport is starting to develop. And he's getting healthier, too, so that helps us."
Newton is still a fiery leader with a big arm and elite athleticism, and as he showed last season, he is capable of guiding the Panthers on a long winning streak and directing them into the playoffs. But he better start progressing in that direction quickly, because his already-delayed payday is getting smaller and smaller with each lackluster performance.
Bills pull the plug on Manuel
E.J. Manuel must wish Rex Ryan was his head coach.
The Bills on Monday announced they are demoting Manuel, after just 14 career starts, in favor of Kyle Orton. Elsewhere in the division, the Jets are sticking with Geno Smith after 20 mostly disheartening starts, even with Mike Vick waiting in the wings.
"It gives [Manuel] a chance to step back for a moment and look at things he can work on and correct," said Doug Marrone. "He'll have to have some thick skin through this. He'll have to fight. That's what usually happens in life. To get what you want, you have to fight for it."
The move to Orton, the only NFL quarterback to lose his job to Tim Tebow, shows the Bills are desperate. More than that, it reeks of a coach trying to save his job with a couple extra wins, rather than build a legitimate contender. Is Orton supposed to lead a playoff push in a conference that features Peyton Manning, Tom Brady, Philip Rivers, Andrew Luck and Ben Roethlisberger?
That is not to imply Manuel is anywhere near ascending into that elite stratosphere, but it is clear he still has ample upside. He extends plays with his mobility and flashes a knack for making big plays down the field.
Let's be real: the Bills are not a contender and that is not going to change with Orton at the helm. All this move guarantees is that Buffalo will be no closer to finding an answer at quarterback at the end of the season than it was at the beginning. Chalk it up as just one more wasted opportunity for a team draped in them.
Will anyone make it to 4-0? 
With the Philadelphia Eagles falling to the San Francisco 49ers 26-21 there are only two undefeated teams left in the league: the 3-0 Arizona Cardinals and the 3-0 Cincinnati Bengals. Both of those teams face tough tasks in their quest to make it through the first quarter of the season unscathed.
The Cardinals go to Denver to take on the reigning AFC champions. Both teams are coming off bye weeks. Arizona will have starting QB Carson Palmer back for this meeting between two of the league's best teams. It will an interesting matchup between Denver's explosive (but finesse) offense and the Cardinals' stingy, physical defense.
Cincinnati, meanwhile, heads to New England to play the Patriots on Sunday Night Football. It will be New England's second straight prime-time game after getting blown out by the Kansas City Chiefs in Week 4, 41-14. New England is really struggling on offense, which will be a difficult problem to fix against a tough Bengals defense. Bill Belichick will have his troops fired up to prove Monday night was more aberration than indication, but at this point, the Bengals should be viewed as considerable favorites.
One bit of hope for the Patriots: the Bengals are just 4-6-1 coming off bye weeks under Marvin Lewis.
Buccaneers admit mistake, boot Aguayo
In the NFL, it's always better to admit a mistake than to compound it. For the Buccaneers, the decision to burn a 2016 second-round pick on kicker Robert Aguayo has proven to be a mistake. The Buccaneers made the definitive admission of their error on Saturday, cutting Aguayo. He exits with $428,000 in fully-guaranteed salary [
more
]
Source: Mike Florio of ProFootballTalk
Powered by WPeMatico
Did Bucs put too much pressure on Aguayo?
After the Buccaneers surprised everyone by taking a kicker with the 59th overall pick in the draft, G.M. Jason Licht explained the move by heaping superlatives on the player. "I was very excited along with my staff and coaches about Roberto for a very long time," Licht told PFT Live in May 2016. "It's not [
more
]
Source: Mike Florio of ProFootballTalk
Powered by WPeMatico
Broncos holding their breath on Derek Wolfe
Only two days after losing Billy Winn for the year with a torn ACL, the Broncos are now sweating out another potentially serious injury along the defensive line. Via multiple reports, Broncos defensive lineman Derek Wolfe was carted off the field during practice on Saturday. It's being described as a right ankle injury by coach [
more
]
Source: Mike Florio of ProFootballTalk
Powered by WPeMatico