Play-calling Hurting Dolphins, Packers
Find out how the Dolphins and Packers are ignoring the benefit of numbers to their own disadvantage.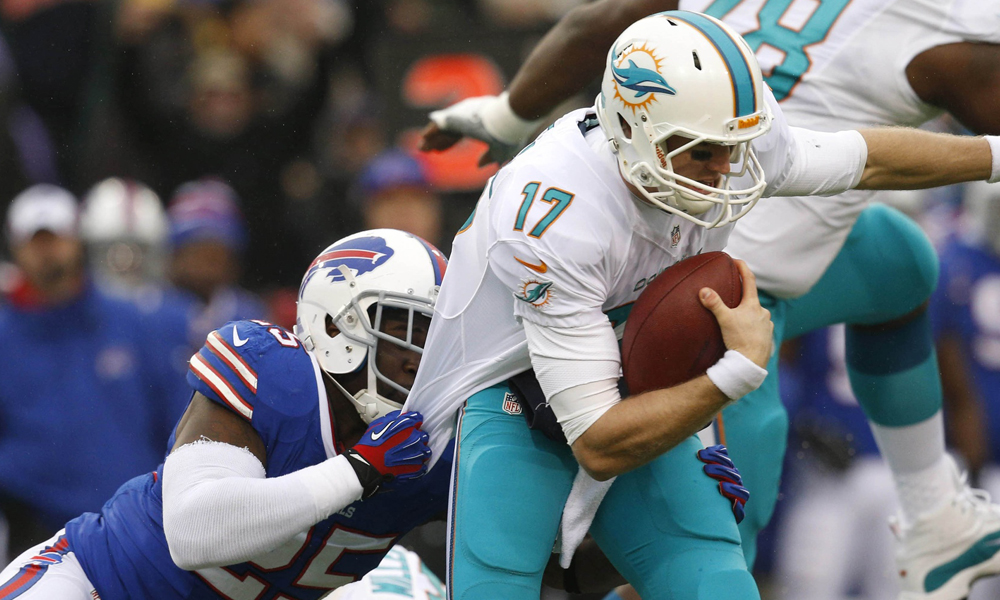 We take a look at how the Miami Dolphins and Joe Philbin are ignoring the stats to their disadvantage. We will also take a peek at how Green Bay's Mike McCarthy is doing less with more.
Dolphins Are Making All The Wrong Moves
The Miami Dolphins appear to be souring on quarterback Ryan Tannehill. After selecting the former Texas A&M Aggie with the seventh-overall pick in the 2012 draft, Miami is considering making a switch to journeyman backup Matt Moore, according to a Miami Herald report.
When Dolphins head coach Joe Philbin was asked very directly about the report and if he was considering a change at the position, he was very non-committal.
"We are going to get our 46 best players to the game and we are going to utilize them the best way possible," Philbin told reporters.
We've seen several coaches give the easy answer that "so-and-so is our starting quarterback until he isn't." Philbin didn't even give that response, which certainly lends more credence to the report.
To be fair, Tannehill hasn't been very good this season. Through three games, he's completing a career-low 56.5 percent of his throws while also posting a career-low in quarterback rating at 74.1.
"I just haven't been putting the ball in the right spot," Tannehill said to the South Florida Sun Sentinel. "I haven't been at my best and it's got to change, and it's got to change fast."
Instead of potentially alienating a quarterback that the franchise once deemed talented enough to select with a top-10 pick, why wouldn't they take a little off his plate? In the last two games, Tannehill has attempted 49 and 43 passes respectively. Although they lost both games by significant margins, the games were not out of hand until late.
What's more head-scratching is that the Dolphins have actually ran the football surprisingly well. The Dolphins rank second in the NFL in yards per rushing attempt.
A young quarterback's best friend is a good rushing attack, right?
You can have bullets in your gun, but you have to be smart enough to pull the trigger. Although the Dolphins rank second in yards per carry, they only rank 22nd in rushing attempts.
What's even more puzzling is that Tannehill ranks dead last in yards per passing attempt. However, he's second in the NFL in pass attempts.
It appears that Tannehill is at best not being put in position to succeed and at worst being sabotaged by Bill Lazor's and Joe Philbin's poor game planning. With all that's occurred under Philbin's not-so-watchful eye in Miami, a switch to a veteran backup quarterback will almost certainly lead to an offseason dismissal.
More Questionable Play Calling In Packer-land
The Green Bay Packers' offense hasn't looked anything like the ultra-efficient unit they're touted to be. Although boasting what many believe to be the best quarterback on earth in Aaron Rodgers, the Pack is ranked 28th in total offense and only 21st in passing.
With a healthy Jordy Nelson, Randall Cobb and Eddie Lacy, there's simply no good reason for the Packers to be struggling as much as they are.
In the first half of Green Bay's 19-7 loss at Detroit, the Packers ran the ball on eight of their 12 first downs. It's common knowledge that first down is the best down to throw and the Packers have one of the best gunslingers in the game. Subsequently, Green Bay is ranked 27th in the league in rushing offense. Packers head coach Mike McCarthy and company are simply putting the team in tougher down and distance situations by not taking advantage of their early downs.
"Scheme is not a crutch," three-time Pro Bowl quarterback Aaron Rodgers said after the team's most recent loss. "The fundamentals, the things we did from an execution standpoint were not good enough, clearly, on offense. "
McCarthy has been at the helm in Green Bay since 2006. Since winning the Super Bowl in 2010, the Packers have been one of the five preseason Super Bowl favorites every year since. Despite having the game's best quarterback in a quarterback league, Green Bay has won just one playoff game since that title run.
People in the midwest appear to be more patient with their football than many coastal cities. With that said, you have to wonder how much equity that 2010 title bought McCarthy and how many more playoff losses he will get to endure while having the best quarterback in the game, while still maintaining his current employment.
Buccaneers admit mistake, boot Aguayo
In the NFL, it's always better to admit a mistake than to compound it. For the Buccaneers, the decision to burn a 2016 second-round pick on kicker Robert Aguayo has proven to be a mistake. The Buccaneers made the definitive admission of their error on Saturday, cutting Aguayo. He exits with $428,000 in fully-guaranteed salary [
more
]
Source: Mike Florio of ProFootballTalk
Powered by WPeMatico
Did Bucs put too much pressure on Aguayo?
After the Buccaneers surprised everyone by taking a kicker with the 59th overall pick in the draft, G.M. Jason Licht explained the move by heaping superlatives on the player. "I was very excited along with my staff and coaches about Roberto for a very long time," Licht told PFT Live in May 2016. "It's not [
more
]
Source: Mike Florio of ProFootballTalk
Powered by WPeMatico
Broncos holding their breath on Derek Wolfe
Only two days after losing Billy Winn for the year with a torn ACL, the Broncos are now sweating out another potentially serious injury along the defensive line. Via multiple reports, Broncos defensive lineman Derek Wolfe was carted off the field during practice on Saturday. It's being described as a right ankle injury by coach [
more
]
Source: Mike Florio of ProFootballTalk
Powered by WPeMatico