NFL AM: More Drama Under Center
One team changed QBs too late; another make the switch right in time; while a third team is glad it never made a change at all.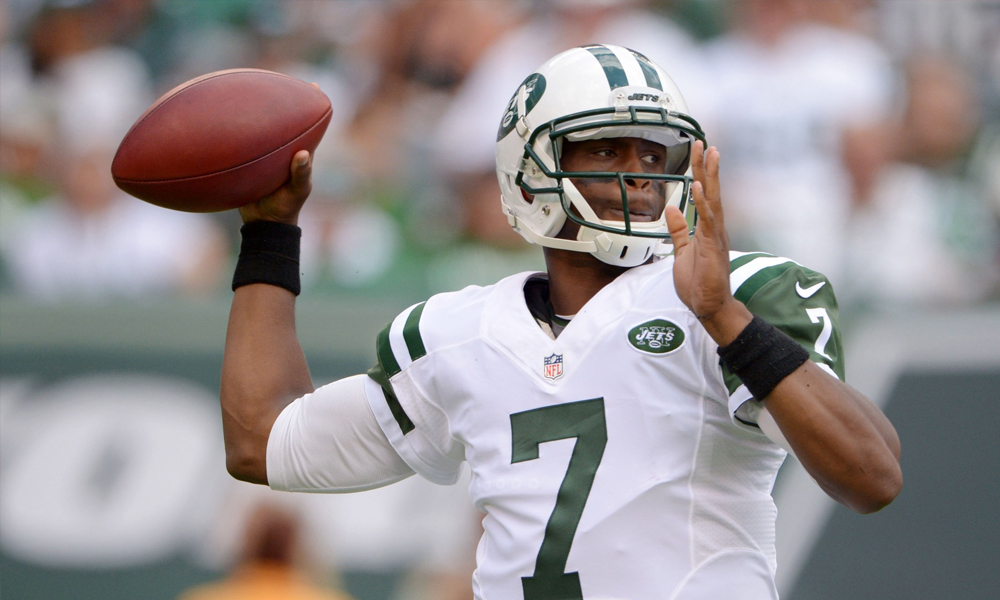 Jets Go to Plan B, Still Get an F
Geno Smith entered Sunday's game in San Diego under the microscope after his Jets dropped three consecutive games by eight points or less. He is no longer under the microscope … he is on the fast track to E.J. Manuel town (more on that later).
Smith was an embarrassment versus the Chargers, completing 4-of-12 passes for 27 yards in New York's 31-0 defeat, the first shutout endured by any team this season. He failed to lead the Jets beyond midfield, let alone to any points, and turned the ball over for the eighth time this season when he was intercepted by Brandon Flowers at the end of the first half.
"What we did today was not enough," Smith said. "It was definitely a pathetic showing on my part. I didn't help in any part of the game."
The Jets trailed 21-0 at halftime, so Jets coach Rex Ryan benched Smith and turned to Mike Vick. While the change did not spark New York's offense as Ryan had hoped, it helped in one regard: Jets fans can now stop clamoring for a quarterback change, as it is clear Vick is every bit as awful as Smith.
Vick completed just one his his first seven passes for 7 yards. He was sacked once, took a huge loss on an intentional grounding penalty, and saw his team's only touchdown come off the board when he was flagged for an illegal forward pass.
Vick's dreadful outing made it easier for Ryan to support Smith after the blowout was over. Ryan made it clear Smith will start next week's game against the 3-1 Broncos.
"It's like a starting pitcher, sometimes it's not his day so you get him out," said Ryan of Smith.
Orton Tames the Lions
The Bills, who were quicker than the Jets to spin the quarterback carousel, saw their move pay immediate dividends in the form of a 17-14 win in Detroit.
Kyle Orton started his first game in place of E.J. Manuel, completing 30-of-43 passes for 308 yards, a touchdown and an interception. It wasn't pretty — Orton led the Bills to just six points through the first three quarters, the same number of points he gave away courtesy a pick-six in the second quarter — but it was enough to push the Bills back over .500 and into a share of first place in the AFC East.
"Kyle did his share to help us win the game," Bills coach Doug Marrone said. "[He gave us] what we needed from him and some of the other guys made plays around him."
Despite the loss, the Lions own a share of their division lead matching Green Bay's 3-2 record.
 More Quarterback Drama
One team without a quarterback controversy is the Cleveland Browns, which is one of the season's bigger upsets in and of itself. Brian Hoyer led the Browns to an improbable come-from-behind victory over the Titans in Tennessee, rallying from 25 points down to author the biggest road comeback in NFL history.
Hoyer completed 21-of-37 passes for 292 yards, three scores and one interception. His 6-yard strike to Travis Benjamin with 1:09 remaining proved to be the game-winner, lifting the Browns back to .500.
The turning point actually came late in the first half with the Browns trailing 28-3. Hoyer hit tight end Jim Dray for a 1-yard touchdown with just 12 seconds remaining before intermission. The Browns received the halftime kickoff and promptly marched downfield to set up a 42-yard field goal by Billy Cundiff.
"I think that late score in the first half was tremendous for us, to get that momentum going into halftime," said coach Mike Pettine. "Even though we only kicked a field goal on the first drive of the second half, those 10 points really set us up and got the belief back."
Don't look now, but the Browns have the same number of losses as the Steelers and Ravens — both of whom beat Cleveland earlier this season on last-second field goals — and just one more loss than the division-leading Bengals. Cleveland will get a chance to avenge the loss to the Steelers this week, as the Browns host the Steelers on Sunday.
Buccaneers admit mistake, boot Aguayo
In the NFL, it's always better to admit a mistake than to compound it. For the Buccaneers, the decision to burn a 2016 second-round pick on kicker Robert Aguayo has proven to be a mistake. The Buccaneers made the definitive admission of their error on Saturday, cutting Aguayo. He exits with $428,000 in fully-guaranteed salary [
more
]
Source: Mike Florio of ProFootballTalk
Powered by WPeMatico
Did Bucs put too much pressure on Aguayo?
After the Buccaneers surprised everyone by taking a kicker with the 59th overall pick in the draft, G.M. Jason Licht explained the move by heaping superlatives on the player. "I was very excited along with my staff and coaches about Roberto for a very long time," Licht told PFT Live in May 2016. "It's not [
more
]
Source: Mike Florio of ProFootballTalk
Powered by WPeMatico
Broncos holding their breath on Derek Wolfe
Only two days after losing Billy Winn for the year with a torn ACL, the Broncos are now sweating out another potentially serious injury along the defensive line. Via multiple reports, Broncos defensive lineman Derek Wolfe was carted off the field during practice on Saturday. It's being described as a right ankle injury by coach [
more
]
Source: Mike Florio of ProFootballTalk
Powered by WPeMatico