NFL AM: Michael Sam Unemployed Again
Michael Sam is once again unemployed after being waived by Dallas … Titans and Patriots make a trade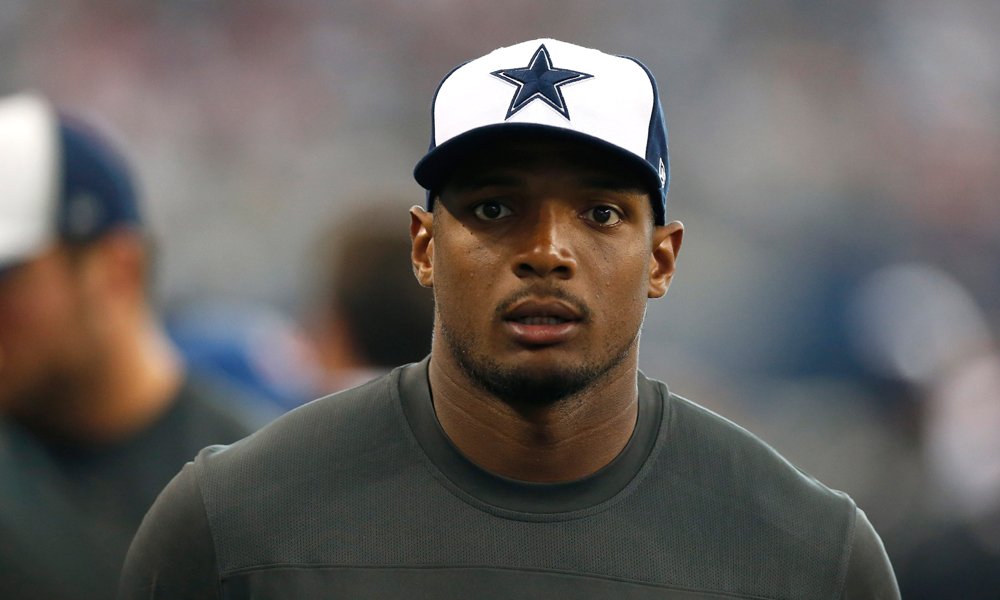 Cowboys Move On From Sam
Michael Sam's bid to become the first openly gay football player to play in a regular season NFL game has taken yet another hit. On Tuesday, the Dallas Cowboys waived the former Missouri defensive end from their practice squad.
After being selected in the seventh round by the St. Louis Rams, Sam played fairly well in preseason and registered a pair of sacks. Still, he was a victim of numbers on a team with plenty of depth on the defensive line and the Rams waived him after final cuts.
Sam was picked up by the Cowboys after Week 1 and placed on their practice squad, and the Cowboys haven't lost since.
"I want to thank the Jones family and the entire Cowboys organization for this opportunity, as well as my friends, family, teammates and fans for their support," Sam said on Twitter. "While this is disappointing, I will take the lessons I learned here in Dallas and continue to fight for an opportunity to prove that I can play every Sunday."
The 6'2, 261-pound Sam is seen by many as a "tweener" who is too small to hold up against the run on the defensive line in a standard 4-3 defense. Unfortunately, Sam is inexperienced and not the kind of athlete that can play outside linebacker if he has to cover.
Being a "tweener" and potentially being the first openly gay NFL player will make it very difficult for Michael Sam to be claimed by any team, as most team's see him as a "distraction" – fair or not.
Here's just one example.
"I do not believe Michael's sexual orientation will be a distraction to his teammates or his organization," former Super Bowl winning head coach and current NBC analyst Tony Dungy said back in July. "I do, however, believe that the media attention that comes with it will be a distraction."
As much as everyone would like to believe that Sam will get a fair shot to make an NFL team, the NFL is far from a fair, equitable world. Teams have less invested in late-round draft picks and undrafted free agents so they are always at a disadvantage against players selected higher.
When you're a late-round pick that carries the media attention that Sam does, you have to be so good that there's no way they can let you go. Sam is fighting an uphill battle.
Titans Deal Ayers To Patriots
The Tennessee Titans have traded linebacker Akeem Ayers and a 2015 seventh-round draft pick to the New England Patriots for a 2015 sixth-round pick.
Ayers was a former second-round pick by the Titans, who simply didn't fit in with the team's new 3-4 defense. In his parts of four seasons in Tennessee, Ayers registered 234 tackles and nine sacks. His most productive season came in 2012 when the 6'3, 255-pound former UCLA Bruin had 104 tackles and six sacks.
Akeem was a healthy scratch for five of the Titans' first seven games this season and shared his discontent with 247sports.
"Obviously, I don't agree with it. I'm a competitor. I know my skill set. I know what I'm capable of doing. I played at a high level before," Ayers said last week. "I did it before, so of course, I'm upset and all those things like that. At the same time, all I can do is stay positive and continue to be a good teammate to my guys."
With defensive end Chandler Jones injuring his hip and expected to miss a month, it's a very low-risk move by the Patriots to take a chance on a guy who had a lot of talent coming out of college.
Did Bucs put too much pressure on Aguayo?
After the Buccaneers surprised everyone by taking a kicker with the 59th overall pick in the draft, G.M. Jason Licht explained the move by heaping superlatives on the player. "I was very excited along with my staff and coaches about Roberto for a very long time," Licht told PFT Live in May 2016. "It's not [
more
]
Source: Mike Florio of ProFootballTalk
Powered by WPeMatico
Broncos holding their breath on Derek Wolfe
Only two days after losing Billy Winn for the year with a torn ACL, the Broncos are now sweating out another potentially serious injury along the defensive line. Via multiple reports, Broncos defensive lineman Derek Wolfe was carted off the field during practice on Saturday. It's being described as a right ankle injury by coach [
more
]
Source: Mike Florio of ProFootballTalk
Powered by WPeMatico
Buccaneers admit mistake, boot Aguayo
In the NFL, it's always better to admit a mistake than to compound it. For the Buccaneers, the decision to burn a 2016 second-round pick on kicker Robert Aguayo has proven to be a mistake. The Buccaneers made the definitive admission of their error on Saturday, cutting Aguayo. He exits with $428,000 in fully-guaranteed salary [
more
]
Source: Mike Florio of ProFootballTalk
Powered by WPeMatico