NFL AM: Mark Sanchez Leads Monday Night Massacre
The Sanchise leads a runaway victory, the 49ers strike gold and the Bears continue their free-fall.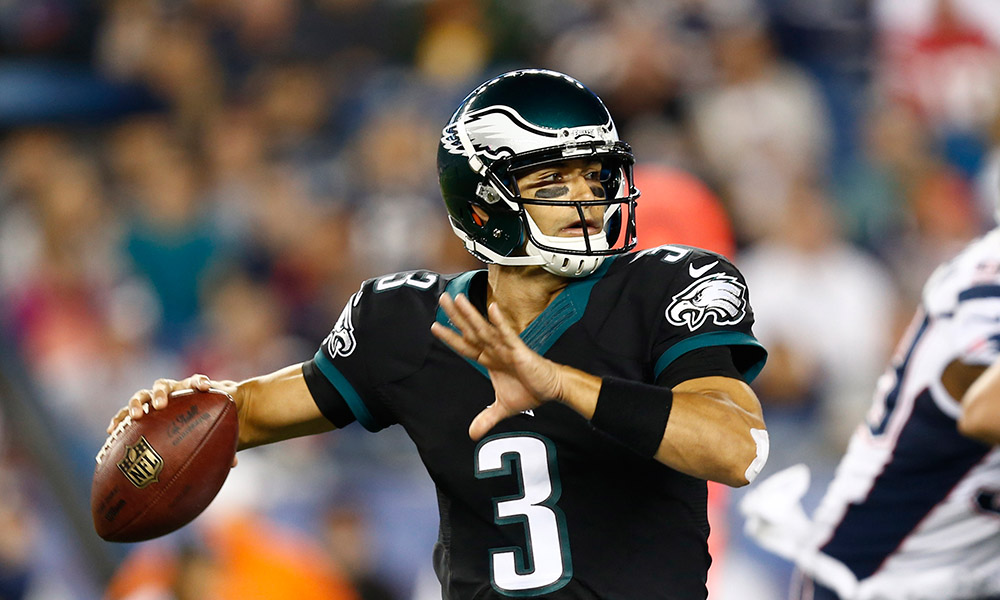 Return of the Sanchize
A few more games like this and Chip Kelly might have to get his own tattoo of his wife in a Mark Sanchez jersey.
Sanchez, starting for the first time since 2012, completed 20-of-37 passes for 332 yards, two touchdowns and — most importantly — no turnovers. He posted a passer rating of 102.5 and was sacked just once despite dropping back 39 times in the Eagles' 45-21 thrashing of the Carolina Panthers on Monday night football.
"When you take a step back, you appreciate it so much and you miss it so much," Sanchez said. "I kept telling myself when I was out, 'If I ever get a chance to get back out there, I don't ever want to be out again.'"
While the return of the former No. 5 overall pick was the main attraction, Sanchez's performance hardly tells the whole story of the game. The Eagles defense forced five turnovers, returning one for a touchdown just a couple minutes before halftime. And the special teams scored again, as Darren Sproles housed a punt return from 65 yards out for his second score of the night.
The Philadelphia defense dominated up front, sacking Cam Newton nine times. Connor Barwin led the way with 3.5 sacks, bringing him to double-digit sacks on the season with seven games remaining.
"Our defense, they really came to play today," Kelly said. "They had a great week of preparation. They were excited about the challenge of going against Cam. We created a lot of pressure early with those two turnovers in the first few plays and I thought that obviously set the tone for the day."
The defense and special teams have more to do with Philadelphia's stellar start than Kelly's fast-paced offense, which often sputtered during Nick Foles' prolonged sophomore (starting) slump. If Sanchez can get the offense to be as prolific as those other two phases, the Eagles might be the favorites in the NFC, especially after the 8-1 Cardinals just lost their starting quarterback for the season.
Beaming by the Bay
The 49ers picked up a huge win on Sunday, a 27-24 victory in overtime to hand the Saints their first home loss of the season. The strong play on the field was followed by some good news off of it.
On Monday, the Santa Clara District Attorney announced Ray McDonald will not be charged in his domestic violence case, citing a lack of evidence. The announcement ensures McDonald will not face any penalty from the league and serves as a bit of vindication for the 49ers, who were criticized for letting him stay on the field while the investigation played out.
"I am relived the DA's office has rightfully decided not to file charges," McDonald said in a statement. "I want to thank everyone who was supportive during this difficult time."
There is more good news by the Bay, as All Pro linebacker Aldon Smith is schedule to return this week from his nine-game suspension (four games for violations of the substance abuse policy; five games for violations of the personal conduct policy).
Smith has been at the team's facility during his suspension. He has worked out and participated in meetings but has been unable to practice until this week. He's expected to be on the field on Sunday when the 49ers face the Giants in New York.
"I'm excited to have him back playing football with the team," said 49ers head coach Jim Harbaugh of Smith. "I think that's where the hope, the excitement lies right now."
Smith had 8.5 sacks in just 11 games last season and 19.5 sacks in 2012. The San Francisco defense currently ranks 25th in the NFL in sacks (15).
Trestman Criticizes Cutler
Bears coach Marc Trestman called out quarterback Jay Cutler in the wake of Chicago's 55-14 whooping this weekend at the hands of the rival Packers.
"He didn't play well enough and we didn't play well enough," Trestman said. "I'm certain he'd take accountability for that. But it's very clear he did not play well enough. We can't sugarcoat that."
Cutler completed 22-of-37 passes for 272 yards and a touchdown, but he turned the ball over three times (two interceptions and a fumble). He now has 15 turnovers on the season and is 1-11 against Green Bay in his career.
Trestman said he never considered benching Cutler, even with the Bears going into intermission trailing 42-0. It's not as though the Bears have a strong No. 2 quarterback like a season ago, when Josh McCown appeared in eight games and threw 13 touchdowns against one interception. This season's No. 2, Jimmy Clausen, has not started a game since 2010, when he threw three times as many interceptions as touchdowns (nine to three).
The Bears are essentially stuck with Cutler after signing him to a seven-year, $126 million extension last offseason. He has already triggered $38 million in guarantees, a figure that will rise to $48 million after March.
Cutler's contract is just the latest quarterback mega-deal that has the extending team wringing his hands, as Cincinnati's extension of Andy Dalton (six years, $96 million) and Arizona's untimely extension of Carson Palmer (three years, $50 million) now look highly questionable, as well.
To talk more about these stories — or anything other NFL headlines that pique your interest — join Michael Lombardo for his weekly NFL Chat on Friday at 2pm EST. 
Buccaneers admit mistake, boot Aguayo
In the NFL, it's always better to admit a mistake than to compound it. For the Buccaneers, the decision to burn a 2016 second-round pick on kicker Robert Aguayo has proven to be a mistake. The Buccaneers made the definitive admission of their error on Saturday, cutting Aguayo. He exits with $428,000 in fully-guaranteed salary [
more
]
Source: Mike Florio of ProFootballTalk
Powered by WPeMatico
Did Bucs put too much pressure on Aguayo?
After the Buccaneers surprised everyone by taking a kicker with the 59th overall pick in the draft, G.M. Jason Licht explained the move by heaping superlatives on the player. "I was very excited along with my staff and coaches about Roberto for a very long time," Licht told PFT Live in May 2016. "It's not [
more
]
Source: Mike Florio of ProFootballTalk
Powered by WPeMatico
Broncos holding their breath on Derek Wolfe
Only two days after losing Billy Winn for the year with a torn ACL, the Broncos are now sweating out another potentially serious injury along the defensive line. Via multiple reports, Broncos defensive lineman Derek Wolfe was carted off the field during practice on Saturday. It's being described as a right ankle injury by coach [
more
]
Source: Mike Florio of ProFootballTalk
Powered by WPeMatico