NFL AM: Jared Goff Scoffs at "Small" Hands Claim, But Size Matters in NFL
Goff's small paws become combine topic du jour; Garrett says Cowboys "need" to address QB; Trent gets another chance.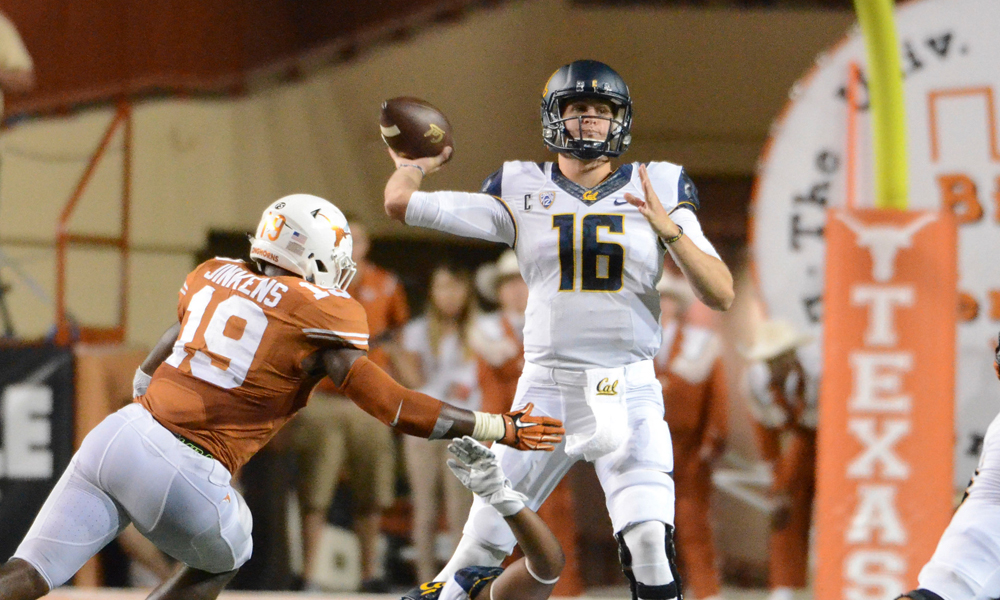 Over the next several days, NFL teams will find out essentially all that they need to know about the prospects for the 2016 NFL Draft, while looking for drawbacks in each player. On Thursday, they may have found an important one in University of California quarterback Jared Goff.
The 21-year-old quarterback had his hands measured on the second day of the NFL Scouting Combine and they checked in at just about 9 inches in diameter. Believe it or not, that measurement alone is a red flag to some teams.
When grading a quarterback, teams look for a lot of thing: leadership, moxie, arm strength, mobility, accuracy and skill under pressure are just a few of the traits they grade. But every little bit matters when you're picking a guy who is likely to represent the future of the franchise. Even hand size. In the NFL, the bar for quarterback hand size is 10 inches and Goff's considerable distance from that marker is of concern to scouts and coaches alike. For his part, Goff scoffed at the notion that his "small" hands could deter his NFL future.
"I've been told I have pretty big hands my whole life," he said Thursday. "I heard I have small hands yesterday, apparently. I've never had a problem with that or expect it to be a problem at all."
With the No. 2 overall pick, the Cleveland Browns are likely to be the first team on the board entertaining the selection of a quarterback, and they've been linked to Goff ever since the junior declared for the draft in December. The other quarterback most linked to Cleveland has been North Dakota State's Carson Wentz, whose hands measured at 10 inches on Thursday. Paxton Lynch of Memphis, another quarterback projected to go in the first round, measured at a remarkable 11.5 inches, considerably larger than even Brett Favre, whose 10.38-inch hands were the stuff of legend.
Is the hand size difference between Goff, Wentz and Lynch big enough to sway the Browns one way or another? Perhaps not, but it is a consideration among those in charge.
"It matters because we play in a division where all of a sudden there's rain and snow, and it's different," Cleveland's new coach Hue Jackson said on Thursday. "Guys with bigger hands can grip the ball better in those environmental situations. We're looking for a guy who fits what we're looking for at quarterback, and so hand size is important."
Hand size data was not kept before 2008 so details are scant on the hand size of some of the NFL's more veteran signal callers. But since 2008, few starting-caliber quarterbacks have checked in at or below nine inches. In the AFC North, both Joe Flacco (9 5/8) and Andy Dalton (9 1/2) both measure well above Goff, while Ben Roethlisberger's hand size is unknown, though it is assumed to be large given his stature.
According to a chart compiled on Quora, dating back to 2008, Ryan Tannehill is the only quarterback to have his hands measure at nine inches or less and get considerable time as a starter. Case Keenum and Colin Kaepernick both measured at 9.125 inches, Dalton, Robert Griffin III, Matt Ryan and Sam Bradford all checked in at 9.5, which is near average. The above average group includes some of the best young quarterback in the league, including Cam Newton, Brock Osweiler and Kirk Cousins, who each measured at 9.875. Several others including Andrew Luck (10 inches), Matthew Stafford (10), Tyrod Taylor (10) and Russell Wilson (10.275) were all well above average.
"[It's] huge. You better have big hands. Russell Wilson's 5-10 ½, but he's got 10 ¼ hands. You better have a big paw to manipulate the football," 49ers coach Chip Kelly said. [But] they're guidelines. It's not like 'He had nine-inch hands, he's out.' If you just look at it from a pure analytical standpoint, the guys who are more successful at the quarterback position have had bigger hands. Has there been someone who had had size-9 hands that has been successful? Yeah. That's true."
Indeed, there are also successful quarterbacks with small hands. Michael Vick had historically 8.5 inch hands and Aaron Rodgers, arguably the best quarterback in the league today, had his hands measured at 9.38 inches, a below average number. Then there is Cowboys quarterback Tony Romo. The 2004 undrafted free agent has built a very successful career despite hands even smaller than Goff's, at 8.86 inches. So as long as he has the other skills necessary to be successful at the quarterback position, Goff should be fine with nine-inch hands. Perhaps just don't let him hold the ball on field goals.
GARRETT SAYS DALLAS NEEDS BACKUP PLAN AT QB
Speaking of Romo and the Cowboys, coach Jason Garrett has been making the rounds with the media over the first few days of the combine and a number of his comments have drawn quite a lot of attention.
On Wednesday, it was Garrett's dismissal of Greg Hardy as merely a free agent, showing a complete lack of interest in retaining the troubled pass rusher. Then on Thursday, in an interview on NFL Network, Garrett acknowledged that the Cowboys are indeed in the market for a quarterback in this year's draft.
"Certainly we want to have a young quarterback in our program who we're developing to be a guy who replaces Tony Romo at some point," Garrett said. "Does that mean we take him in the first round, the second round or the third round? I don't know that. We've got to evaluate these guys and sort out who we like at all the positions."
The Cowboys, who pick at No. 4 overall, have been playing it close to the vest when it comes to their need for a quarterback, but Garrett's words were a bit of a peak into the mindset of the man running the show from the sidelines. Dallas would love to take the best player available at No. 4 and with a quarterback (Goff, Wentz or Lynch) and offensive lineman (Laremy Tunsil) likely to come off the board in the Top 3, there should be at least one outstanding defensive talent like Myles Jack or Jalen Ramsey sitting there for them at No. 4.
But the Cowboys also have to be tempted to start the rebuilding process early with a blue-chip quarterback who can sit behind Romo and learn rather than taking a third-round flyer on a quarterback that may not have the ceiling of a Goff, Wentz or Lynch.
Garrett, a former quarterback himself, saw how Romo's absence torpedoed what was supposed to be a Super Bowl or bust season in Dallas. And, as a result of his team's lost season and porous record, the Cowboys coach got some first-hand experience with one of those blue chippers at the Senior Bowl, where he coached Carson Wentz.
"We had a great experience when we coached Wentz down at the Senior Bowl," Garrett said. "We were with him for five days and saw him practice three times and play in the game, handle meetings, and he was really an impressive guy."
That experience, and the long-term future of the franchise at the league's most important position, is something that will weigh heavily on the minds of the Cowboys if Wentz is on the board when their number comes up in the first round on April 28.
RAVENS TAKING A FLYER ON RICHARDSON
Potential can be a curse word in NFL circles and no recent player is better proof of that than Trent Richardson, the No. 3 overall pick in the 2012 NFL Draft.
But Richardson just keeps getting opportunities, and the Baltimore Ravens appear to be the next team set to fly into the trap.
Al.com, which houses several Alabama-based newspapers, first reported that Baltimore is on the verge of signing Richardson, and Ravens coach John Harbaugh essentially confirmed as much at the combine on Thursday.
"We're talking to him right now," Harbaugh said. "He seems like a good guy. I've talked to him on the phone a few times. [Ravens GM Ozzie Newsome] has all the ties from Alabama. We'll see where it goes. It's in the works. It's possible. I don't think it's finalized yet, but it is a possibility."
If the signing goes through, the Ravens will be Richardson's fourth team in five years, since being selected third in the 2012 Draft. After a solid rookie year, in which he carried for 950 yards and scored 11 touchdowns, Richardson quickly became one of the league's worst running backs. But the writing was on the wall from the beginning, as despite his solid totals, Richardson averaged just 3.6 yards per carry as a rookie.
That number alarmingly dropped during his first two games of the 2013 season and the Browns had seen enough, shipping him to Indianapolis for a 2014 first round pick. It didn't work out in Indy either. In 29 games over two seasons, Richardson carried the ball 316 times, and managed just 3.1 yards per rush, eventually losing his job to Dan "Boom" Herron, a sixth round pick in the same draft as Richardson. The Colts finally gave up on Richardson's potential at the conclusion of the 2014 season, and last offseason he caught on with the Oakland Raiders, but was cut before ever appearing in a regular season game.
Now it appears he's going to get one more chance to prove himself in a league that doesn't generally give this many chances. But Baltimore has experience in this department, having turned Justin Forsett, a castoff of several teams before joining the Ravens into one of the league's leading rushers in 2014. There's little chance Richardson can do the same, but potential is attractive in the NFL and so he'll get the opportunity to disappoint one more team.
Buccaneers admit mistake, boot Aguayo
In the NFL, it's always better to admit a mistake than to compound it. For the Buccaneers, the decision to burn a 2016 second-round pick on kicker Robert Aguayo has proven to be a mistake. The Buccaneers made the definitive admission of their error on Saturday, cutting Aguayo. He exits with $428,000 in fully-guaranteed salary [
more
]
Source: Mike Florio of ProFootballTalk
Powered by WPeMatico
Did Bucs put too much pressure on Aguayo?
After the Buccaneers surprised everyone by taking a kicker with the 59th overall pick in the draft, G.M. Jason Licht explained the move by heaping superlatives on the player. "I was very excited along with my staff and coaches about Roberto for a very long time," Licht told PFT Live in May 2016. "It's not [
more
]
Source: Mike Florio of ProFootballTalk
Powered by WPeMatico
Broncos holding their breath on Derek Wolfe
Only two days after losing Billy Winn for the year with a torn ACL, the Broncos are now sweating out another potentially serious injury along the defensive line. Via multiple reports, Broncos defensive lineman Derek Wolfe was carted off the field during practice on Saturday. It's being described as a right ankle injury by coach [
more
]
Source: Mike Florio of ProFootballTalk
Powered by WPeMatico