NFL AM: Jaguars Decline To Exercise 5th-Year Option On Luke Joeckel
Luke Joeckel doesn't have his 5th year option picked up, he's not the only one, and Dana Stubblefield accused of rape.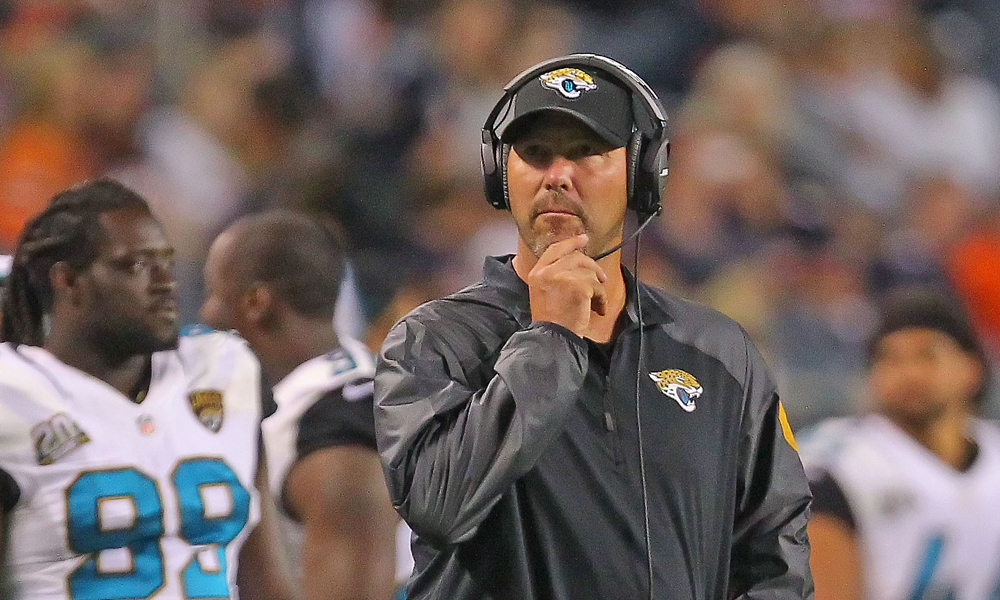 Jaguars won't pick up 5th-year option on Luke Joeckel:
Few, if any teams had a better offseason than the Jacksonville Jaguars. From having one of the better free agent classes, to walking out of the 2016 NFL Draft with two players projected to go in the top-10, the Jaguars did a fantastic job of upgrading a roster in serious need for an infusion of talent.
However, the offseason wouldn't be complete without cleaning up some mistakes from offseasons past that weren't as productive as the one the team is enjoying now. One of the biggest of those mistakes comes in the form of former 2nd-overall pick Luke Joeckel. The Jaguars declined to pick up the 5th-year option on the young tackle at Monday's deadline to exercise options on first-round picks from 2013.
While it may sound harsh to call Joeckel a mistake, there's just no other way to describe the Jaguars tackle because of his lofty draft position. When a team selects any player within the top few picks of the draft, it's with the expectation that player will be there for years to come.
The concern that Myles Jack may not be able to play into a second contract is what caused the versatile young linebacker to fall into the second round to the Jaguars, and that just highlights the kind of disappointment a team must feel when it's not interested in keeping a guy around for as long as possible by exercising their option.  There's nothing that says that Jacksonville can't or won't try to re-sing Joeckel despite not picking up his 5th-year option, (The Tampa Bay Buccaneers just re-signed Doug Martin after declining to pick up his 5th-year option before the 2015 season) but the fact that they're not willing to protect the ability to keep Joeckel around is a pretty good sign they're not concerned whether he is.
Left tackles are one of the more valuable commodities in the NFL, and teams will go out of their way to find one, and keep one once they have, and the Jags declining the option to protect Joeckel for as long as possible tells you as much about their feelings on the young man than their signing of Kelvin Beachum to replace him.
2013 first-round picks options decided on Monday:
While Luke Joeckel may head the class of disappointing first-round picks, he was far from the only player whose option was declined. Let's take a look at the entire class, which is just the latest evidence of just how inexact a science the NFL Draft is.
While he hasn't been the dominant player they hoped they were drafting in 2013, the Kansas City Chiefs picked up the 5th-year option on 1st-overall pick Eric Fisher. The third pick in that year's draft was Dion Jordan whose multiple violations of the substance-abuse policy made him ineligible for the option made the Miami Dolphins decision for them. The Philadelphia Eagles also had no decision to make on Monday, as the team signed Lane Johnson to an extension already.
A pair of pass rushers had different outcomes Monday as the Detroit Lions exercised the 5th-year option on defensive end Ezekiel Ansah, while the Cleveland Browns declined to do the same with Barkevious Mingo.
The New England Patriots declined the option of guard Jonathan Cooper who the team picked up in the trade of Chandler Jones. Like Cooper, Tennessee Titans Guard Chance Warmack won't have his 5th-year option picked up.
Despite not blowing the doors off defenses as the then St. Louis Rams hoped he would when they selected him 8th-overall, Tavon Austin did have his option picked up in Los Angeles. Dee Milliner was drafted to be Darrelle Revis' replacement in New York, but after disappointing play from Milliner, and the return of Revis, the Jets won't be picking up options for the disappointing DB.
The top-10 picks go to show just how difficult it is to judge talent in the NFL Draft, because what often separates players at the NFL happens above the shoulders, and it's very difficult to project how young men will act after receiving a big pay day.
Picks 11-20 continue to show how difficult the draft is, as there are more players that you look back on and wonder how they were 1st-round picks, but actually fewer players whose options were declined than there were in the top-10.
While 12th pick D.J. Hayden (OAK), 16th pick EJ Manuel (BUF), and 17th pick Jarvis Jones (PIT), didn't have their 5th-year options picked up, Sheldon Richardson (13th, NYJ), Star Lotulelei (14th, CAR), Kenny Vaccaro (15th, NO), Eric Reid (18th, SF), Justin Pugh (19th, NYG) and Kyle Long (20th-CHI) all had their options picked up with by the teams that drafted them.
What makes the case for how difficult the draft is to navigate as well as any of the options exercised or not, is that some of the easiest decisions and best players from the 2013 NFL Draft came late in the first round.
Sure, Bjoern Werner has already been cut by the Indianapolis Colts, and there are a couple of less than inspiring players like Datone Jones, Sylvester Williams and Matt Elam whose options were not picked up by the Green Bay Packers, Denver Broncos and Baltimore Ravens respectively, and the very disappointing Cordarrelle Patterson who were picked at the end of the first round of the 2013 draft, but the bottom of the first round still has some of the round's better players.
While the Minnesota Vikings won't pick up the option on disappointing wide out Patterson, they didn't have any issues singing up for a fifth year of defensive tackle Sharrif Floyd, or cornerback Xavier Rhodes.
Cincinnati Bengals tight end Tyler Eifert, Atlanta Falcons corner Desmond Trufant, Houston Texans receiver DeAndre Hopkins, LA Rams linebacker Alec Ogeltree, and Dallas Cowboys center Travis Frederick were all absolute no brainers.
Perhaps it's the pressure to fill a major need with a top-10 pick that makes the draft so difficult to navigate, but regardless of the reason, the 2013 draft class is more evidence that you never know how these guys are going to work out.
Former 49er Dana Stubblefield accused of rape:
Former San Francisco 49er Dana Stubblefield has been accused of raping a "developmentally delayed" woman at his Santa Clara home after interviewing her for a babysitting job in April of 2015.
Stubblefield is accused of raping the woman before giving her $80 and sending her on her way. The alleged victim went to the police immediately to report the rape, and DNA evidence matched Stubblefield.
"This was a crime of violence against a vulnerable victim," Santa Clara Deputy District Attorney Tim McInerny said. "She was looking for a job, and she was unconscionably assaulted."
In his defense, Stubblefield provided what he says was evidence that the sex was consensual, including proof that the woman asked for money and a job after the sex took place.
Stubblefield's attorney Ken Rosenfeld suggested the only defense possible for his client, suggesting the sex was completely consensual and that the accuser's motives are purely about taking advantage of a wealthy man's name for financial gain.
"Dana Stubblefield is being unfairly targeted due to his celebrity and wealth by someone with full motivation to lie," Rosenfeld said. "Mr. Stubblefield passed a lie-detector test with flying colors and will present a full, vigorous defense against these false allegations."
There's not much you can say about this other than the facts. All we know for sure is that somebody in this situation is a pretty disgusting human being. We'll have to let the case play out before we try to decide which one.
Buccaneers admit mistake, boot Aguayo
In the NFL, it's always better to admit a mistake than to compound it. For the Buccaneers, the decision to burn a 2016 second-round pick on kicker Robert Aguayo has proven to be a mistake. The Buccaneers made the definitive admission of their error on Saturday, cutting Aguayo. He exits with $428,000 in fully-guaranteed salary [
more
]
Source: Mike Florio of ProFootballTalk
Powered by WPeMatico
Did Bucs put too much pressure on Aguayo?
After the Buccaneers surprised everyone by taking a kicker with the 59th overall pick in the draft, G.M. Jason Licht explained the move by heaping superlatives on the player. "I was very excited along with my staff and coaches about Roberto for a very long time," Licht told PFT Live in May 2016. "It's not [
more
]
Source: Mike Florio of ProFootballTalk
Powered by WPeMatico
Broncos holding their breath on Derek Wolfe
Only two days after losing Billy Winn for the year with a torn ACL, the Broncos are now sweating out another potentially serious injury along the defensive line. Via multiple reports, Broncos defensive lineman Derek Wolfe was carted off the field during practice on Saturday. It's being described as a right ankle injury by coach [
more
]
Source: Mike Florio of ProFootballTalk
Powered by WPeMatico