NFL AM: Indianapolis Colts Brace for New England's Running Game
The Colts load up to stop the run; the Bears make a mundane hire; and the Cardinals eye a new deal for Larry Fitzgerald.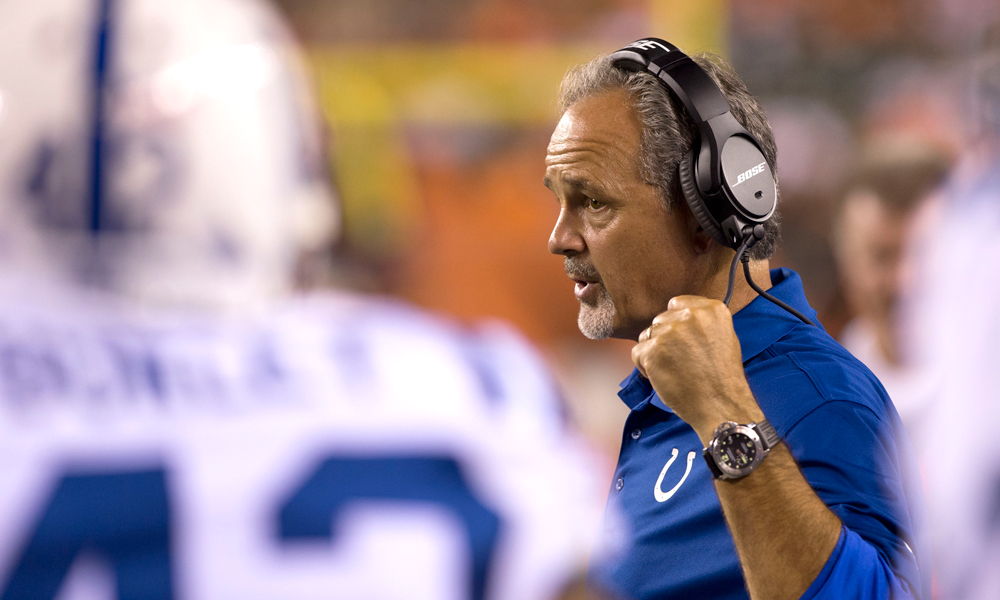 Patriots, Colts and the Numbers Game
The big story in New England's 35-31 win over Baltimore in the Wild Card round was how the Patriots ran a handful of plays with only four offensive linemen on the field, forcing a skill-position player to declare as ineligible and making the Ravens adjust their match-ups on the fly.
It is unlikely Bill Belichick will take the same approach this week. In fact, in his team's first meeting with the Colts back in Week 11, the Patriots had an extra offensive lineman on the field for 38 of 77 offensive snaps. The results in that game were sensational, with New England piling up over 200 yards on the ground in a 42-20 victory.
Belichick will have to tweak his formula for the rematch. Starting center Bryan Stork is out this week with a knee injury suffered against the Ravens. Also, RB Jonas Gray — who ran for 200 yards in the first meeting — has played an insignificant role since that out-of-nowhere performance.
The names don't particularly matter for the systematic Patriots. What matters is Belichick and offensive coordinator Josh McDaniels have a deep bag of tricks for creating favorable match-ups and putting pressure on opposing defenses.
"The numbers speak for themselves," said Colts head coach Chuck Pagano. "If we don't get that fixed and they're able to run the ball the way they've run it the last couple meetings, then we're going to have a long, hard day."
No matter how many offensive linemen the Patriots deploy on any given play, there will be the same commitment to the running game. Everyone on the New England side knows just has dangerous Andrew Luck can be, so the Patriots will do everything in their power to control the ball and keep Luck on the sidelines.
Hoping to muck up that game plan is Indianapolis DT Arthur Jones, a 335-pound run stuffer who missed the first meeting with the Patriots but has played in every game since. The Colts have slowed down some elite running backs over the last couple months with Jones back in the middle.
Said DE Cory Redding of Jones: "He commands double teams. He just loves football. When you have a guy in the trenches that loves eating up double teams, demands it, and if you block him one-on-one, he's going to bull rush to the quarterback or either run down the line and make tackles. It just makes our defensive line so much better. Having him, Art, in the lineup is huge for us."
Hiring Fox is Step One of Bears Rebuild
The Bears announced John Fox as their new head coach on Thursday, formalizing a union that had been speculated since Fox's sudden departure from Denver. The former head coach of the Panthers and Broncos, Fox led both of those teams to the Super Bowl. Don't expect the same in Chicago.
The defensive-minded Fox has little to work with on that side of the ball, as Chicago's entire defensive back seven needs to be rebuilt. He also inherits an offense that — although supremely talented — turns the ball over too much and lacks consistency.
Another new problem for Fox, who led the Broncos to the AFC West title each of the last four seasons: the Bears are a damn-near lock to finish last in the NFC North, a division that features two 11-win teams (the Packers and Lions) and one of the league's fast-ascending young squads (the Vikings).
That does not mean this is an ill-fated pairing. The Bears were on the brink of implosion last season under Marc Trestman, so hiring a stable coach like Fox makes a lot of sense. Also, the Bears needed an experienced coach to make life easier for their new, inexperienced general manager (Ryan Pace).
The players seem excited, as well. Pro Bowl guard Kyle Long wrote on Twitter: "Met Coach Fox night before I participated in the combine in passing at dinner. Now he's my coach. Was a very likable dude!! Let's roll."
The key here is to set realistic expectations, as Fox looks to turn around a team that has missed the playoffs each of the last four seasons. Fox signed a four-year deal and if he can get the Bears back to the playoffs by the third year of that contract, he should be considered a success.
As for another Super Bowl? Don't hold your breathe. Although, if Chicago can get to the Super Bowl with Rex Grossman under center, I suppose anything is possible.
Cardinals Optimistic Fitzgerald Will Return
Larry Fitzgerald's exit from the Cardinals seemed like a foregone conclusion for much of the season. He is due to count $23.6 million against the salary cap next season, the final year of his contract, and is coming off a campaign in which he finished with his worst numbers since his rookie season in 2004.
But after the first round of negotiations, Cardinals president Michael Bidwell believes the future Hall of Famer may have more desert days ahead of him.
"I'm sure we'll get it worked out," Bidwell said on KTAR 92.3 FM. "We've had a couple of conversation that I think were productive so we'll continue those discussions, or at least (GM) Steve Keim and his agent will."
Retaining Fitzgerald would be a coup for the Cardinals. Fitzgerald was unhappy with his role for much of last season, as Bruce Arians used him the same way he used to deploy Hines Ward in Pittsburgh — a lot of work from the slot and a lot of blocking.
However, bringing Fitzgerald back would make life easier for Carson Palmer, who will be coming back off the second ACL injury of his career. Fitzgerald and Palmer spent a lot of time working together last offseason, and if Palmer can come back and stay healthy, it would be interesting to see if that work could pay dividends a season later.
Arizona's passing game was its Achilles' heel this season following injuries to Palmer and Drew Stanton. If Palmer and Fitzgerald both return, the Cardinals should be able to make another playoff push before those two officially enter the twilight of their careers.
Bidwell said it best: "I think it's perfect for us and it's perfect for him. We should be able to work this out."
Want to talk more about these and other headlines? Join Michael Lombardo for his weekly NFL Chat on Friday at 2pm EST. But you don't have to wait until then … ask your question now!
Buccaneers admit mistake, boot Aguayo
In the NFL, it's always better to admit a mistake than to compound it. For the Buccaneers, the decision to burn a 2016 second-round pick on kicker Robert Aguayo has proven to be a mistake. The Buccaneers made the definitive admission of their error on Saturday, cutting Aguayo. He exits with $428,000 in fully-guaranteed salary [
more
]
Source: Mike Florio of ProFootballTalk
Powered by WPeMatico
Did Bucs put too much pressure on Aguayo?
After the Buccaneers surprised everyone by taking a kicker with the 59th overall pick in the draft, G.M. Jason Licht explained the move by heaping superlatives on the player. "I was very excited along with my staff and coaches about Roberto for a very long time," Licht told PFT Live in May 2016. "It's not [
more
]
Source: Mike Florio of ProFootballTalk
Powered by WPeMatico
Broncos holding their breath on Derek Wolfe
Only two days after losing Billy Winn for the year with a torn ACL, the Broncos are now sweating out another potentially serious injury along the defensive line. Via multiple reports, Broncos defensive lineman Derek Wolfe was carted off the field during practice on Saturday. It's being described as a right ankle injury by coach [
more
]
Source: Mike Florio of ProFootballTalk
Powered by WPeMatico