NFL AM: Inconsistent Punishment By NFL
Find out about the NFL's wacky fine system and some fantasy replacements for Sunday.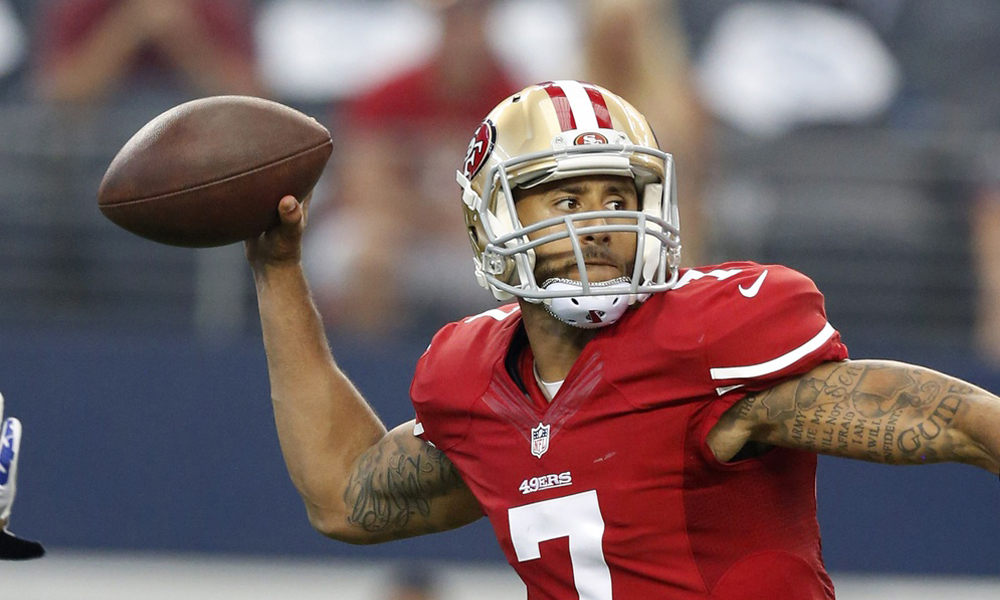 In this edition of NFL AM, we discuss some hypocrisy in the NFL's fine structure as well as some fantasy implications if you have two of the league's top wide receivers.
More Inconsistent Punishment By NFL
These days, the NFL is not known for their consistency with punishments. The Ray Rice punishment has been spoken about ad nauseum and we've iterated how the league was more reactive than proactive. Just this week there were a pair of fines that were just as questionable.
Since the NFL signed their new deal with Microsoft, the league banned players from wearing headphones that weren't league sponsored. Apparently, San Francisco 49ers quarterback Colin Kaepernick didn't get the memo as he wore a pair of his "Beats by Dre" headphones (which he endorses) on the field for warmups.
"The NFL has longstanding policies that prohibit branded exposure on-field or during interviews unless authorized by the league," a league spokesman said.
That indiscretion cost Kaepernick $10,000.
Uniform rules are one thing, but mandating what accessories that players should wear seems a little ridiculous.
It gets more ridiculous when you consider one of the other fines doled out this week. Denver Broncos tight end Julius Thomas dove at the knee of Arizona Cardinals defensive end Calais Campbell, spraining his MCL and forcing him to miss roughly a month. Although it's questionable whether the play was "dirty," there's no question that it was illegal.
"I guarantee that being dirty is not a part of my game, and to intentionally hurt somebody is not something I would ever do," Broncos tight end Julius Thomas told USA Today.
The NFL fined Thomas for that illegal block $8,268.
What the NFL is basically saying with it's fines is that it's worse to wear non-sponsored headphones than it is to dive at the knees of another player, causing him to miss significant time.
Adjust Your Lineups Accordingly
After being carted off the practice field earlier this week, Bengals All-Pro wide receiver A.J. Green will miss Sunday's game against the Carolina Panthers. Green had been battling a toe injury.
"It's day to day, as I was told [Friday]," Bengals head coach Marvin Lewis said. "He's feeling good. Which is a good thing, a positive thing."
On the official injury report, Green is listed as questionable for the game. He has caught 17 passes for 314 yards and two touchdowns through four games this season.
The only wide receiver that was probably drafted before A.J. Green in most fantasy drafts was Detroit's Calvin Johnson. Johnson is listed as "doubtful" for Sunday's game against the Minnesota Vikings, as he's been battling an ankle sprain.
Johnson has battled the bad ankle for three weeks now and has caught just three passes for 19 yards over the past two games.
The likely absence of Green and Johnson should result in an increase of targets for Mohammed Sanu and Golden Tate respectively.
Buccaneers admit mistake, boot Aguayo
In the NFL, it's always better to admit a mistake than to compound it. For the Buccaneers, the decision to burn a 2016 second-round pick on kicker Robert Aguayo has proven to be a mistake. The Buccaneers made the definitive admission of their error on Saturday, cutting Aguayo. He exits with $428,000 in fully-guaranteed salary [
more
]
Source: Mike Florio of ProFootballTalk
Powered by WPeMatico
Did Bucs put too much pressure on Aguayo?
After the Buccaneers surprised everyone by taking a kicker with the 59th overall pick in the draft, G.M. Jason Licht explained the move by heaping superlatives on the player. "I was very excited along with my staff and coaches about Roberto for a very long time," Licht told PFT Live in May 2016. "It's not [
more
]
Source: Mike Florio of ProFootballTalk
Powered by WPeMatico
Broncos holding their breath on Derek Wolfe
Only two days after losing Billy Winn for the year with a torn ACL, the Broncos are now sweating out another potentially serious injury along the defensive line. Via multiple reports, Broncos defensive lineman Derek Wolfe was carted off the field during practice on Saturday. It's being described as a right ankle injury by coach [
more
]
Source: Mike Florio of ProFootballTalk
Powered by WPeMatico