NFL AM: Goodell Implements New Conduct Policy Without NFLPA Approval
The NFL has more faces in charge of discipline, the Jaguars lose their best offensive player and the Falcons should rest Julio Jones.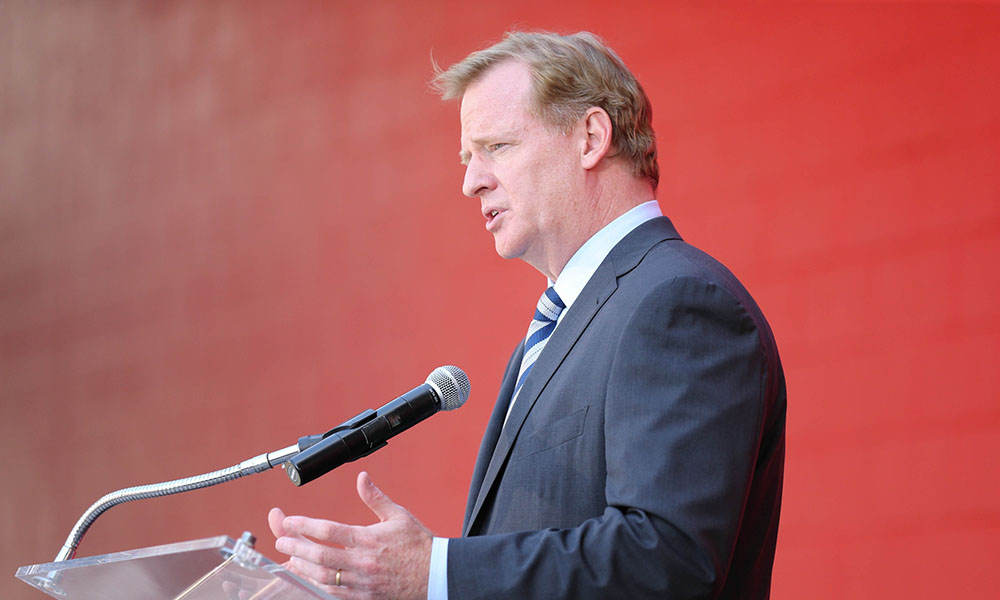 NFL Issues New Conduct Policy
With a tumultuous beginning to the season as far as botched discipline, the National Football League owners voted on a new personal conduct policy going forward.
Some of the key changes to the policy include the use of independent investigations. The NFL will hire a special counsel for investigations and conduct who will oversee initial discipline.
Another change to the policy includes the implementation of paid leave during investigations of people charged with violent crimes.
Finally, the commissioner will maintain a role in the appeals process but also may appoint a panel of independent experts to participate in deciding an appeal.
"The person will oversee our investigations and decide the discipline for violations of the policy," NFL commissioner Roger Goodell said.
Goodell is in favor of this unilateral policy voted on by the owners.
"The policy is comprehensive," Goodell said. "It is strong. It is tough. And it is better for everyone associated with the NFL.
"I have stated it many times: Being part of the NFL is a privilege. It is not a right. The measures adopted today uphold that principle."
The NFL Players Union has an opposing viewpoint.
"Our union has not been offered the professional courtesy of seeing the NFL's new personal conduct policy before it hit the presses," the NFLPA said. "Their unilateral decision and conduct today is the only thing that has been consistent over the past few months."
The NFL denies the union having no knowledge of what was voted upon.
"The union knows every element of what we've been talking about because we've talked to them about it already," NFL lead counsel Jeff Pash said. "I respect the fact that they may not agree with everything that's been done, and I respect the fact that there's an unfortunate [need] to react: 'They say X, so we will say not X.' But I think that the best thing for everybody would be to take a step back and recognize the issues of reputation, of standards, of conduct."
The entire purpose of this new policy is to avoid gaffes in punishment like what happened with both the Ray Rice and Adrian Peterson cases. With more "heads" deciding on punishments for indiscretions, the league can hopefully avoid some of the public backlash and the reactive answers that were involved in those previous cases.
As usual, both the NFL and the NFLPA are on opposing sides of a key issue.
Jaguars Lose Robinson For Season
As if things weren't bad enough for the Jacksonville Jaguars, they will have to finish their final three games of the season without starting running back Denard Robinson, who sprained his foot in Sunday's 27-13 loss against the Houston Texans.
In a season with few positives and fewer highlights, Robinson provided both as he led the team in rushing with 582 yards and four touchdowns, averaging 4.3 yards per carry.
"I think that he came in and was fighting for opportunities and reps as far as getting the ball," Jaguars head coach Gus Bradley said of Robinson. "When he did and he had a period of time there where he put up some really good numbers. He ran extremely hard and did some very good things and gave us some confidence in the run game because of what he did and what he showed. So I thought he made really good progress, really good progress."
The Jaguars plan on turning to the very ineffective trio of Toby Gerhart, Jordan Todman and rookie Storm Johnson to try and kick start the running game in Robinson's absence.
"It will be an opportunity for Storm to get back in the mix," Jaguars offensive coordinator Jedd Fisch said on Wednesday. "Toby's healthy and he'll continue to be in the mix, and Todman will be more into the mix than he's been this part of the season so far. I don't know what the final outcome is right now where he's at, but I think it will be an opportunity for Storm to step up for sure. I think that will be the biggest difference."
There is certain excitement in the building for Storm Johnson to get another shot, as the rookie from UCF did well during the preseason and some of his limited opportunities during the season.
"I think that Storm, the last couple of weeks, remember I told you about Marqise [Lee], it felt like the last couple of weeks he's had good practices? That's where Storm was at," Bradley said. "We were talking prior to this week about trying to find a way to get him up and get him some opportunities. So with the injury to Denard that gave him an opportunity. He had a good day today at practice. He got a lot more reps obviously and I'm hopeful that this time around he'll take advantage of it even more."
Robinson was beginning to find his legs as an NFL running back after making the switch from quarterback in college. With wide receiver Allen Robinson and right tackle Austin Pasztor placed on injured reserve in recent weeks, and now with the loss of Robinson, the Jaguars' 31st ranked offense suffers yet another major blow.
Jacksonville closes the season by playing the sixth-ranked scoring defense in Baltimore, followed by hosting Tennessee on a short week, a team that held them to just 14 points when the Jags were at full strength earlier in the season. Finally, they close with the eighth-ranked scoring defense as they travel to Houston.
It's safe to say, bet the under in Jaguars games the rest of the way.
Falcons Should Rest Julio Jones
Every NFL team wants to win every week. That's not exactly breaking or even spraining news to anyone.
The Atlanta Falcons are in the precarious position of being in a division title race (at 5-8 in the putrid NFC South) and also playing for a Top 10 draft pick.
We all know how terrible the NFC South is and we've exhausted that storyline ad nauseum. What's interesting for the Falcons is that when they host the Pittsburgh Steelers this Sunday, the game will be completely meaningless to them.
With Atlanta's closing schedule including games at New Orleans and home against Carolina, the division title will be decided in those conference matchups.
With stud wide receiver Julio Jones battling a hip injury that occurred in Monday night's amazing 11-catch, 259-yard, one-touchdown performance, the Falcons would be best suited in letting Jones rest up in a non-division game with little meaning.
"That was a very physical football game that was played last night, and both Julio and William (Moore) are guys that are sore this morning," Falcons head coach Mike Smith said. "Julio has a hip injury, and William Moore has a foot injury. And we're hoping that both of these guys will be ready to go at the end of the week.
"How much practice time they're going to get, we don't know that at this point in time. But it's our intention to do everything in our power to have these guys ready to go against Pittsburgh."
Mike Smith will need every win he can get to keep his employment status in Atlanta, but having his best player available for the games that really count will likely mean more in the long term than rushing him back early.
Buccaneers admit mistake, boot Aguayo
In the NFL, it's always better to admit a mistake than to compound it. For the Buccaneers, the decision to burn a 2016 second-round pick on kicker Robert Aguayo has proven to be a mistake. The Buccaneers made the definitive admission of their error on Saturday, cutting Aguayo. He exits with $428,000 in fully-guaranteed salary [
more
]
Source: Mike Florio of ProFootballTalk
Powered by WPeMatico
Did Bucs put too much pressure on Aguayo?
After the Buccaneers surprised everyone by taking a kicker with the 59th overall pick in the draft, G.M. Jason Licht explained the move by heaping superlatives on the player. "I was very excited along with my staff and coaches about Roberto for a very long time," Licht told PFT Live in May 2016. "It's not [
more
]
Source: Mike Florio of ProFootballTalk
Powered by WPeMatico
Broncos holding their breath on Derek Wolfe
Only two days after losing Billy Winn for the year with a torn ACL, the Broncos are now sweating out another potentially serious injury along the defensive line. Via multiple reports, Broncos defensive lineman Derek Wolfe was carted off the field during practice on Saturday. It's being described as a right ankle injury by coach [
more
]
Source: Mike Florio of ProFootballTalk
Powered by WPeMatico