NFL AM: Get Your RBs Later In The Draft
Find out why you should wait on your running backs and why the Patriots aren't a lock in the AFC East.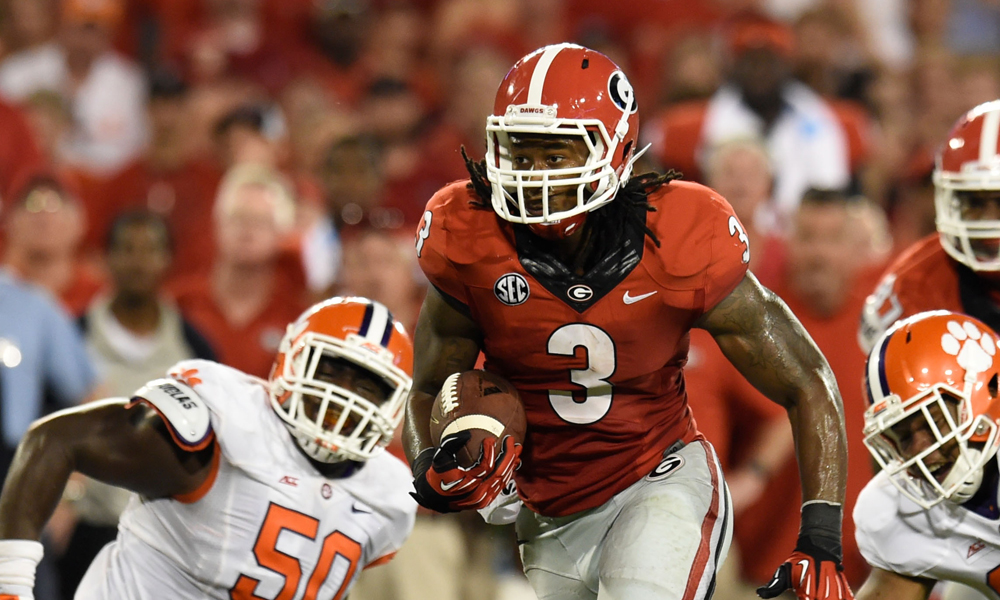 In this edition of NFL AM, we discuss why you should wait on your running backs in the draft and the rough road ahead for the injury depleted New England Patriots.
Beware of First-Round RB's
There hasn't been a running back selected in the first round of the NFL Draft in two years. That's expected to change in 2015 as Georgia's Todd Gurley looks like a super prospect as well as Wisconsin's Melvin Gordon and Nebraska's Ameer Abdullah.
Although Gurley, Gordon and Abdullah each seem like worthy prospects, there's a good reason why no running back has been taken in the first round.
For every Adrian Peterson selected in Round 1 there are three Trent Richardson's. When you peruse the list of top rushers in the NFL you have to go all the way down to the 10th leading rusher, Marshawn Lynch, to find a former first-round pick. Even with Lynch, he's on his second team that acquired him for a fourth-round pick and a fifth-round pick.
"There are two reasons why there hasn't been running backs taken early," an NFL scout told Football Insiders. "There hasn't been legitimate first-round prospects and there really isn't that big of a difference from the middle-round guys to the first-round guys."
With the bust rate as high as it is for first-round backs, it makes perfect sense to wait and get your guy later. Add in the fact that a running back's NFL lifespan is the lowest of any position and it doesn't behoove a franchise to invest a premium draft pick. Finally, when you take into account zone blocking schemes, less-talented runners can fit in well with a great example being the Washington Redskins' Alfred Morris, a former sixth-round selection.
As attractive as the prospect of a well rested Todd Gurley might be to an NFL team, history tells us that selecting a guy like Miami's Duke Johnson a little later will likely work out just as well.
Rough Road Ahead For Patriots
One of the criticism's of the New England Patriots' teams in recent seasons has been that they were not properly challenged on their way to their collection of AFC East titles. The Patriots have won the last five AFC East championships and 10 of the last 11, and most of which by several games over the second-place team.
Some have suggested that they have been a victim of their own success in the playoffs, as they were not properly challenged on their way to the postseason, where they haven't won a Super Bowl title in nearly a decade.
This lack of struggle doesn't seem like it's going to be a problem in 2014.
The first-place Patriots', sitting with a 5-2 record, are entering a brutal portion of their schedule and they are going to have to navigate it without two of their best defensive players. Jerod Mayo went down a week ago with a torn patellar tendon and will miss the rest of the season and their best pass rusher, Chandler Jones will miss at least one month with a hip injury.
The always elaborate head coach of the Patriots', Bill Belichick shrugged it off.
"You do the best you can with whatever the situation is," Belichick said after Wednesday's practice. "That's the way it always is, every day. Deal with that in training camp. You don't every player out there in training camp either. Still have to try to have productive practices. Get the players that are out there practicing to have the most productive days they can have, whatever that consists of. It's week to week.
"That's the National Football League. We're not talking about some breaking story here are we? Been like that for 40 years for me. I mean you hate to see it happen, you hate to be without any player, there's no question about that, but every week there's something like that that you have to deal with. Can't think of too many where it wasn't like that."
New England's top-ranked passing defense will have their work cut out for them without Mayo and Jones, especially when you consider the team's that they'll be facing.
The Patriots have the sometimes lethal combination of Jay Cutler to Brandon Marshall and Alshon Jeffrey coming to Foxboro on Sunday before the ultimate test with Peyton Manning and his array of weapons the following week. New England then gets to rest up with a bye before hitting the road to face the NFL's passing leader in Andrew Luck and the Colts. The Pats then return home to take on Megatron and the Detroit Lions before hitting the road again for games at Green Bay and San Diego.
Any way you slice it, facing Jay Cutler, Peyton Manning, Andrew Luck, Matt Stafford, Aaron Rodgers and Philip Rivers is difficult terrain for any defense at full strength. It becomes a "murderer's row" when you consider that two of New England's best defenders will be missing.
Tweet of the day
Can you leave this particular move at home this weekend boss? @AntonioBrown84 pic.twitter.com/FyeLdwJk0P

— Pat McAfee (@PatMcAfeeShow) October 20, 2014
Antonio Brown is so good at wide receiver.. They should really stop letting him return punts.. Like immediately.. Definitely b4 the weekend

— Pat McAfee (@PatMcAfeeShow) October 21, 2014
Buccaneers admit mistake, boot Aguayo
In the NFL, it's always better to admit a mistake than to compound it. For the Buccaneers, the decision to burn a 2016 second-round pick on kicker Robert Aguayo has proven to be a mistake. The Buccaneers made the definitive admission of their error on Saturday, cutting Aguayo. He exits with $428,000 in fully-guaranteed salary [
more
]
Source: Mike Florio of ProFootballTalk
Powered by WPeMatico
Did Bucs put too much pressure on Aguayo?
After the Buccaneers surprised everyone by taking a kicker with the 59th overall pick in the draft, G.M. Jason Licht explained the move by heaping superlatives on the player. "I was very excited along with my staff and coaches about Roberto for a very long time," Licht told PFT Live in May 2016. "It's not [
more
]
Source: Mike Florio of ProFootballTalk
Powered by WPeMatico
Broncos holding their breath on Derek Wolfe
Only two days after losing Billy Winn for the year with a torn ACL, the Broncos are now sweating out another potentially serious injury along the defensive line. Via multiple reports, Broncos defensive lineman Derek Wolfe was carted off the field during practice on Saturday. It's being described as a right ankle injury by coach [
more
]
Source: Mike Florio of ProFootballTalk
Powered by WPeMatico