NFL AM: Eagles' Sanchez Gets Another Shot
Find out why Mark Sanchez has a real opportunity to steal the starting job and how there are even more questions about Andy Dalton.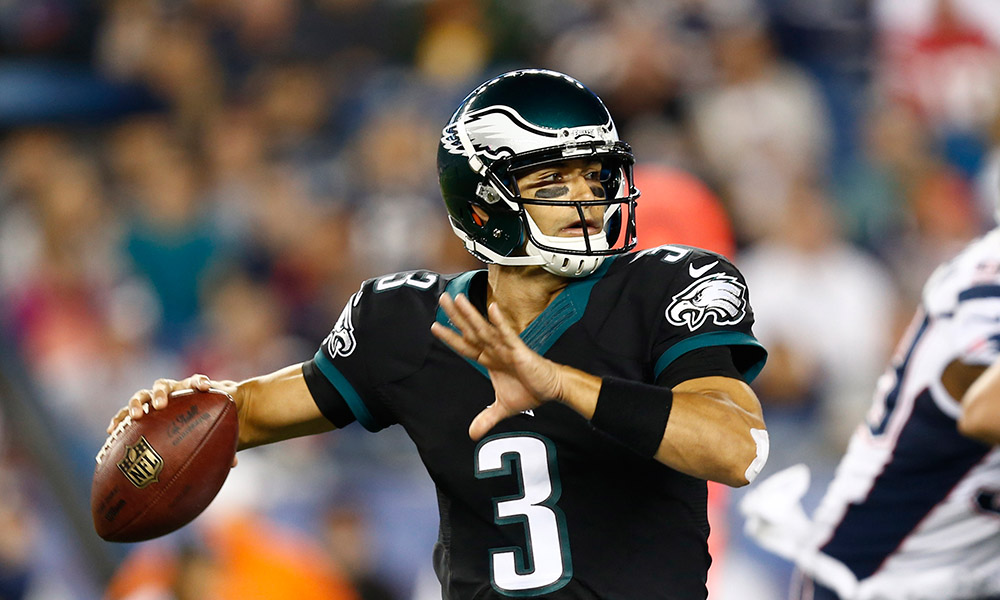 Sanchez's Big Chance
What a difference a year makes.
Just one year ago, Philadelphia Eagles quarterback Nick Foles replaced starter Michael Vick and was on his way to being the NFL's newest darling. Foles led the Eagles to an NFC East title en route to a Pro Bowl season which saw him throw 27 touchdowns and just two interceptions.
Although few believed that he'd be able to repeat those impeccable numbers, Foles was expected to be better than he's been in 2014. Prior to the broken clavicle injury he sustained in Sunday's 31-21 victory over the Houston Texans, Foles had been below mediocre and the Eagles have been winning games in spite of him rather than because of him.
Foles finished 2013 as the NFL's leader in quarterback rating (119.2) and is currently 26th in the NFL in 2014 in the same statistic (81.4). His 27:2 touchdown to interception ratio has turned into 13:10 and that's not figuring in his four lost fumbles.
There were whispers around Philadelphia going as far back as training camp that backup quarterback Mark Sanchez looked better than Foles, and Foles' injury simply opened the door for Sanchez to take over a job that he may have won as early as this week.
"Nick Foles was never truly a Chip Kelly type of quarterback but this is the NFL and you can't just recruit someone new, (so) he was his quarterback," NFL Films guru Greg Cosell said on ESPN Radio.
Thrust into action last Sunday, Sanchez showed himself well completing 15 of 22 throws for 202 yards with a pair of touchdowns and interceptions, one of which went off the hands of wide receiver Josh Huff.
"Mark Sanchez is a quicker footed athlete to which he fits the offense better," Cosell said when asked about the Eagles' backup turned starter.
It may be "coachspeak," but Eagles' offensive coordinator Pat Shurmur believes that the appearance of Sanchez doesn't change the game plan.
"I think we can call the game in a very similar way, regardless of whether Nick or Mark is playing quarterback for us," Shurmur said. "We did it the other night. Mark came in in a backup role, and we didn't call the game any differently than if Nick was in there.
"Now there are certain things that maybe Mark likes a little better than Nick, and so those are things we'll tailor, and it may not be obvious to the casual observer."
After being in the "wrong situation" as a member of the New York Jets, where offensive weapons were routinely taken away from Sanchez and he was scapegoated, Mark has an opportunity to resurrect his career in a very quarterback friendly system.
"I just think we try to make it a friendly system for the QB, the running back, the O‑line, the wide receivers," Eagles head coach Chip Kelly said. "I think that's your job as a coach. If you make it too complicated where your players don't understand it, therefore they're thinking [too much] and they can't go out and execute, then shame on you as a coach. I would say any system that's not QB friendly, then it's probably a bad system."
Although Sanchez is most famously known for his "buttfumble," he did help take the Jets to a pair of AFC title games. Eagles head coach Chip Kelly looked past the stats when he pursued Sanchez in free agency.
"I look at ‑‑ I said earlier, I look at their skill set," Kelly said. "I look at his feet. I look at his mechanics. I look at how he throws the football. I look at how he can escape a rush. I look at all the physical aspects of it, and then we do our work in terms of who's coached him and who talked to him, what was he like, what's he like in the meeting room, what's his work ethic like, how does he study film, how does he do all these things? We went all the way back to researching his high school coaches who I know very well, like what was he like when you had him? So that's how we look at it instead of trying to say — anybody that can look at someone else's film and guess what they were telling that guy to do on that play, then they're a lot smarter than I am."
So how much of Mark Sanchez's struggles were his fault and how much were the fault of the circumstances around him?
Greg Cosell believes that the new starting quarterback of the Eagles has some limitations.
"The question everybody's asking is, 'Does Chip Kelly's sytem alleviate all of Sanchez's track record?' I would have a tough time answering that. Sanchez has played a lot of games in this league," Cosell said.
"To me Mark Sanchez is along the lines of an Andy Dalton type of player, he can be effective on the right team if everything is working properly."
Sanchez will be taking the field with more weapons than he's ever played with and this is a great opportunity not only to hold down the fort while Foles is recovering, but to win the job permanently.
First Place Cleveland Browns?
On the heels of a dominant defensive performance, the Cleveland Browns wrestled a share of first place in the AFC North on Thursday night with a 24-3 victory over the Cincinnati Bengals.
A Browns defense which entered Thursday night ranked 28th in the NFL in defense held the Bengals to just 165 yards of total offense making for another nightmare performance in prime time by Cincinnati and quarterback Andy Dalton. The Bengals have dropped both prime time games they've played in this season and have lost seven straight primetime games overall.
"It does confound me," Bengals head coach Marvin Lewis said. "For whatever reason, the two times (in primetime) this year we didn't play well. Because we were at home, there was an energy and excitement instead of being steely-eyed and focusing on what we have to do."
Dalton misfired all night long and completed just 10 of 33 throws for 86 yards with no touchdowns and three interceptions for a quarterback rating of 2.0.
"We didn't start fast and that's on me," Dalton said. "I missed a couple early and could never get into a rhythm."
The conditions may have been windy, but Dalton's counterpart Brian Hoyer showed off his arm strength and had a solid night, completing 15 of 23 throws for 198 yards.
The victory helped Cleveland end a 17-game road losing streak in AFC North division games. This is also the latest that the Browns have had a share of first place in nearly a decade.
"A huge boost for our guys," Browns head coach Mike Pettine said. "Just look at the streaks we ended. Not many people gave us a chance."
At 6-3, the Browns look like they've turned a corner in their recent franchise history, as they've already won more games than they had in any season since 2007. Cleveland has never won the AFC North and they haven't captured a division title since 1989 when they were AFC Central champs.
Those who have questions whether Andy Dalton can lead the Bengals to anything more than another one-and-done in the playoffs, have even more questions, as he played another terrible game under the big spotlight.
Broncos holding their breath on Derek Wolfe
Only two days after losing Billy Winn for the year with a torn ACL, the Broncos are now sweating out another potentially serious injury along the defensive line. Via multiple reports, Broncos defensive lineman Derek Wolfe was carted off the field during practice on Saturday. It's being described as a right ankle injury by coach [
more
]
Source: Mike Florio of ProFootballTalk
Powered by WPeMatico
Buccaneers admit mistake, boot Aguayo
In the NFL, it's always better to admit a mistake than to compound it. For the Buccaneers, the decision to burn a 2016 second-round pick on kicker Robert Aguayo has proven to be a mistake. The Buccaneers made the definitive admission of their error on Saturday, cutting Aguayo. He exits with $428,000 in fully-guaranteed salary [
more
]
Source: Mike Florio of ProFootballTalk
Powered by WPeMatico
Did Bucs put too much pressure on Aguayo?
After the Buccaneers surprised everyone by taking a kicker with the 59th overall pick in the draft, G.M. Jason Licht explained the move by heaping superlatives on the player. "I was very excited along with my staff and coaches about Roberto for a very long time," Licht told PFT Live in May 2016. "It's not [
more
]
Source: Mike Florio of ProFootballTalk
Powered by WPeMatico