NFL AM: Drew Brees Lifts New Orleans Saints Back into First Place
The Saints are back on top; the votes of confidence are rolling in; and Jeff Follmer is a freaking idiot.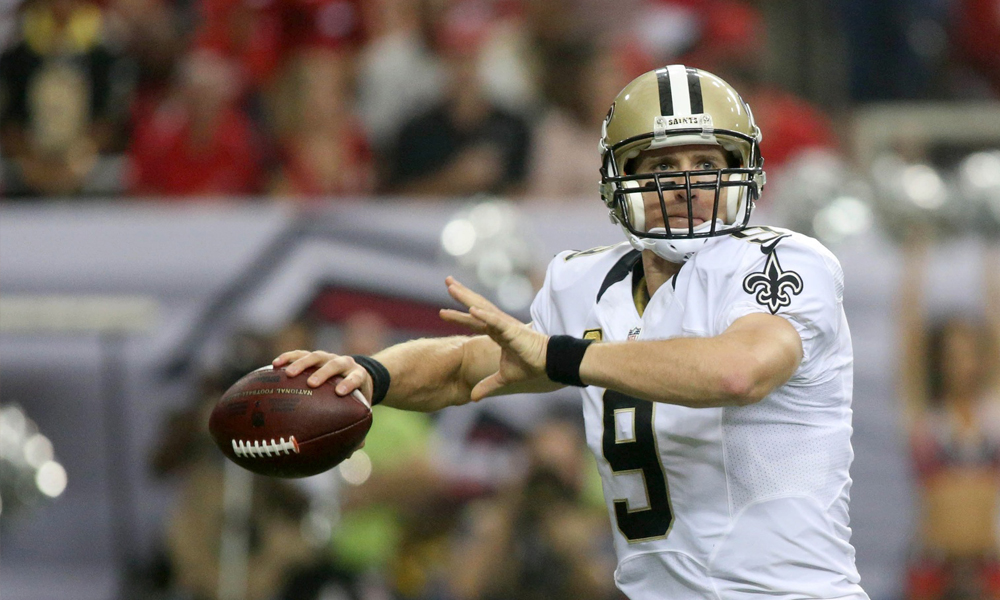 Brees, Saints Blow by Bears
Drew Brees became the latest quarterback to carve up Chicago's defense, racking up 375 yards and three touchdowns in a 31-15 Saints win on Monday night. The victory put New Orleans back on top in the NFC South and sets up a huge divisional showdown next week.
"This game sets us up for no bigger game than next week against Atlanta," Brees said.
Brees was dealing against the Bears, completing over 80 percent of his passes and going over the 4,000-yard mark for the ninth consecutive season. Jimmy Graham bounced back after being an afterthought in last week's game against the Panthers, leading the Saints with 87 yards, while fellow tight end Josh Hill caught two of Brees' three scoring strikes.
For the Bears, the script was all too familiar. Jay Cutler threw three interceptions — bringing him to 18 on the season — as the offense converted just two third-down attempts all game long. Chicago's defense was equally putrid, giving up 443 yards and 25 first downs.
""We just have to be more consistent," said Bears OT Jordan Mills. "That's it. When we have a bad play, we have to move on and make a good play and just keep drives going and keep our defense off the field. We just have to be more consistent."
The Bears have long been a playoff afterthought, despite coming into the game with the same record as the Saints. And with the win, New Orleans is squarely in the driver's seat in the NFC South. If the Saints beat the Falcons at home on Sunday, they will be able to wrap up the division in Week 17 against the 2-12 Buccaneers. The Saints could even clinch as early as this week with a win and a Panthers loss (home versus the Browns).
I Pledge Allegiance …
That special time of year is back, and, no, I am not talking about apple cider and egg nog. It is that magical time in the NFL when franchises start offering up votes of confidence to their struggling coaches and quarterbacks before the offseason officially gets underway.
It started in Washington — doesn't everything? — when Jay Gruden was told he will return as the team's head coach next season, according to NBC Washington. There was speculation Gruden could be one-and-done in the nation's capital, despite being in the first season of a five-year contract, because of the team's 3-11 record and his poor relationship with Robert Griffin III.
RGIII will start this weekend against the Eagles, as Colt McCoy will be inactive with a neck injury. It is an interesting time for Griffin's return to the line-up, because if Gruden gets his way and the Redskins make a change at quarterback this offseason, Philadelphia is potential landing spot for the former No. 2 overall pick.
The ball kept rolling in Cleveland, as Browns coach Mike Pettine went all-in on QB Johnny Manziel, despite the rookie's dreadful debut in a 30-0 loss to the Bengals. The first-year head coach stated Monday the Browns are "moving forward with [Manziel] at quarterback."
Added Pettine: "We could've played Brian Sipe at quarterback [Sunday] and I don't think the outcome would've been much different."
The announcement is good news for the Panthers and Ravens, who will face Manziel over the next couple weeks with their playoff hopes on the line. It is also good news for Brian Hoyer, who is looking better and better right before he hits the free-agent market. Lastly, it is good news for Cleveland fans because … just kidding, there is no such thing as good news for Cleveland fans.
The votes of confidence even extended into the broadcast booth, where Jay Gruden's brother, Jon, received a contract extension from ESPN that runs through the 2021 season. The extension comes right as the NFL coaching carousel prepares to start spinning and is no doubt designed to keep Jon Gruden from jumping back into the coaching ranks, where he would be highly sought after by several teams.
Jon Gruden's former team, the Oakland Raiders, would be among the leading suitors should he seriously consider a return to the sidelines.
More Police Ignorance
Jeff Follmer, the head of the Cleveland Police Union, is a special kind of stupid.
This condescending fount of ignorance came out this week condemning the T-shirt worn by Browns receiver Andrew Hawkins on Sunday, which read "Justice for Tamir Rice – John Crawford" on the front and "The Real Battle of Ohio" on the back. Rice was a 12-year-old killed by a Cleveland police officer while carrying a toy gun. Crawford, 22, was killed by police while carrying an air gun store inside a Wal-Mart.
"It's pretty pathetic when athletes think they know the law," Follmer said in a statement.
You know what else is pathetic? Killing unarmed citizens. Even more pathetic? Showing no remorse after doing so! More pathetic still? Attacking those who seek justice for the victims.
The fact that Follmer assumes Hawkins is uninformed simply because he is an athlete is disgusting. It is also just another false stereotype being perpetuated by the police department.
"I have a 2-year-old little boy," Hawkins said. "That little boy is my entire world. The No. 1 reason for me wearing the T-shirt was the thought of what happened to Tamir Rice happening to my little Austin scares the living hell out of me."
Hawkins has every right to express his beliefs, which happen to be both knowledgeable and sincere. His freedom of expression is protected by the very laws officers like Follmer are supposed to care about.
So please, Mr. Follmer, do the world a favor … shut your ignorant trap and move far, far away. Because the people of this country do not want to hate police officers — truly, they don't — but people like you are making that more and more difficult with each expression of such thoughtless stupidity.
Do you want to talk more about these and other headlines? Join Michael Lombardo for his weekly NFL Chat on Friday at 2pm EST. But you don't have to wait until then … ask your question now! 
Did Bucs put too much pressure on Aguayo?
After the Buccaneers surprised everyone by taking a kicker with the 59th overall pick in the draft, G.M. Jason Licht explained the move by heaping superlatives on the player. "I was very excited along with my staff and coaches about Roberto for a very long time," Licht told PFT Live in May 2016. "It's not [
more
]
Source: Mike Florio of ProFootballTalk
Powered by WPeMatico
Broncos holding their breath on Derek Wolfe
Only two days after losing Billy Winn for the year with a torn ACL, the Broncos are now sweating out another potentially serious injury along the defensive line. Via multiple reports, Broncos defensive lineman Derek Wolfe was carted off the field during practice on Saturday. It's being described as a right ankle injury by coach [
more
]
Source: Mike Florio of ProFootballTalk
Powered by WPeMatico
Buccaneers admit mistake, boot Aguayo
In the NFL, it's always better to admit a mistake than to compound it. For the Buccaneers, the decision to burn a 2016 second-round pick on kicker Robert Aguayo has proven to be a mistake. The Buccaneers made the definitive admission of their error on Saturday, cutting Aguayo. He exits with $428,000 in fully-guaranteed salary [
more
]
Source: Mike Florio of ProFootballTalk
Powered by WPeMatico