NFL AM: Costly Win For Cardinals
Is the Arizona Cardinals season over? Is the 49ers season just beginning? How bad were Sunday's games? How bad is the NFC South?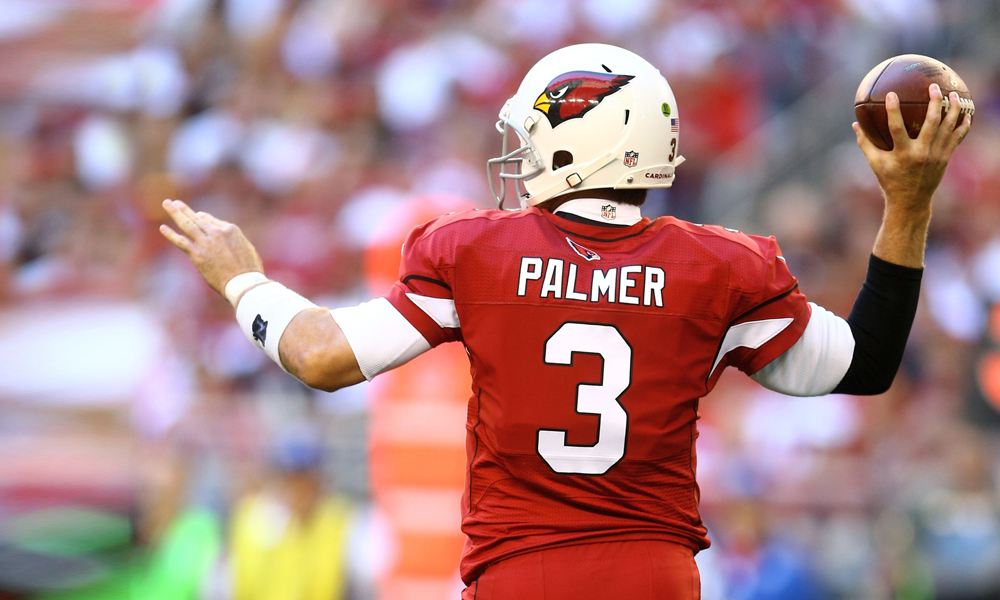 Costly Win For Cardinals
The Arizona Cardinals rallied to defeat the St. Louis Rams 31-14 to move their NFL best record to 8-1. The win came at a price as they lost quarterback Carson Palmer to a knee injury early in the fourth quarter.
Preliminary reports are calling Palmer's injury a torn ACL, which will end his season. Palmer has won 16 of his 22 starts with the Arizona Cardinals, the best 22-game stretch in franchise history.
"We don't know anything about Carson's injury as of yet," Cardinals head coach Bruce Arians said in his post game press conference. "It is a knee. But it will be evaluated and we'll get an MRI and everything and we'll know something tomorrow or Tuesday."
Palmer signed a three-year contract extension just two days before the game which included a reported $20.5 million in guaranteed money.
"Carson has played at an incredibly high level and has been a huge part of the team's success," Cardinals general manager Steve Keim said in a statement. "When you combine his on-field performance with the leadership, stability and professionalism he brings to our team, there was no question that we wanted to extend the relationship and we are excited he felt the same way."
The timing of the contract extension was good for Palmer and potentially disastrous for the Cardinals assuming that their starting quarterback could be out for an extended period of time.
Cardinals backup quarterback Drew Stanton is a more than capable fill-in, as he showed on Sunday, completing three of his five passes for 85 yards, including a 48-yard touchdown strike to rookie John Brown to give Arizona a 17-14 lead. Still, without Palmer the Cards are longshots to do anything in the postseason, assuming they make it that far.
Arizona has a tough stretch of schedule ahead, as they host the first-place Detroit Lions, followed by road trips to Seattle and Atlanta, followed by a home date against Kansas City. They finish the season by taking on the NFC West by traveling to St. Louis, a home date with the defending Super Bowl champion Seahawks and finally a road trip to San Francisco.
49ers Save The Season
After squandering both a 14-0 lead and a 21-10 lead, the San Francisco 49ers season came down to a fourth-and-10 play with the team down 24-21 with less than two minutes left.
Quarterback Colin Kaepernick, who had been under pressure all day long, rolled right and threw a strike that few, if any other quarterbacks can throw, as he hit wide receiver Michael Crabtree across the football field for a 51-yard gain to put the 49ers in position to kick the tying field goal.
Crabtree "was about the third or fourth guy I looked at when I was scrambling," Kaepernick said. "I wasn't expecting it, but I'm happy it happened that way."
After tying the game with 44 seconds left on a 45-yard Phil Dawson field goal, San Francisco needed an offensive pass interference penalty to survive as a Saints quarterback Drew Brees' hail mary fell into the arms of tight end Jimmy Graham in the end zone as time expired.
"Definitely not a push off. I'm running down the field and I'm telling myself not to push off. Whatever you do, don't push off. Just go up and get it," an angry Jimmy Graham said. "It's interesting, you know, how guys grab me everywhere on the field and I put literally two fingers on somebody and you make that kind of call. That's why I switched. That's why I left basketball, so I could stop being penalized for hitting people."
After swapping punts in overtime, Ahmad Brooks sacked and stripped Drew Brees and recovered the fumble, setting up the game-winning 35-yard field goal by Phil Dawson to snap the Saints 11-game home winning streak.
"It was paramount for us to come out with a win," 49ers left tackle Joe Staley said. "You don't like to say must-win, but it was a must-win game. We looked at that game as a playoff game, and we had that mindset coming in."
The game was a must-win for San Francisco, especially with both Arizona and Seattle winning inside their division. At 5-4, the 49ers have a pulse.
Uncompetitive Sunday
Although we had a couple games that went down to the wire in Detroit and New Orleans, it was mostly a day of uninteresting blowouts, as the good teams seem to be realizing they're good and the bad teams…well, they know what they are.
Seven of the 11 games on Sunday were decided by double-digits, and one of the few one-score outcomes, the Jets' 20-13 victory over the Steelers, was a one-score game due to a garbage-time touchdown by Pittsburgh.
The Steelers finally decided to show some fight against the now 2-8 Jets when New York was in their "victory formation" and Pittsburgh safety Mike Mitchell decided to show his inner Schiano as he dove over the pile and was subsequently body-slammed to the turf by Jets' center Nick Mangold.
"It's a dirty play," Mangold said following the game.
As interesting as the National Football League is, it was a pretty uninteresting day on Sunday. The average margin of victory league-wide was more than 14 points.
NFC Sloth
The NFC South was forced into a victory on Sunday, as the Atlanta Falcons took down the Tampa Bay Buccaneers, 27-17. The game was as aesthetically pleasing as colonoscopy as the Bucs turned the ball over three times and both teams combined for 15 penalties.
The game literally brought Buccaneers starting quarterback Josh McCown to tears.
"One-and-eight, one-and-eight and one-and-eight. You know you want to give your teammates, and your coaches, and your fans and everybody here better than that. It just hurts. It hurts," a distressed McCown stated in his postgame press conference.
The Falcons victory, coupled with the New Orleans Saints' 27-24 loss to the San Francisco 49ers brought the Atlanta Falcons to within one game of the NFC South lead. Atlanta, losers of five straight games entering Sunday, boasts a 3-0 division record, which accounts for their only three wins this season.
Buccaneers admit mistake, boot Aguayo
In the NFL, it's always better to admit a mistake than to compound it. For the Buccaneers, the decision to burn a 2016 second-round pick on kicker Robert Aguayo has proven to be a mistake. The Buccaneers made the definitive admission of their error on Saturday, cutting Aguayo. He exits with $428,000 in fully-guaranteed salary [
more
]
Source: Mike Florio of ProFootballTalk
Powered by WPeMatico
Did Bucs put too much pressure on Aguayo?
After the Buccaneers surprised everyone by taking a kicker with the 59th overall pick in the draft, G.M. Jason Licht explained the move by heaping superlatives on the player. "I was very excited along with my staff and coaches about Roberto for a very long time," Licht told PFT Live in May 2016. "It's not [
more
]
Source: Mike Florio of ProFootballTalk
Powered by WPeMatico
Broncos holding their breath on Derek Wolfe
Only two days after losing Billy Winn for the year with a torn ACL, the Broncos are now sweating out another potentially serious injury along the defensive line. Via multiple reports, Broncos defensive lineman Derek Wolfe was carted off the field during practice on Saturday. It's being described as a right ankle injury by coach [
more
]
Source: Mike Florio of ProFootballTalk
Powered by WPeMatico