NFL AM: Costly Win For Arizona Cardinals
The Arizona Cardinals lose their starting quarterback…again; The playoffs will be expanded; The 2013 Draft is full of busts.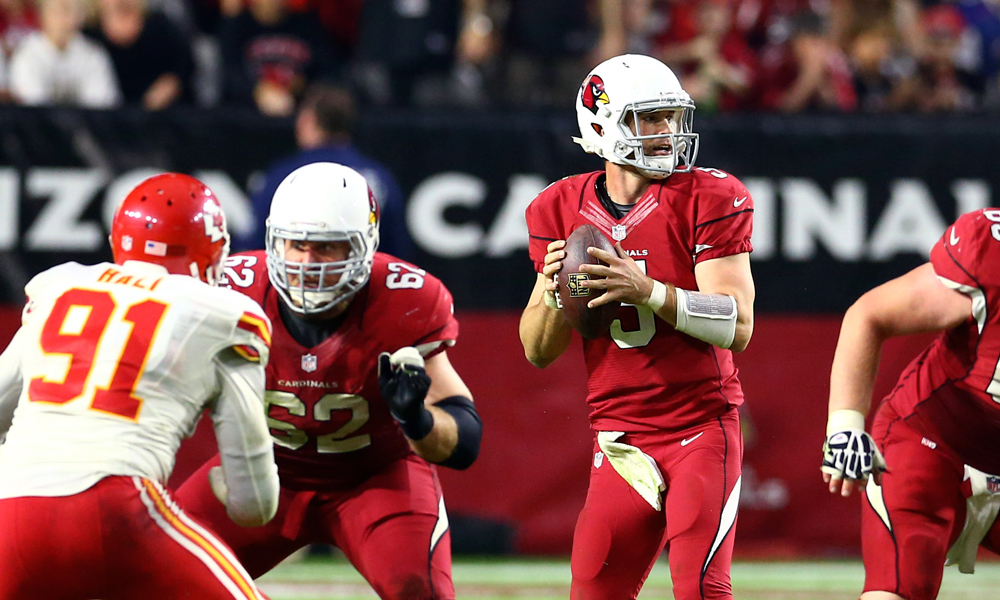 Cards Lose Stanton
The Arizona Cardinals are having a tough enough time trying to convince the outside world and most importantly themselves, that they're a legitimate contender without starting quarterback Carson Palmer.
That job went from difficult to impossible as they lost backup quarterback Drew Stanton in Thursday night's 12-6 victory over the St. Louis Rams.
"We know he has a knee injury," Cardinals' head coach Bruce Arians said of Drew Stanton. "We have no idea to what the extent of it is."
Stanton went down with a right knee injury in the third quarter and the Cardinals went the remainder of the game with journeyman Ryan Lindley, who was mostly ineffective. Lindley went 4 for 10, for 30 yards with no touchdowns or interceptions. He led the team to three points in five offensive drives that he began.
"I really liked Ryan's poise and confidence," Arians said. "I think he really made some good throws."
"I have a pit in my stomach and I feel so bad for my former team," former Arizona Cardinals great and NFL Network announcer Kurt Warner said after the game. "They've overcome so much this year and it's a bad situation."
With the victory, the Cardinals move to 11-3, one game ahead of the Seattle Seahawks who host the reeling San Francisco 49ers.
"We've been faced with a lot of adversity," Cardinals' cornerback Jerraud Powers said. "We're battling our way out of it and we've got two tough teams and we want to win our division."
At this point it's unclear how long Stanton will be out of action, which is a major problem for the Cardinals. Although the Arizona offense struggled under Drew Stanton, he is light years ahead of Ryan Lindley and/or Logan Thomas. With the Cardinals boasting the 30th ranked rushing attack in the NFL, it's highly unlikely that they can just play "big boy football" and impose their will upon their opponents.
With the loss, the Rams fell to 6-8.
"There's an 11-3 team, and there's a team that's always 8-8," Arians said in his emotional post game press conference.
The playoff spot that the Cardinals have all but secured may very well have been wasted if Drew Stanton can't return this season.
Playoffs Expanding Next Season
What's the one thing that can make the NFL playoffs even better?
Adding two more games.
That's exactly what commissioner Roger Goodell expects by the start of next season as the playoffs would expand from a 12-team field to a 14-team field.
"I do believe it will be approved for the 2015 (season)," Goodell said of an expanded playoff field in his time with the media at the owner's meetings. "I think we want to see one more year of, will it impact the regular season in a positive way from a competitive standpoint? Will it create more excitement, more races toward the end of who's going to qualify for the playoffs?"
The most likely scenario would be awarding just one first-round bye to the top seed in each conference. This would make it more likely for those top seeds to advance to the Super Bowl, placing a larger emphasis on the end of the regular season.
Only four of the last 10 top seeds in the AFC actually reached the Super Bowl and none of them took home the Lombardi Trophy. Meanwhile in the NFC, five of the last 10 top seeds reached the big game and both the Seahawks last year and the 2009 Saints won it all.
If we had an expanded field in this year's playoffs, it's likely that we would have even more important games going down to the final weekend. Just four of the 16 AFC teams (Jacksonville, Oakland, Tennessee and New York) and only three NFC teams (Washington, Chicago and Tampa Bay) would currently be out of the mix.
2013 Draft Will Go Down In History
Each year there are always high hopes for incoming rookies, especially following April's NFL Draft. Those hopes are being dashed with every passing week as it's looking like the 2013 Draft was one of the worst in history.
The Top 10 picks of a draft should contain some cornerstones for a franchise. We know that not all of them will be "hits," but you do expect to see some future Hall of Fame talent.
The Top 10 picks of the 2013 Draft have accomplished very little and their body of work seems to be looking worse as time goes by. Eric Fisher, Luke Joeckel, Dion Jordan, Barkevious Mingo, Jonathan Cooper, Tavon Austin, Dee Milliner and Chance Warmack look like bad to average football players. Only Ziggy Ansah has shown flashes of being a very good player.
It's still early, but the 2013 NFL Draft has had way more misses than hits. Quarterbacks E.J. Manuel, Geno Smith and Mike Glennon have all been benched at some point in their careers. Out of the entire 32 picks in the first round, only the aforementioned Ansah, Sheldon Richardson, Star Loutulelei, Desmond Trufant, Xavier Rhodes and DeAndre Hopkins have looked like solid NFL starters.
In time, some players will likely step up and become solid players; but at this point the 2013 Draft is an overall bust.
Buccaneers admit mistake, boot Aguayo
In the NFL, it's always better to admit a mistake than to compound it. For the Buccaneers, the decision to burn a 2016 second-round pick on kicker Robert Aguayo has proven to be a mistake. The Buccaneers made the definitive admission of their error on Saturday, cutting Aguayo. He exits with $428,000 in fully-guaranteed salary [
more
]
Source: Mike Florio of ProFootballTalk
Powered by WPeMatico
Did Bucs put too much pressure on Aguayo?
After the Buccaneers surprised everyone by taking a kicker with the 59th overall pick in the draft, G.M. Jason Licht explained the move by heaping superlatives on the player. "I was very excited along with my staff and coaches about Roberto for a very long time," Licht told PFT Live in May 2016. "It's not [
more
]
Source: Mike Florio of ProFootballTalk
Powered by WPeMatico
Broncos holding their breath on Derek Wolfe
Only two days after losing Billy Winn for the year with a torn ACL, the Broncos are now sweating out another potentially serious injury along the defensive line. Via multiple reports, Broncos defensive lineman Derek Wolfe was carted off the field during practice on Saturday. It's being described as a right ankle injury by coach [
more
]
Source: Mike Florio of ProFootballTalk
Powered by WPeMatico