NFL AM: Contenders Jockey for Playoff Positioning
The Chiefs and Dolphins are in the hunt, while the Rams are hunting down division rivals.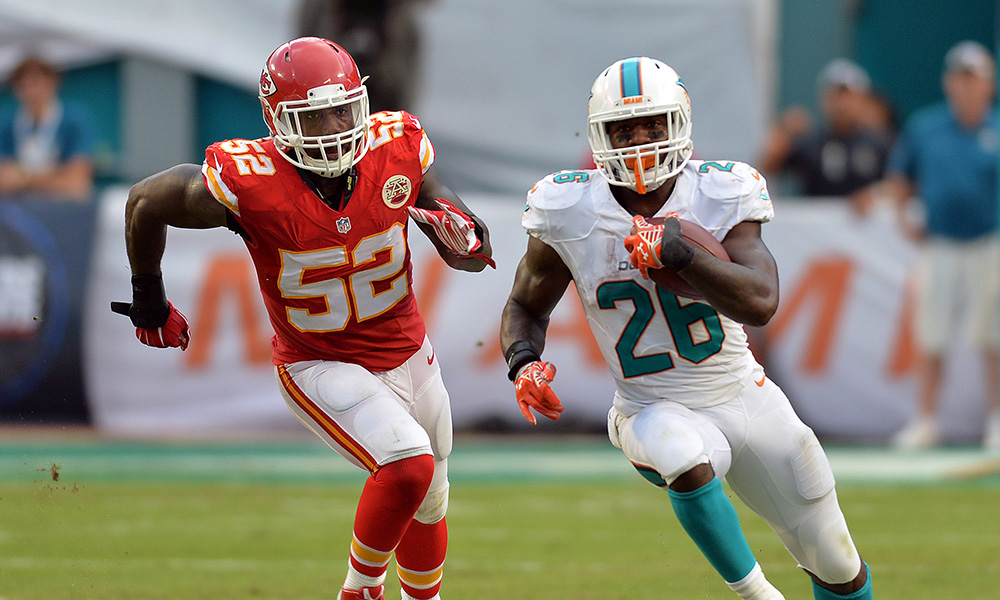 Dolphins, Chiefs Improve Playoff Odds
The Dolphins and Chiefs continue to improve their standing in the AFC playoff race.
Miami unleashed the week's most dominant performance, a 37-0 thrashing of the visiting Chargers. Ryan Tannehill completed 24-of-34 passes for 288 yards and three scores. He posted a career-best passer rating of 125.6, using his legs to extend plays and his arm to dissect San Diego's overwhelmed defense.
The Dolphins defense was equally impressive, shutting out a Chargers team that had not been held scoreless in fifteen years. Kevin Coyle's unit forced four turnovers, recorded three sacks and limited the Chargers to an average gain of just 3.6 yards per play.
"We grabbed the momentum [early]," said Dolphins coach Joe Philbin. "We haven't always been able to maintain that momentum, but today was one of those days we were obviously able to do that."
The victory was Miami's third in a row, a win streak matched by the fast-rising Chiefs.
Kansas City has won five of its last six by using an efficient offense and a suffocating defense, a formula that worked again in its 24-10 win over the Jets.
Alex Smith completed 21-of-31 passes for 199 yards and two touchdowns, while Jamaal Charles added 88 yards from scrimmage and another score.
The Chiefs were actually out-gained by the Jets, 364-309, but made up for it by winning on third down: Kansas City converted 61 percent of its third-down tries while the Jets were successful just 33 percent of the time.
The Chiefs have held four of their last six opponents to 15 points or fewer. Their current run of success includes victories over the Dolphins and Chargers, teams that are also in the thick of the AFC wild-card race.
On the flip side, San Diego has now lost to both the Dolphins and Chiefs, which could be devastating come tie-breaker time if these teams are all still in the mix.
Rams Muck Up the NFC West Race
Those pesky Rams are at it again, using some end-of-game magic to shut down a division rival.
St. Louis picked up a 13-10 road win over the 49ers on Sunday when James Laurinaitis recovered a Colin Kaepernick fumble at the goal line with two seconds remaining. It was the culmination of a rough day for Kaepernick, who was sacked eight times.
"I know I crossed the line," Kaepernick stated when asked about the 49ers final play.
The win comes two weeks after the Rams upset the Seahawks, 28-26. The win over Seattle had a different feel, though, as it came in St. Louis and was fueled by a couple of courageous trick plays. The triumph over the 49ers was more impressive because it came on the road and was the result of a swarming defense.
The 49ers fall to 4-4 and are in serious dangerous of dropping out of the playoff race, which would almost certainly lead to the ouster of polarizing head coach Jim Harbaugh.
The Rams, meanwhile, will try to keep their divisional magic going as they head to Arizona for the first of two remaining match-ups with the league-leading Cardinals. Bruce Arians' squad has yet to lose at home this season, but with a scrappy St. Louis squad coming into town, anything is possible.
Washington's Gamble Backfires
The Redskins took a risk by benching Colt McCoy, who had led Washington to two consecutive wins, in favor of a returning Robert Griffin III. Although Griffin had a strong outing overall — throwing for over 250 yards, including a 13-yard touchdown to DeSean Jackson — he came up short in the only place it matters: the win column.
"I could've played better to help us win the game at the end," Griffin said. "I'll still cherish those moments. In the next game that it comes, I'll come through."
Instead of Griffin, it was another young quarterback, Vikings rookie Teddy Bridgewater, who came through in the clutch. Bridgewater threw for four first downs on Minnesota's go-ahead scoring drive, which was culminated by Matt Asiata's third touchdown run of the day.
The Redskins are in a state of chaos — what else is new — with reports leaking out about Griffin alienating himself from his teammates. Griffin has always been a divisive player, some of which stems from the fact he has been coddled by Redskins upper management since the day he was drafted. Reports that it was team owner Dan Snyder and general manager Bruce Allen that pushed for Griffin's return to the starting job will not help in that regard.
To be clear, Griffin needs to play as much as possible this season. The Redskins are not going to the playoffs, so their primary objective going forward is to find out if they can build a dynamic offense around their franchise player. But by making a change on the heels of a two-game winning streak, it sends the message that the Redskins care more about catering to Griffin than winning games. That is a disservice not only to the team, but to Griffin himself.
Buccaneers admit mistake, boot Aguayo
In the NFL, it's always better to admit a mistake than to compound it. For the Buccaneers, the decision to burn a 2016 second-round pick on kicker Robert Aguayo has proven to be a mistake. The Buccaneers made the definitive admission of their error on Saturday, cutting Aguayo. He exits with $428,000 in fully-guaranteed salary [
more
]
Source: Mike Florio of ProFootballTalk
Powered by WPeMatico
Did Bucs put too much pressure on Aguayo?
After the Buccaneers surprised everyone by taking a kicker with the 59th overall pick in the draft, G.M. Jason Licht explained the move by heaping superlatives on the player. "I was very excited along with my staff and coaches about Roberto for a very long time," Licht told PFT Live in May 2016. "It's not [
more
]
Source: Mike Florio of ProFootballTalk
Powered by WPeMatico
Broncos holding their breath on Derek Wolfe
Only two days after losing Billy Winn for the year with a torn ACL, the Broncos are now sweating out another potentially serious injury along the defensive line. Via multiple reports, Broncos defensive lineman Derek Wolfe was carted off the field during practice on Saturday. It's being described as a right ankle injury by coach [
more
]
Source: Mike Florio of ProFootballTalk
Powered by WPeMatico