NFL AM: Colt McCoy Complicates Washington's QB Situation
Colt McCoy muddies the QB waters in Washington; Nick Fairely goes down; and A.J. Green readies to rise back up.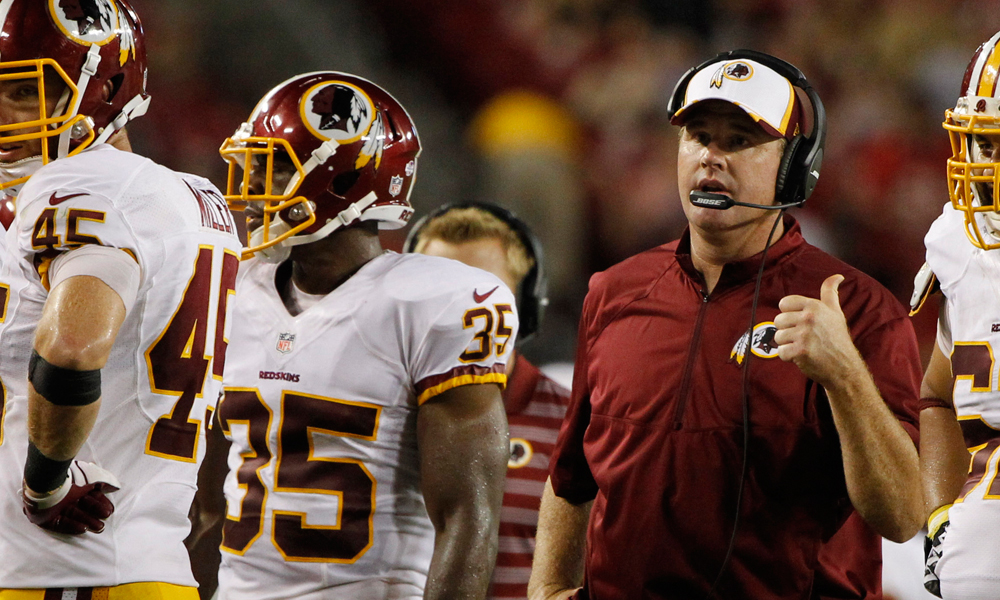 McCoy Leads 'Skins to Upset in Dallas
Colt McCoy showed almost unbelievable poise and accuracy for a player starting his first game since 2011. He hit 25 of 30 passes (83.3. percent) for 299 yards, with a touchdown and an interception while leading the Redskins to a 20-17 OT win in Dallas, giving the Cowboys their first loss since the season-opener.
The importance of Washington's win cannot be overstated, especially given the outstanding rivalry between these two franchises. But this is about more than rivalries … the Redskins have won two in a row after turning to McCoy at halftime of last week's game against the Titans. Those two wins come on the heels of four consecutive losses and may give Washington some answers at the league's most perplexing position.
After the game, Redskins coach Jay Gruden insisted Robert Griffin III will be the starter once he returns from injury.
"Robert's our starter," Gruden said. "I haven't wavered off of that in my mind. When he's ready, he'll be ready to go."
But Gruden said the same thing right after Griffin was hurt in Week 1, but began to backtrack when replacement Kirk Cousins started playing good ball. It was only when Cousins' wheels fell off that Gruden felt the need to reassert his support of Griffin.
The Redskins, who have a short week in preparation for their Week 9 game in Minnesota, will likely give Griffin another week of rest to see if McCoy can keep this train going. The Vikings (3-5), despite coming off an OT victory of their own this week, remain eminently beatable. If McCoy can lead his team to a third straight victory, the job may be his for the rest of the season.
All's Fairley in Love and Football
The Lions continued their charmed season with a 22-21 win over the Falcons in London, a game in which Detroit outscored Atlanta 22-0 in the second half, but the victory came with a steep price. Defensive tackle Nick Fairley, who was enjoying the best season of his career (in a contract year, of course), sprained his right MCL and PCL and is expected to miss about a month.
He was hurt as he hit Falcons quarterback Matt Ryan on a third-down pass that fell incomplete. Teammate Ndamukong Suh, who was rushing from the other side, collided with Fairley.
The Lions lead the league in total defense and are the only outfit in the NFL allowing less than 300 yards per game. Detroit ranks No. 2 against the run and No. 5 against the pass, but make no mistake, the Lions do not have a top-five secondary. Instead, they rely on their dominant defensive front to make life difficult on opposing quarterbacks. That mission will be more difficult for the next four weeks.
Also complicating matters is that defensive tackle C.J. Mosley still has one more game remaining on his team-imposed suspension, so the Lions will have to use their bye week to sign and initiate a defensive lineman of the streets.
Green Grass Ahead
The Bengals, like the Lions, are coming off a huge win in Week 8. Cincinnati's 27-24 over the Ravens gave the Bengals a season sweep over their division rivals (not that the Bengals need to worry about any tie-breakers thanks to their tie in Week 6 against the Panthers).
The news got even better after the game when injured wide receiver A.J. Green, arguably the game's premier pass catcher when healthy, indicated he would return this week as the Bengals host the Jaguars.
"I'll practice this week and see how it goes, but I think I'll be fine," Green said. "I was at 40 percent last week and I feel about 80 percent [now]. I haven't had any soreness after I've worked out."
The Bengals may want to sit Green one more week, knowing they play the Browns on Thursday Night Football the following week (and, let's face it, the Jaguars aren't winning in Cincinnati regardless of whether Green plays). But Green seems eager to return, a feeling that will only grow stronger as he studies tape of Jacksonville's secondary.
If Green is healthy enough to go, the Bengals should let him cut it loose. And not just because my fantasy team sorely needs him back in the lineup (although that is undeniably true).
Buccaneers admit mistake, boot Aguayo
In the NFL, it's always better to admit a mistake than to compound it. For the Buccaneers, the decision to burn a 2016 second-round pick on kicker Robert Aguayo has proven to be a mistake. The Buccaneers made the definitive admission of their error on Saturday, cutting Aguayo. He exits with $428,000 in fully-guaranteed salary [
more
]
Source: Mike Florio of ProFootballTalk
Powered by WPeMatico
Did Bucs put too much pressure on Aguayo?
After the Buccaneers surprised everyone by taking a kicker with the 59th overall pick in the draft, G.M. Jason Licht explained the move by heaping superlatives on the player. "I was very excited along with my staff and coaches about Roberto for a very long time," Licht told PFT Live in May 2016. "It's not [
more
]
Source: Mike Florio of ProFootballTalk
Powered by WPeMatico
Broncos holding their breath on Derek Wolfe
Only two days after losing Billy Winn for the year with a torn ACL, the Broncos are now sweating out another potentially serious injury along the defensive line. Via multiple reports, Broncos defensive lineman Derek Wolfe was carted off the field during practice on Saturday. It's being described as a right ankle injury by coach [
more
]
Source: Mike Florio of ProFootballTalk
Powered by WPeMatico