NFL AM: Changing of the Guard
Rookie quarterbacks finally get to cut loose in Week 4. Also, Steve Smith has the Panthers feeling nervous, while Carson Palmer is happy just to be feeling his nerves again.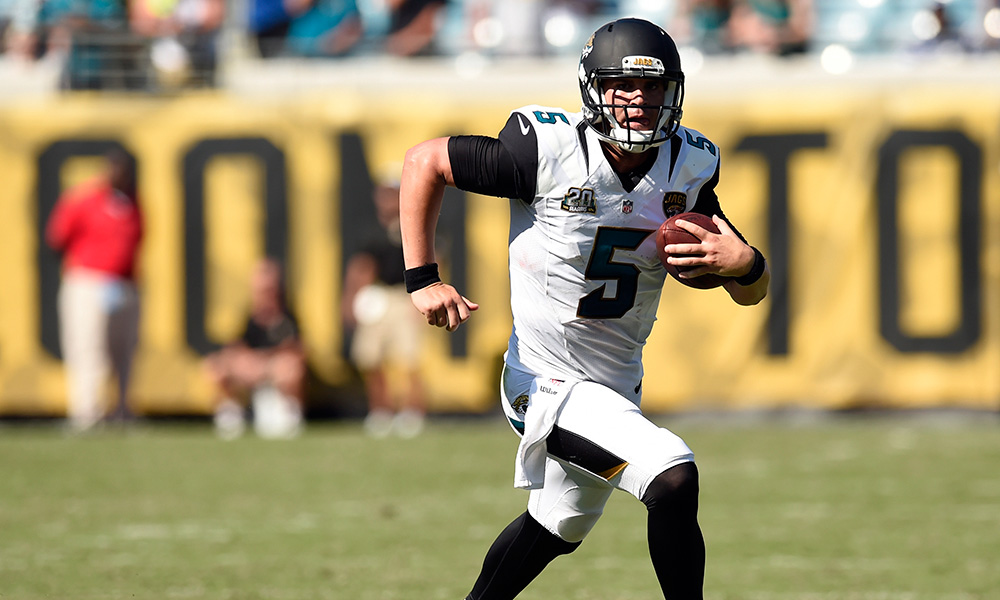 Rookies Step Under Center
Blake Bortles and Teddy Bridgewater, two of the three quarterbacks selected in the first round of this year's draft, will step into the starting lineup for the first time on Sunday. Bortles was tabbed because the man in front of him, Chad Henne, was largely ineffective. Bridgewater's promotion is out of necessity, as starter Matt Cassel broke his left foot in Sunday's loss to the New Orleans Saints.
They join Oakland Raiders rookie Derek Carr, a second-round pick who has started since Week 1, as the only rookies currently starting under center.
Now, there is only one quarterback selected in the top 60 picks of this year's draft who has yet to crack the starting lineup — Johnny Manziel. And that sound you hear is the folks over at ESPN crying onto their keyboards.
Even when the Browns tried to force Manziel onto the field, things did not work out.  He attempted one pass in Week 2, which was dropped. In Week 3, he made a 39-yard reception on a trick play, only to have it called back on a penalty.
On Sunday, while Manziel fights for table scraps, Bortles, Bridgewater and Carr will look to feast on the San Diego Chargers, Atlanta Falcons and Miami Dolphins, respectively. And yet somehow, Manziel will still find a way to get the bulk of the headlines.
Steve Smith Faces Former Team
Steve Smith, the Carolina Panthers' all-time receiver in receptions (836), yards (12,197) and touchdown catches (67), will face his former team for the first time on Sunday in Baltimore. It is a battle of 2-1 teams, although Smith's new club has all the momentum on its side.
The Ravens have won two straight games, including a Week 2 victory over the same Pittsburgh Steelers squad that dressed down the Carolina Panthers last Sunday. The Panthers, meanwhile, will try to contain Smith with a secondary that features three new starters, and without Greg Hardy there to disrupt Baltimore's passing game.
"My enthusiasm will be out of this world," Smith said. "It will be fun to play against guys who, I know their tendencies and they know my tendencies. But, I know their tendencies. I know what they like to do, I know what they look at, all that stuff. I've been in every huddle over there. I've been in their special teams huddle, their defensive huddle, everything. They haven't been in our huddle."
Stopping Smith, even at age 35, is no easy task. He has topped 100 yards in two of his first three games with the Ravens and has caught at least five passes in every contest. Smith has the most receiving yards of any Ravens player in his first three games in franchise history.
Carson Palmer Eyes Week 5 Return
Maybe his injured shoulder is really feeling much better. Or maybe he can't bear to sit out any longer while backup Drew Stanton keeps piling up wins. Either way, Carson Palmer has made it clear he plans to return when the Cardinals come back from this week's bye.
Palmer has not played since Week 1, when he led the Cardinals to a come-from-behind victory over the Chargers. He has another AFC West foe waiting for him upon his return, as the Cardinals travel to Denver to take on the Broncos, who are also on bye this week.
Palmer threw in practice on Wednesday, although he was still limited. He plans to keep increasing his workload in the coming days, with the goal of finally letting it rip by Wednesday of next week.
Arizona is one of just three undefeated teams remaining, although the Cardinals are ranked below the Cincinnati Bengals and Philadelphia Eagles in most Power Rankings. A win in Denver would do more than keep the Cardinals perfect through the first quarter of the season — it would serve notice that Bruce Arians' squad is ready to contend.
"We've had a good start, but that's all it is," Palmer said. "We have a chance to be a very good team, a special team, but it's just a chance and that doesn't mean anything. We have to go out and take advantage of where we are and how we've started."
Buccaneers admit mistake, boot Aguayo
In the NFL, it's always better to admit a mistake than to compound it. For the Buccaneers, the decision to burn a 2016 second-round pick on kicker Robert Aguayo has proven to be a mistake. The Buccaneers made the definitive admission of their error on Saturday, cutting Aguayo. He exits with $428,000 in fully-guaranteed salary [
more
]
Source: Mike Florio of ProFootballTalk
Powered by WPeMatico
Did Bucs put too much pressure on Aguayo?
After the Buccaneers surprised everyone by taking a kicker with the 59th overall pick in the draft, G.M. Jason Licht explained the move by heaping superlatives on the player. "I was very excited along with my staff and coaches about Roberto for a very long time," Licht told PFT Live in May 2016. "It's not [
more
]
Source: Mike Florio of ProFootballTalk
Powered by WPeMatico
Broncos holding their breath on Derek Wolfe
Only two days after losing Billy Winn for the year with a torn ACL, the Broncos are now sweating out another potentially serious injury along the defensive line. Via multiple reports, Broncos defensive lineman Derek Wolfe was carted off the field during practice on Saturday. It's being described as a right ankle injury by coach [
more
]
Source: Mike Florio of ProFootballTalk
Powered by WPeMatico