NFL AM: Carson Palmer's Surprise Return Lifts Cardinals
Carson Palmer solves Arizona's QB conundrum, while QBs in Oakland, Cincinnati and Carolina put on a show.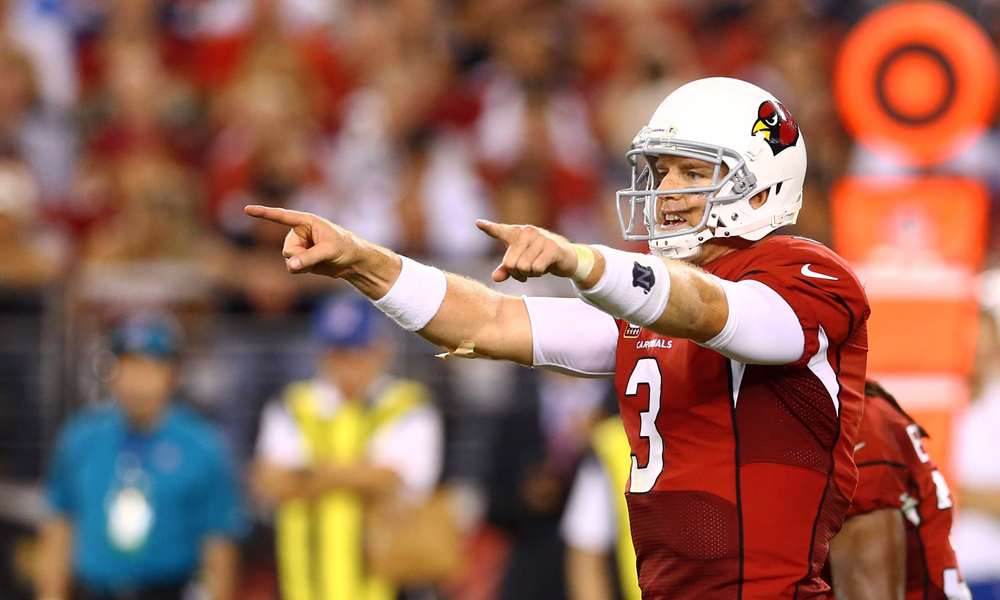 Palmer Returns as Cardinals Soar
Carson Palmer returned to action for the first time since injuring a nerve in his shoulder in Week 1, leading the Cardinals to a 30-20 win over the free-falling Redskins. Palmer's return to the starting lineup was one of the week's biggest surprises, especially after Drew Stanton was cleared to play after suffering a concussion in last week's loss in Denver.
"I felt very rusty," Palmer said. "I missed some simple things, some things that are very uncharacteristic of myself. I just need to get those live reps."
Palmer, who has not gone through a full practice in over five weeks, left some plays on the field but was impressive overall. He completed 28-of-44 passes for 250 yards and two touchdowns, one apiece to Larry Fitzgerald and Michael Floyd.
Fitzgerald authored his best game of the season with six catches for 98 yards. The eight-time Pro Bowler, who has been the subject of trade rumors in recent weeks, is clearly more effective with Palmer directing the offense.
"I always prepare for a big day," Fitzgerald said. "If it happens, it happens. If it doesn't, it doesn't."
Palmer's return came just in time for Arizona, which was faced with the prospect of starting rookie Logan Thomas if Palmer and Stanton were unable to go. His comeback is also timely on a personal level, as the Cardinals will face Palmer's former team, the Raiders, next week in Oakland.
Speaking of Oakland …
Keys to the Carr
The NFL is a bottom-line business and the bottom line is the Raiders fell to 0-5 on Sunday, dropping their eleventh consecutive regular-season game. But the way the Raiders performed in their 31-28 loss to San Diego, especially on the offensive side of the ball, provided a bit of light in the Black Hole.
Derek Carr had a breakout performance in his first game under the leadership of interim coach Tony Sparano. He set the tone with a 77-yard touchdown pass to Andre Holmes on the third play from scrimmage and never looked back, finishing with 282 yards and four touchdowns. He became the first Raiders rookie to throw for four touchdowns in a game.
"I've known [Derek] since my days in Carolina," Chargers coach Mike McCoy said. "I had David [Carr], so Derek was in training camps with us a couple times throwing the ball around. He's a very talented young player. He's only going to get better with time. I know he's going to be a student of the game, because of the way he prepares and the way he works. He is a tough competitor. I look forward to watching him and playing against him a couple times a year for a long time to come."
The Raiders did an excellent job protecting Carr. The Chargers, who came into Oakland with 12 sacks on the season, left stuck on that same number. Carr used the time in the pocket to his full advantage, going through his progressions like a veteran and delivering the ball with accuracy, giving his receivers a chance to run after the catch. He was particularly strong on third downs, where the Raiders converted on eight of 13 opportunities (61 percent).
Already this season, rookies Blake Bortles and Teddy Bridgewater have shown signs they can be franchise quarterbacks and potential saviors for their respective franchises. After Sunday's performance, you have to add Carr to that list of fast-rising young guns.
Cat Fight Ends in a Draw
The Bengals and Panthers entered Sunday's contest equally desperate for a victory. Cincinnati was trying to move past a disastrous outing in Week 5, a 43-17 drubbing in New England. Carolina, meanwhile, looked to gain separation in the NFC South as it aims become the first repeat champion in that division's history.
Neither team got what it wanted, instead playing to a 37-37 tie. It marked the first tie in the NFL this season and the third-highest scoring tie in league history.
"It's a weird feeling. I've never been part of a tie before," said Bengals QB Andy Dalton. "It's not a win, that's the thing that's tough. But we played hard … that was definitely shown today."
Dalton and Cam Newton, who entered the league together as part of the 2011 draft class, combined to put on a show. Dalton completed 33-of-44 passes for 323 yards, two TDs and two INTs. He was 8-of-9 in overtime and would have won it for the Bengals had Mike Nugent not missed a 36-yard field goal on the game's final play. Even more impressive is that Dalton did all that without the services of the league's best receiver, A.J. Green, who was inactive due to a toe injury.
Newton reemerged as a dual threat, running for a season-high 107 yards and a score, while also throwing for 284 yards and a couple more touchdowns. His performance on the ground provided Carolina with some much needed balance as the team was without running backs DeAngelo Williams (ankle), Jonathan Stewart (knee) and Mike Tolbert (leg).
Despite the tie, the Panthers and Bengals both remain atop their respective divisions.
To talk with Michael Lombardo about all this weekend's games, and to look ahead to Week 7, join him for his weekly chat on Friday at 2pm EST. And there's no need to wait till Friday … ask your questions now!  
Did Bucs put too much pressure on Aguayo?
After the Buccaneers surprised everyone by taking a kicker with the 59th overall pick in the draft, G.M. Jason Licht explained the move by heaping superlatives on the player. "I was very excited along with my staff and coaches about Roberto for a very long time," Licht told PFT Live in May 2016. "It's not [
more
]
Source: Mike Florio of ProFootballTalk
Powered by WPeMatico
Broncos holding their breath on Derek Wolfe
Only two days after losing Billy Winn for the year with a torn ACL, the Broncos are now sweating out another potentially serious injury along the defensive line. Via multiple reports, Broncos defensive lineman Derek Wolfe was carted off the field during practice on Saturday. It's being described as a right ankle injury by coach [
more
]
Source: Mike Florio of ProFootballTalk
Powered by WPeMatico
Buccaneers admit mistake, boot Aguayo
In the NFL, it's always better to admit a mistake than to compound it. For the Buccaneers, the decision to burn a 2016 second-round pick on kicker Robert Aguayo has proven to be a mistake. The Buccaneers made the definitive admission of their error on Saturday, cutting Aguayo. He exits with $428,000 in fully-guaranteed salary [
more
]
Source: Mike Florio of ProFootballTalk
Powered by WPeMatico